Commit 2 Fit This January With Carrie Underwood and BODYARMOR LYTE
This post was written in partnership with BODYARMOR. As always, we only write about products, brands, and services we truly love. Try BODYARMOR yourself by purchasing BODYARMOR Sports Drink 16oz and 1 Liter SportWater on sale at Mariano's 10/$10 NOW until January 26th, and keep an eye out for BODYARMOR Sports Drink 28oz on sale at Jewel 4/$5 from January 27th – February 9th.
When it comes to finding fitness, Carrie Underwood has had one of the most inspiring lifestyle shifts we've ever seen. After her time on the fourth season of American Idol, Underwood turned to fitness and nutrition to help her stay energized and perform at a high level while on tour. Eventually, she became such a believer in the power of movement that she launched her own activewear line, CALIA by Carrie Underwood, and more recently, a personalized fitness app, fit52.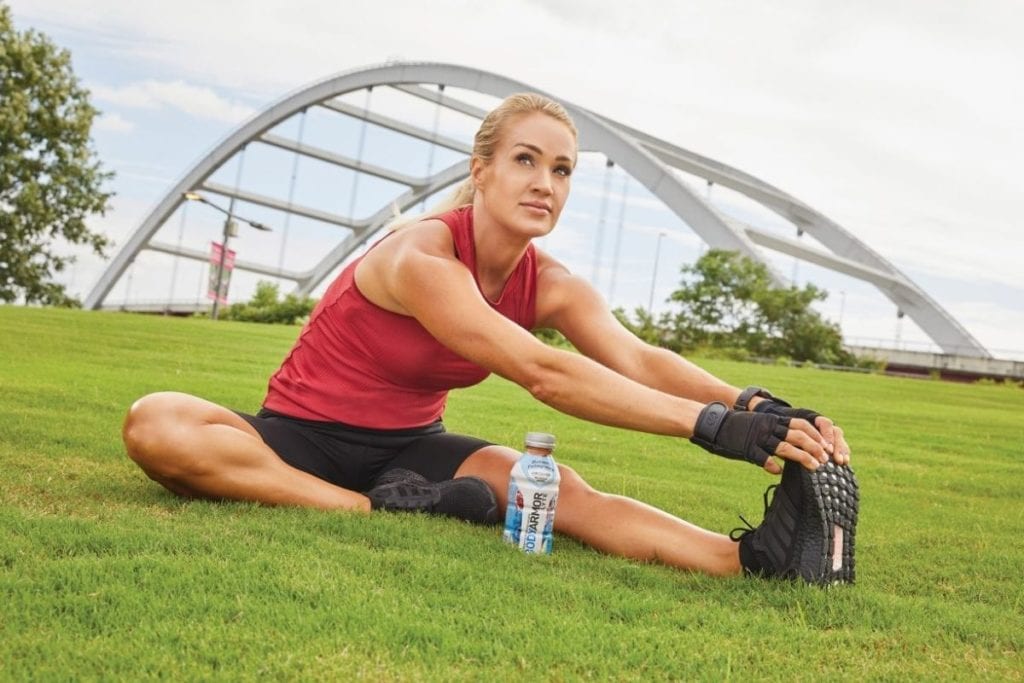 And along with her exercise routine and balanced eating, Underwood has long relied on hydration to make sure she stays strong for herself (and for her fans).
"Staying hydrated is definitely something that is very important, whether you work out or not, no matter what your job is or what your day looks like. That is one thing that we definitely all have in common. We need to be hydrated," Underwood recently told People magazine.
To that end, she's come on board as an equity partner with BODYARMOR LYTE, and they're kicking off their partnership with the Commit 2 Fit challenge. Whether you're working out or on the go, BODYARMOR LYTE is the low calorie sports drink to hydrate your active lifestyle. It's made with no artificial sweeteners and no sugar added, PLUS potassium-packed electrolytes, antioxidants, vitamins and coconut water.
Here's what to know about how you can win prizes and cash towards your favorite fitness gear by sharing your workouts.
How to join the Commit 2 Fit Challenge
Joining the Commit 2 Fit Challenge is easy. Here's what you need to do:
Post about how you're committing to fit in 2021, whether that's demonstrating a new workout move or sharing the latest recovery routine you've tried.
Use the hashtag #Commit2FitChallenge (bonus points if you tag @drinkBODYARMOR, too).
That's it!
Your perks for participating in the challenge
To help you keep your momentum going all year long, BODYARMOR is offering several fitness-related giveaways to help you—and your friends—stay committed.
Natural Fitness Hero Yoga Mat for you and a friend: You know how we always say "everything is better with friends"? Well, BODYARMOR believes that too, so they're giving away two Natural Fitness Hero yoga mats that have state-of-the-art non-slip traction—perfect for hot yoga when you're back in a studio or working out at home. You'll get two mats, one for you and one to gift to a friend for a built-in accountability buddy.
The latest buzzworthy workout and recovery gear. Talk about a surprise and delight: fitness enthusiasts who participate in the challenge will be in the running to win activewear from CALIA BY CARRIE, HYPERICE massage guns, ART OF SPORT personal care products, and more.
Access to the latest workout app on the scene: Developed by Carrie Underwood and her personal trainer, Eve Overland, fit52 adds variety to your fitness routine with randomized workouts tailored to your level of fitness. Purchase any one BODYARMOR product at Mariano's or Kroger, and upload a picture of the receipt to Commit To fit52 for a free month subscription to the app.
Earn cash to your favorite fitness retailers. After all, having the right gear certainly helps you commit to fitness. Buy $20 of BODYARMOR product before April 30, 2021, and upload your receipt here. You'll then receive a $10 code for fitness cash, valid towards your choice from selection eGift cards from retailers like adidas, Athleta, and more.*
Ready to commit? Learn more about the challenge straight from Carrie, join our upcoming workshop with BODYARMOR and David Carson, and tag us @asweatlife so we can cheer you on!
*Terms and conditions apply. See website for details.