6 Ways to Celebrate MLK Day This Year and Every Year
Throughout my life, I've celebrated Martin Luther King Jr. Day in many ways, from special programs in school, to days of service, to activity and art days, and viewings of "Our Friend Martin." There has been no shortage of celebrations, in large part thanks to my mom, who ensured we always understood the importance of the day.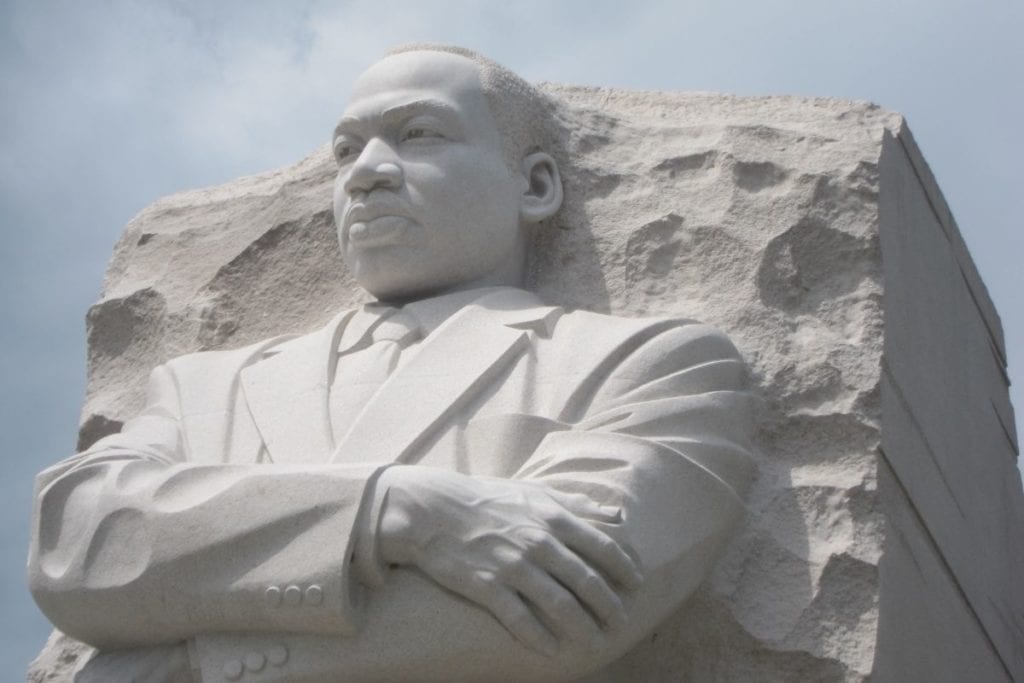 With the pandemic, there are fewer options of things to do outside of the home, but there's still plenty you can do to honor the memory of Martin Luther King, Jr. Below are some ways to celebrate MLK Day this year and every year. 
Service
In the midst of a pandemic, there are more people in need now than before. With social distancing still heavily recommended, this year it could be hard to find a service project or initiative. Taking the time to participate in these events can help bridge the equality gap which directly aligns with King's mission.
Many causes have gone virtual for their service events, including food drives. So many people are still unemployed and with the vast number of economic issues caused by COVID, food insecurity is a major issue. One service option is to research nearby charities where you can drop off nonperishable goods (and if you have the bandwidth, reach out to your neighbors and offer to drop off canned goods on their behalf, too).
Donate
If you're unable to donate your time in giving back through service, you can donate funds. Any social service initiative would be a great cause. From mental health counseling to crisis intervention to job search support; there are many ways to help support those in need. 
And if you're worried that you can't afford to donate a "significant amount" of money, microdonations are quickly becoming the new wave of giving; in fact, microdonations might even have a bigger impact because they encourage regular, everyday giving and democratize the donation process.
Educate
The most important thing to do is to educate ourselves on the mission of Dr. Martin Luther King Jr. and the Civil Rights movement. There is always more to learn and understand.
The next step would be to help educate others like children. When they learn and understand King's message of equality at an early age, it teaches them empathy and acceptance of others' differences. Here's a guide to talking to children about the impact of MLK's legacy.
Movement
Join a virtual workout—for a cause. Studios may have options for classes where donations for social justice causes are accepted. Or, if you can't find a donation-based class, take a class with a BIPOC instructor to show your support of building an inclusive wellness world. This can also be a good option for kids to burn off some energy while they're staying home for the holiday. 
Art
Another fun activity for kids and adults alike to celebrate MLK Day is to work on an art project. Throughout my childhood I did King paintings, papier-mâché, activity sheets, and so much more. These fun activities make the day about celebrating the accomplishments of King's life; it is a birthday party after all!
Cook
Since it is a birthday celebration, a tradition I had for years was to bake a birthday cake in my Easy Bake Oven. I don't recommend this as the best cooking method, but it's definitely a memory I cherish. If you'd like to cook for a cause, Lasagna Love is local to Chicago and will pair you with a meal recipient.
There is no "right" thing you should do to celebrate Martin Luther King Jr Day. There are many great options to choose from. You can switch it up from year to year or keep it consistent and create a long lasting tradition.
Happy King Day!
Let us know!
Did this post help you get closer to achieving one of your goals?