Gift Guides, Day 4: For Those Who Think Robes Count as Real Clothes Now
Give the gift of hygge this season with cozy, self-care inspired gifts, like an oversized, supersoft robe. And if that robe just so happens to be from a sustainable housewares brand that tags every product with an "end of life" plan, well, so much the better.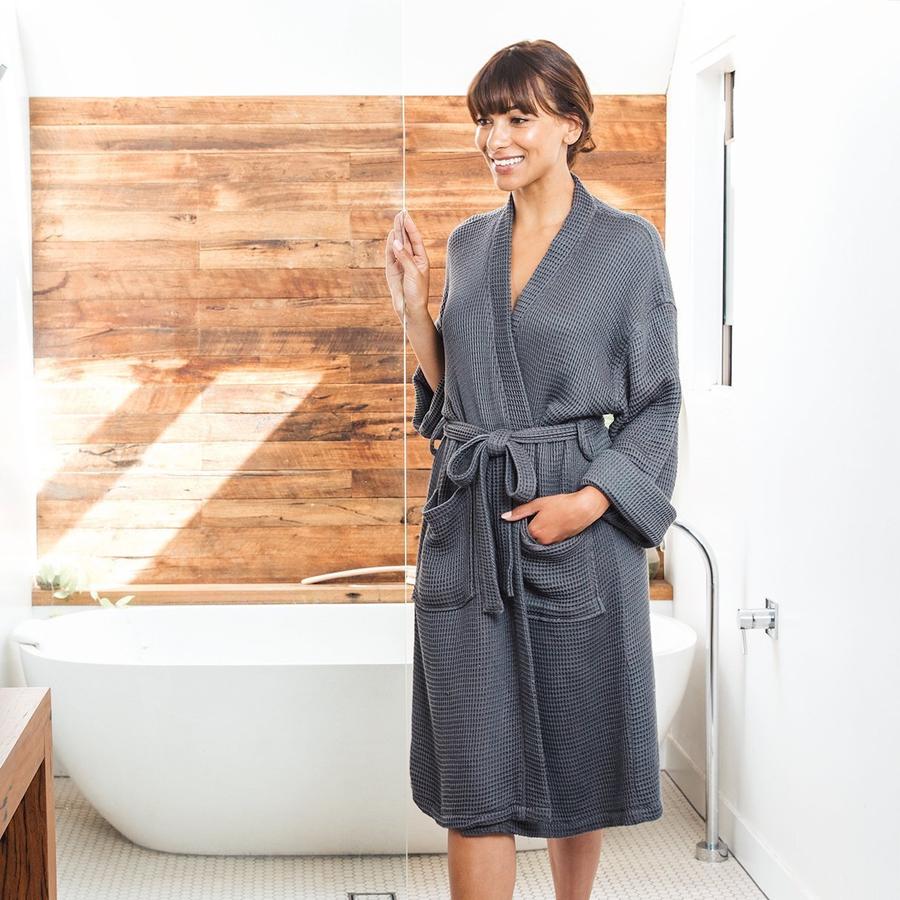 What it is: The Bamboo Lyocell Waffle Robe is, according to the retailer, the robe that's going to make your giftee into a Robe Person. Made with 100% organic bamboo lyocell, this robe is both soft and silky, with cooling properties that won't leave the wearer sweating like they're in an infrared sauna. The oversize fit makes the robe even cozier than you could imagine, and it comes in gray or soft white for your at-home spa vibes.
And we have to talk about the company retailing this top-rated robe: Goldune, which launched in mid-October and is already making waves for their unique approach to sustainable housewares. Goldune was created to be an accessible approach to sustainable housewares that lean more towards stylish design than your stereotypical beige, crunchy, eco-friendly branding. Sometimes, we get a little bogged down by all the research it takes to figure out whether a product or a company is *actually* sustainable or eco-friendly. Goldune offers a ton of transparency on the products they sell, and each product page shares an "End of Life" plan so that the product you're buying doesn't end up in a landfill when it's outlived its use (for example, the Waffle Robe can be cut up and repurposed into household rags and cleaning wipes).
Finally, we're excited to support Goldune because of their focus on inclusivity. Right now, 70% of the brands Goldune works with are led by women, and 29% are led or founded by BIPOC. Goldune, through founder Azora Zoe Paknad, is dedicated to making sustainability less beige through their policies and product selection.
One heads up: We've found that the robe shrinks about 15 percent after washing, so something to keep in mind as you're considering sizing. For an inclusive bathrobe gift option, we like the Shawl Collar Robe from Lauren Ralph Lauren. It's cozy and plush but still glamorous enough to make you feel like you're in a five-star hotel.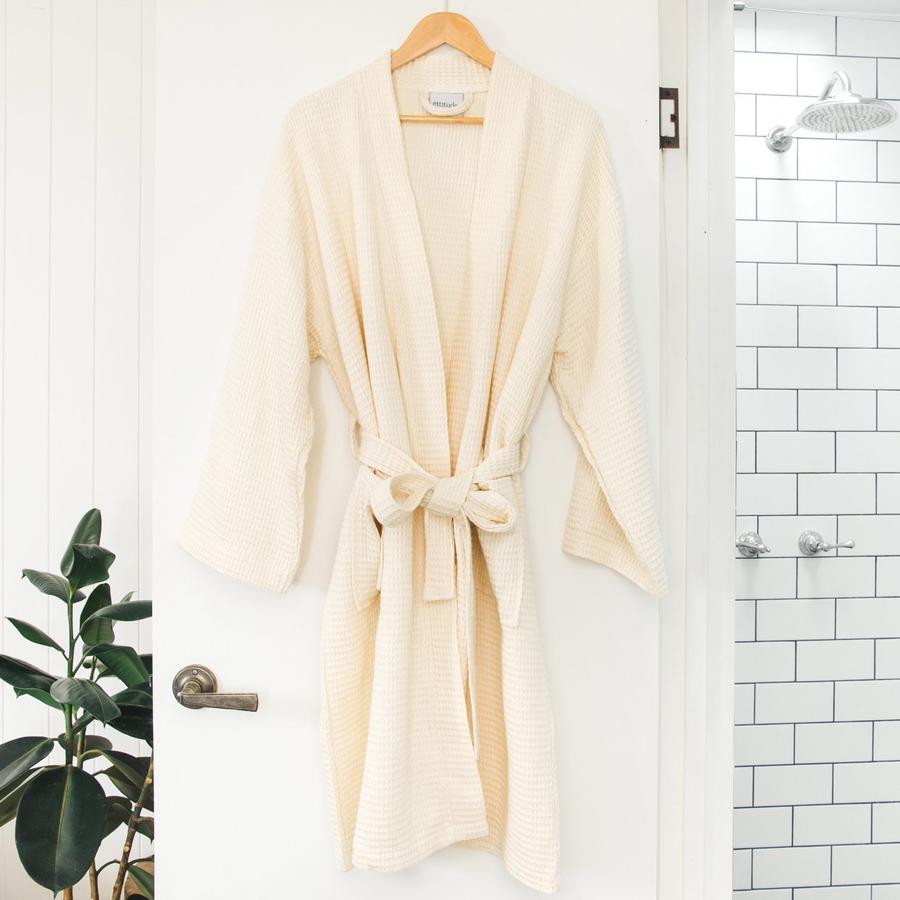 Why we love it for gifting: This robe screams "me time," and it's a staple piece your bestie can build her self-care routine around. It's literally like wearing a hug and feeling totally wrapped up in a warm, cozy embrace, which *gestures wildly around head* we all need these days. It's a little nicer than a robe she'd probably buy for herself, but not so outrageous that it's on a Kardashian wish list. Plus, when it comes to robes and how many are *too* many to own… the limit does not exist.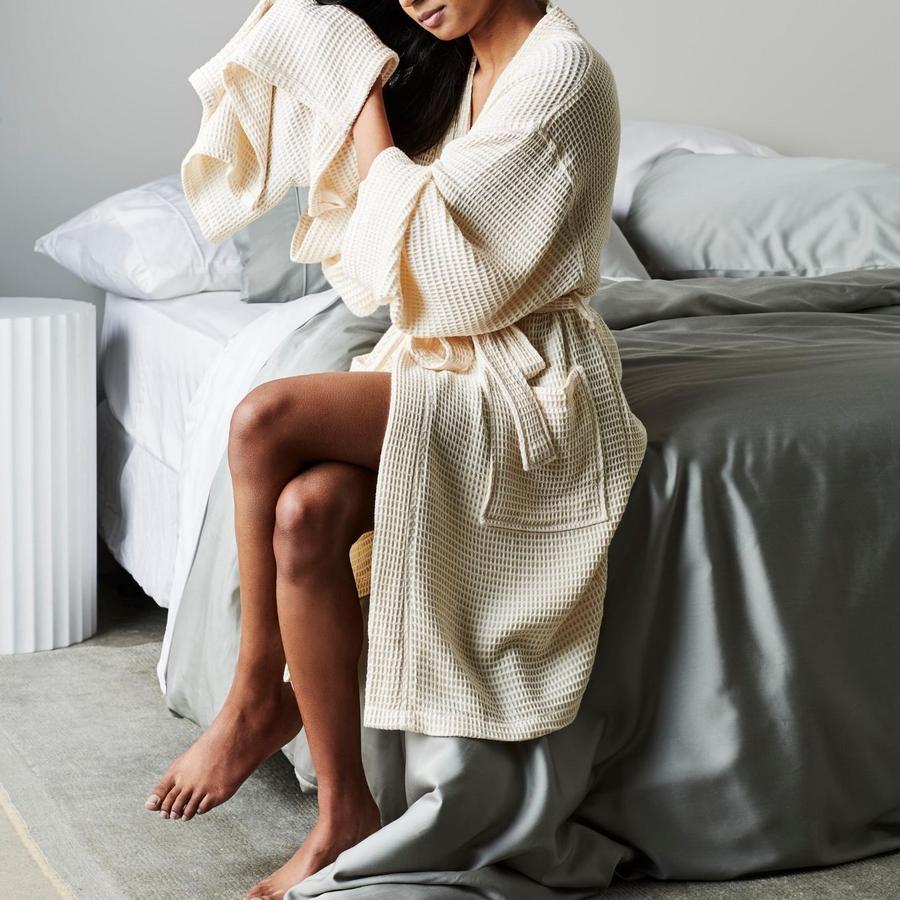 Who we're giving this to: The new mom who, let's be honest, is probably living in various forms of robe wear right now. Let the luxurious waffle weave remind her to take a little time for herself and, when possible, savor an extra cup of coffee while someone else handles breakfast.
Where to buy it: On Goldune's website.