The 9 Best Hand Creams for Dry, Over-Washed Hands
If you're anything like me, then your hands have looked a little worse for wear recently. These days, I'm washing my hands a whole lot more frequently, applying hand sanitizer any time I leave my apartment, and washing way more dishes than I ever have in my life. That combo of hand sanitizer + hand soap + dishwashing liquid = seriously dry hands.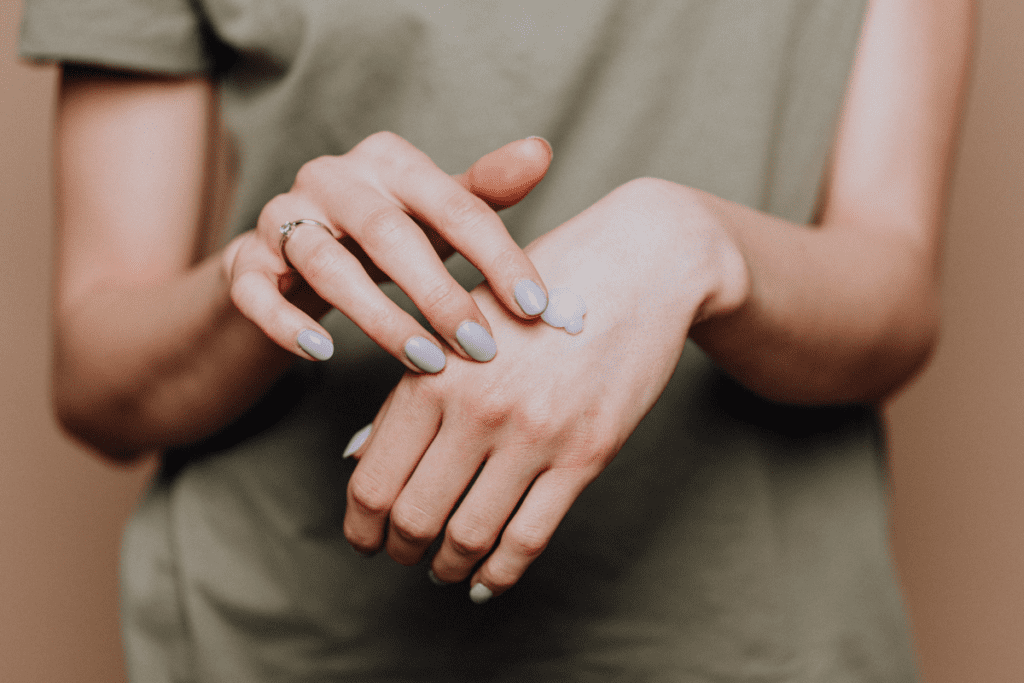 I finally caved and started using hand cream regularly, and it's made a big difference. My hands feel softer, they're no longer irritated, and even my nails aren't breaking as much as they were a few months. Not sure which hand cream is right for you? I've rounded up my nine favorite hand creams here.
SpaRitual Hand Salve ($15.50, sparitual.com): This hand cream is rich without being greasy. It's formulated with ultra-nourishing ingredients, like marula oil, shea butter, and honeybush extract. Plus, it has a refreshing citrus scent, making it a morning must-have.
Skinfix Eczema+ Hand Repair Cream ($18, sephora.com): If you ever experience serious cases of redness and dryness (raises hand), then turn your attention to this hand cream. Made with colloidal oatmeal and sweet almond oil, it's super-soothing and moisturizing.
Green Goo Hand Goo ($14.95, greengoo.com): Because this salve is housed in a tin, I don't have to worry about it spilling all over my bag. Calendula flower oil, plantain leaf extract, and a host of other natural ingredients provide excellent hydration and relief to dry, irritated hands.
Palmer's Coconut Oil Hand Cream ($8.55, amazon.com): Coconut oil is, hands down (pun intended), one of the very best ingredients for combatting dry skin. This hand cream blends coconut oil with sweet almond and Tahitian Monoi oil to soften dry hands and bring cracked cuticles back to life.
Gold Bond Ultimate Intensive Healing Hand Cream ($3.74, amazon.com): This bargain hand cream gets the job done, thanks to a combo of soothing aloe vera, antioxidant vitamin C, protective vitamin E, and a mix of humectants that help retain moisture.
L'Occitane Hand Cream ($12, sephora.com): There's a reason this hand cream is so popular. It's loaded with 20 percent shea butter for intense moisturization. And, it comes in a variety of pretty scents, including almond, cherry blossom (my personal pick), and lavender.
Cake Beauty Heavy Cream Hand Cream ($5.99, cakebeauty.com): I'll admit it: I was totally sold by a brand named after one of my favorite desserts. And the sweet vanilla scent delivers. Beyond that, though, this hand cream is also quite effective at softening hands, thanks to the shea butter, aloe vera, and camellia leaf extract in the formula.
Weleda Skin Food Original Ultra-Rich Cream ($18.99, ulta.com): This thick cream is a true multitasker. You can not only use it on your hands but also your face, elbows, and feet. It's formulated with a variety of oils, as well as beeswax to soften and soothe the driest of areas. 
Vaseline Intensive Care Healthy Hands Stronger Nails Lotion ($3.69, target.com): Bye, bye, brittle nails. This inexpensive yet mighty hand cream has keratin in it to strengthen nails, as well as Vaseline jelly to heal hands that are irritated from over-washing.