How to Survive a BBQ When You Have Dietary Restrictions
I used to love summer BBQs, but after being diagnosed with celiac disease earlier this year, I wasn't sure if I'd be able to enjoy them anymore. After all, buns and beer—two BBQ necessities—were off limits to me now.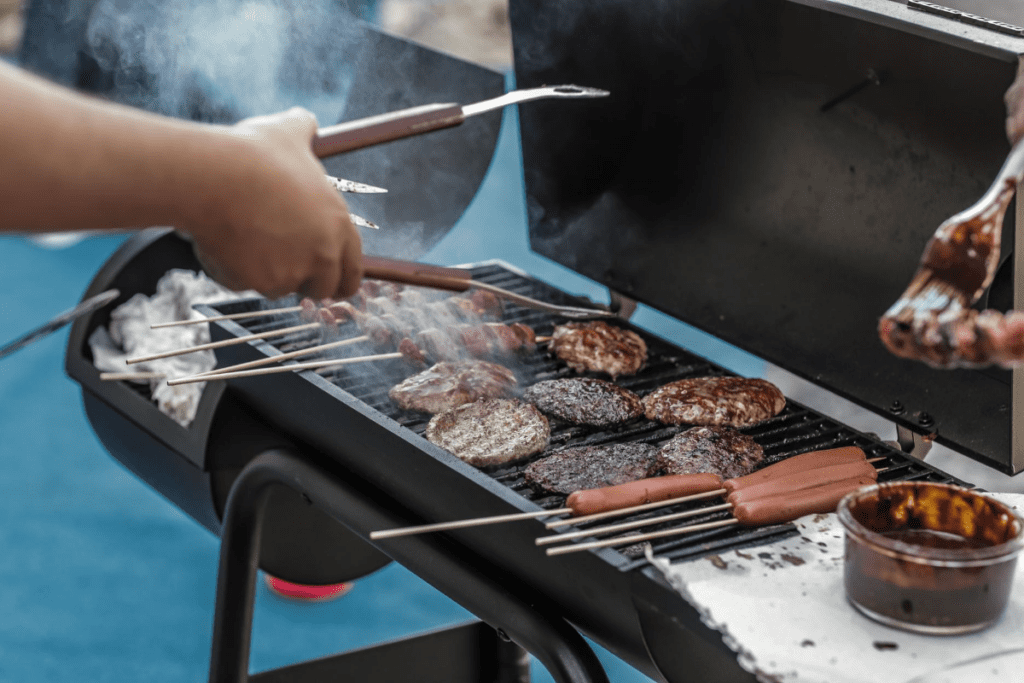 But over the July 4th weekend, I did go to my very first (socially-distanced, of course) BBQ while on a gluten-free diet. Although I was stressed leading up the event, I was actually able to eat plenty of delicious food by preparing a few safe dishes (like a tasty gluten-free pasta salad) ahead of time and taking a few other precautions while my friend grilled up burgers and veggie skewers in his backyard. (Plus, it didn't hurt that my friend bought me a six-pack of gluten-free beer!)
There are lots of dietary restrictions that can make navigating a cookout challenging, but with a little prep work you can totally have fun. With plenty of summer still ahead of us, I spoke to a variety of food and nutrition experts, many of whom have dietary restrictions themselves, for their best tips on surviving a BBQ if you're in the same boat.
BBQ tips anyone with a dietary restriction can use
Step one: Assess how comfortable you feel asking your host to accommodate your diet beforehand.
"How well you know the BBQ's host and your comfort level with talking about your diet play a big role in how you want to approach any communication about food beforehand," says Grace Goodwin Dwyer, RD, founder of Nutrition for Women. "A family member or close friend may be happy to pick up vegan burgers or try their hand at baking dairy-free cupcakes, whereas that's probably an awkward request for a new acquaintance or a large-scale event."
That said, if you have a severe food allergy or intolerance, you may want to consider bringing your own food to avoid unnecessary stress.
"It's important to consider that even with assurances and the best of intentions, a host may not prepare foods exactly as you need them," notes Goodwin Dwyer. "Even if your host says they'll prepare a gluten-free meal for you, that requires they have a nuanced understanding of what foods gluten might be hiding in."
You've got plenty of options when it comes to bringing your own food. You could bring an item or two, such as gluten-free hot dog buns or vegan mayo, or you could whip up a restriction-friendly dish to share with the other BBQ guests.
"For instance, making a big batch of a gluten-free vegan pasta salad you love generously serves others and meanwhile ensures that you'll have something tasty to eat," says Goodwin Dwyer.  
Here's more specific advice broken down by some of the most common dietary restrictions to help you make the most of any remaining BBQs on your summer calendar.
If you're gluten-free…
Make a plan in advance. "I always let the person hosting the BBQ know very far in advance that I have celiac disease and try to explain how severe it is," says Ben Kelly, a professional chef in Nova Scotia. "I will often say something like, 'I can just bring my own food,' or 'I know how difficult it is to plan around allergies and dietary restrictions so I fully understand if you can't accommodate me.'" Kelly says he tells BBQ hosts not to go out of their way to get him gluten-free products, like buns, and brings his own food as a backup, making sure to bring enough for everyone.
Watch out for cross contamination. Cross-contact is when gluten-free food is exposed to gluten. "With celiac disease, cross-contact is a BBQ concern that your host may not even know about," says Goodwin Dwyer. "Grilling on top of foil—instead of directly on a shared grill—and using separate utensils is a great idea." (If you don't have celiac disease but are avoiding gluten for other reasons, you might be able to skip this step, Goodwin Dwyer adds.)
"I typically try to avoid anything that comes off of the grill unless I know without question there is no gluten present," says Kelly. "So, I typically lean more towards the salads and vegetable platters."
Be careful with sauces and dressings. Lots of sauces, marinades, and salad dressings you'll find at a BBQ have hidden gluten in them, explains Goodwin Dwyer. Teriyaki or soy-sauce based options often include wheat she says, as do vinegar-based sauces, some of which include malt vinegar which is derived from barley. Processed potato products (like frozen fries) often have added wheat starch, and meat alternatives, like veggie burgers also include gluten-containing grains as a main ingredient (like seitan) or as an additive (like oats), says Goodwin Dwyer. Look for items that have a certified gluten-free seal to be safe. 
Bring your own condiments. "When it's time for mustard, ketchup, and other spreads, look for, or bring, ones individually packaged—or be the first to open a new container," says Kimberly Barnes, a plant-based chef and founder of Might Be Vegan, who happens to have a soy and wheat allergy. "It's common for people to dip, spread on bread, and re-dip, even with the squeezable kind. That means gluten has made its way into the jar."
Gluten-free product recommendations:
If you're dairy-free…
Layer on the vegan cheese. You don't have to skip the cheese on your burger if you have lactose intolerance or simply prefer not to eat dairy. "Much like vegan burgers, vegan cheeses are getting better and better," says Goodwin Dwyer. 
Opt for goats' or sheep's cheese. "Another thing to keep in mind is that people who do not tolerate cow's cheese may have a much better response to goats' or sheep's cheese," says Goodwin Dwyer. "In that case, you can try the latter options crumbled or sliced on burgers."
Try other yummy burger toppings. If you can't tolerate cheese or prefer not to eat it, there are still plenty of other flavorful burger toppings. Goodwin Dwyer's favorite dairy-free toppings include avocado, grilled eggplant slices, nutritional yeast flakes, bacon, baked beans, pickles, and dairy-free coleslaw. 
Pack non-dairy ice cream in your cooler. "Dairy-free ice creams are standard in grocery stores these days," says Goodwin Dwyer. "You can add Oreo crumbles, which are dairy-free, believe it or not, sprinkles, or melted peanut butter caramel sauce to make it more fun." 
Dairy-free product recommendations:
If you're vegan…
Try a plant-based patty. "Plant-based patties, like Impossible Burger and Beyond Meat, are getting tastier and tastier," notes Goodwin Dwyer, "so much so that sometimes people struggle to notice the difference." These burgers are made with plant-based proteins and fats to mirror the taste of a traditional beef burger, she explains. You can also choose a classic veggie burger or even make your own at home by combining beans or lentils with herbs and spices, adds Goodwin Dwyer. 
Make vegan versions of your favorite side dishes. "The wonderful thing is you can make typical BBQ side dishes vegan and no one would ever know," says Christy Morgan, professional vegan chef from Texas (the home of BBQ!). "Thanks to vegan mayo, potato salad, coleslaw, and macaroni salad are a snap and taste just like their non-vegan counterparts." Baked beans are also easy to make vegan.
Dine on veggie skewers as your main course. Veggie skewers are a great alternative to burgers that most people will enjoy eating, says Morgan.
Adds Barnes, "Since I'm plant-based, my main dish would be marinated portobello steak, a housemade black bean burger—my favorite!—or store-bought veggie burger. I'll even bring a fresh veggie skewer with squash, onions, and peppers in a housemade marinade."
Put together a filling salad. "For a salad that doesn't have you feeling like you're 'missing out,' find one that features really filling, savory ingredients and interesting flavors (not just your classic lettuce and veggies," suggests Goodwin Dwyer. One of Morgan's favorite summer salads is this black bean salad with mango and cilantro. "My broccoli salad is known for being a hit at any large function," Morgan adds. "Both [salads] are great at parties, BBQs, and potlucks and gives me an extra protein boost if I don't feel like bringing burgers." 
Vegan product recommendations