During the summer season, we swap out winter boots for bathing suits and scarves for sundresses. But as we prepare for all of those summertime road trips and days spent poolside, consider swapping out your usual meal prepping techniques for these summer meal prep tips so you can have a healthy summer meal prep routine all summer long.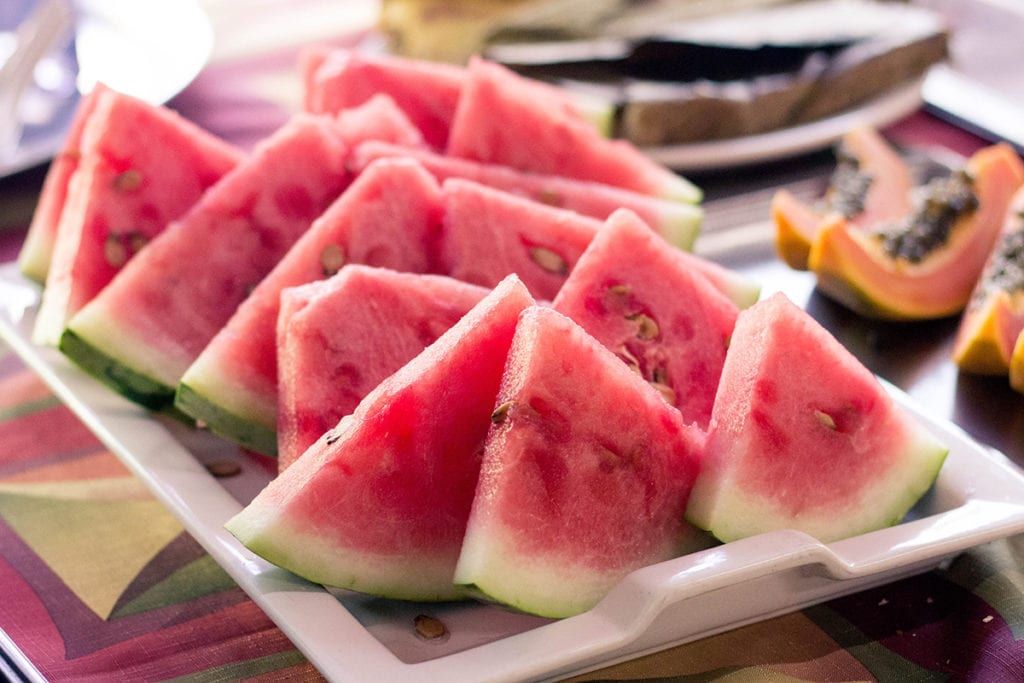 #1 Eat for the summer season
One of the first steps to meal prepping for the summer season is to shop for the summer season. Summertime is synonymous with local community farmers markets, so switch up your weekend grocery hauls with a trip to the neighborhood farmers market. Take some time to talk with the local farmers to find out what's in season and stock up on summertime staples like cherries, corn on the cob, garden fresh tomatoes and watermelon. Unsure where to find a farmers market? Check out the USDA'S National Farmers Market Directory.
#2 Enjoy cooling foods
During warmer months, our bodies naturally crave cool foods to help our systems beat the heat, so stick to lighter fare that can also keep you hydrated. Some of the best cooling foods that have a higher water content include cucumbers, oranges, spinach, strawberries and watermelon.
Set aside each week to properly wash, chop, cut, slice and store your favorite fresh summertime produce then place them in reusable storage containers so you can easily grab ingredients for all of those summertime recipes.
#3 Fill a pitcher of flavored water
No matter what the season, it's always important to stay hydrated. But it's especially important during the hot summer months when heat indexes and humidity levels begin to rise. Whip up a batch of homemade flavored water and keep it chilled in your refrigerator so you always have access to flavored water. Some classic and refreshing combinations include: 
Cucumber slices + fresh mint leaves
Lemon 
Lemon + lime
Lemon + strawberries (Strawberry lemonade)
Oranges
Pineapple
#4 Grill
One of the best things about summertime is grilling. (I swear if the taste of grilling could be bottled up and created into a seasoning I would put it on everything). Fresh fruits like pineapple slices, protein sources like beef, chicken, fish and pork and vegetables like asparagus, onions, peppers and zucchini are all great grilling options.
Carly Johnston, owner of New England Nutrition Advisors, agrees with this summer sentiment. "The grill is perfect for grilling a variety of proteins and veggies at the same time, the best part? Very few dishes! Use one day per week to grill chicken, shrimp, fish or steak to use as a source of protein for your salads."
Johnston adds you can even create kabobs.
"Simply assemble the kebabs with your favorite colorful veggies and pair with a serving of brown rice or quinoa for a complete meal."
Whether you create individual meals like kabobs or simply batch cook everything all at once, grilling not only tastes delicious, but it keeps the heat out of the kitchen so your humble abode stays nice and cool.
#5 Prepare bakeless breakfasts
During the warm summer months, the last thing you want to do is turn on the oven or stovetop to whip up breakfast. Instead, stick to something more cooling. Upgrade that bowl of boring cereal and keep breakfast chill (literally) with cooler breakfast choices like chilled chia seed puddings, fresh fruit smoothies, overnight oats and yogurt parfaits. You can even freeze berries, cherries and and enjoy them on their own or blend them together with Greek yogurt, nut butter or an avocado to turn them into a more well balanced summertime snack.
#6 Purchase already prepared foods
With packed summer schedules, the last thing you may want to be concerned about is cooking meals, so stock up on already prepared foods to make healthy summertime meals. Some great options include cans of beans, hard boiled eggs, packets of anchovies, tuna, salmon and shrimp.
Erin Palinski-Wade, RD, CDE, LDN, CPT says, "Canned or dried black beans provide a good source of plant based protein and fiber and are incredibly versatile. They can be added into egg dishes, on salads, homemade chilis and even blended into baked goods such as making black bean brownies."
#7 Whip up a salad dressing, salsa or spread
The hot summer season means eating lighter, refreshing fare like fresh salads, gazpachos and handcrafted sandwiches. Take the time to make your own salad dressings and vinaigrettes or opt for one of your favorite store bought brands. Just make sure to read the label.
Amanda Izquierdo, MPH, RD, LDN, says you can still purchase bags of premixed salads, but toss the dressing since they can contain a lot of added sugar and salt. Instead, make your own homemade vinaigrette by combining 2 tbsp. olive oil, 1 tbsp. red wine vinegar, 1 tsp. Dijon mustard, salt and pepper. That's it!
While you're making your own salad dressing, whip up a homemade hummus, guacamole or salsa, perfect as a summertime dip for fresh veggies.