One Chia Seed Pudding Recipe and Four Ways to Enjoy It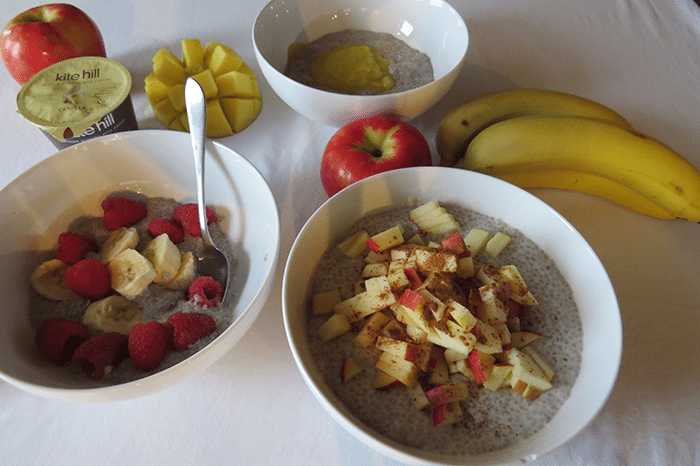 I have a chronic case of sweet tooth. Until I have at least a nibble of something sweet, the meal just isn't complete. It's like it didn't even happen. I'm like Godzilla and my Kitchen is Japan. I will not stop until I am satisfied and I can be found climbing on top of things (mostly countertops). Did I take that too far?
I can't count how many times I've said the following to Hubs seconds after finishing dinner: "We should probably order froyo." And GrubHub makes it all too easy to just order in some sugar.
To defend against the urge to indulge every night (which isn't exactly moderation) and to not turn into a giant, hungry monster, I like to have some healthy, sweet options in the house. Frozen, pitted cherries straight out of the freezer and dark chocolate are both quick and easy go-tos. But if you're craving a creamy dessert and you're able to set aside 20 minutes or less, you can enjoy this Chia see pudding recipe four different ways.
#1 Your Chia Seed Recipe base:
(Adapted from Mamma Chia's Chia Seed packaging)
3 cups unsweetened vanilla almond milk
2/3 cup chia seeds
2 teaspoons organic vanilla extra
3 tablespoons organic agave nectar
Directions:
combine all ingredients and whisk together to avoid clumping
Chill for at least one hour. I like to let it chill overnight.
This makes four servings
#2 Creamy, apple cinnamon chia seed pudding:
Take 1/4 of the base recipe and add 6 oz. of vanilla almond yogurt – I like kite hill. Stir together.
Chop 1/2 of an apple – if you're setting this aside, squeeze a lemon over your apple pieces so that they don't turn brown.
Top your creamy mixture with your apple pieces and sprinkle with cinnamon.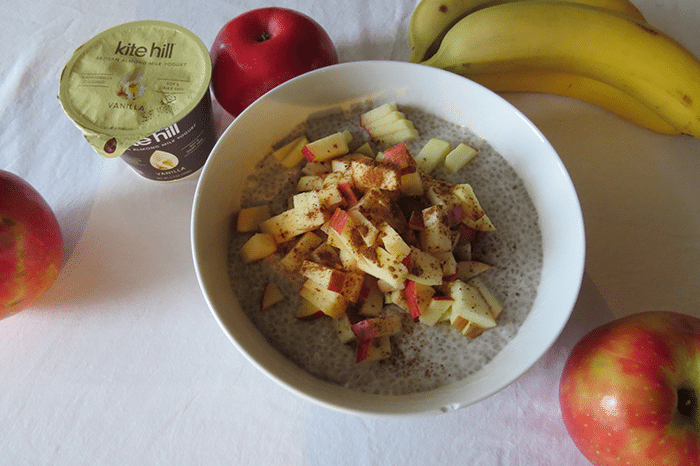 #3 Mango lime chia seed pudding:
Put 1/4 of your base chia seed pudding recipe in a bowl
Cut up 2 ripe mangoes and put the flesh of the mango (aka not the seed and not the skin, guys) in a food processor or blender. Squeeze in the juice of two limes. Cover and puree.
Top chia seed pudding with about 1/4 cup of the mango lime mixture.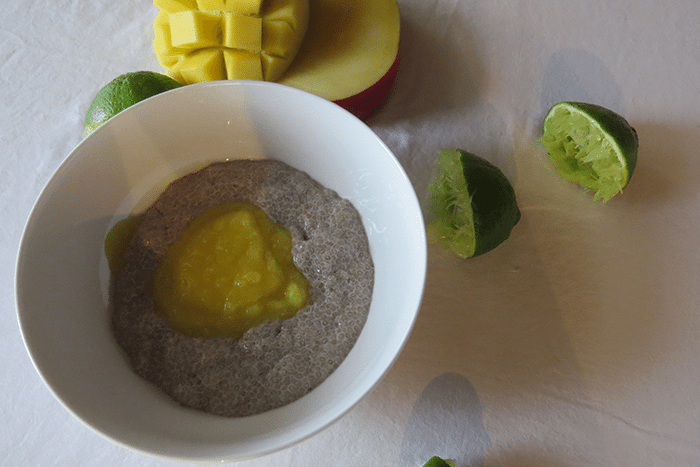 #4 Chia seed with berries and bananas:
Place 1/4 of your chia seed pudding recipe mixture in a bowl
slice 1/2 of a banana on top of the mixture
Top with 10ish raspberries.