Our Digital Workout and Schedule for the Week of July 13
It is week 18 of hosting digital classes! This will be the last week of morning facebook live classes before we get to workout with you in real life at #SweatworkingWeek 8, July 20-24, 2020. Can't make it to Maggie Daley Park to workout with us? We will be streaming the workouts live.
See you on aSweatLife Facebook Live this week to hit all your major and minor muscle groups: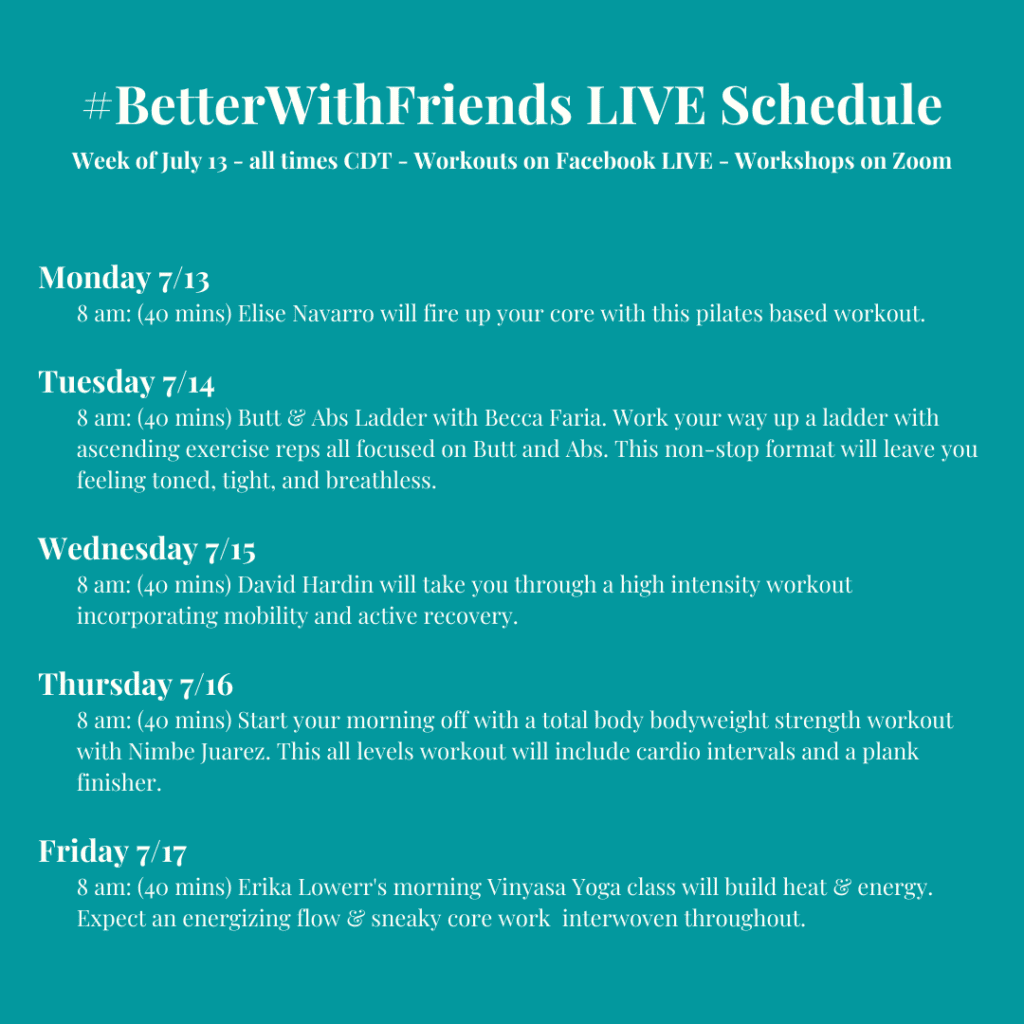 Wake up with aSweatLife and get moving. Every morning different trainer, different format to keep you on your toes. These trainers will motivate you and set you up for success as you take on your day.
Daily morning workouts.
All our workouts take place on our Facebook page via Facebook Live—right here!
Monday 7/13
8 am CDT: (40 min) Elise Navarro will fire up your core with this pilates based workout.
Tuesday 7/14
8 am CDT: (40 min) Butt & Abs Ladder with Becca Faria. Work your way up a ladder with ascending exercise reps all focused on Butt and Abs. This non-stop format will leave you feeling toned, tight, and breathless.
Wednesday 7/15
8 am CDT: (40 min) David Hardin will take you through a high intensity workout incorporating mobility and active recovery; accelerating your nervous system, so not only will you be ready for peak performance, but your body will be operating far more efficiently at rest.
Thursday 7/16
8 am CDT: (40 min) Join Nimbe Juarez for a total body bodyweight strength workout. This all levels workout will include cardio intervals and a plank finisher. (no equipment needed, but moves can be done with weights as well)
Friday 7/17
8 am CDT: (40 min) Erika Lowerr's morning Vinyasa Yoga class will build heat & energy. Expect an energizing flow & sneaky core work interwoven throughout.
Let us know!
Did this post help you get closer to achieving one of your goals?