Therapy Etiquette: How to Make the Most of Your Sessions
Are you new to therapy? Have you ever scripted in your head exactly what you wanted to say in a session, only to spend the entire time in a stream of consciousness talking about everything from dealing with toxic coworkers at the office to something your high school ex told you ages ago that still burns? What about feeling so overwhelmed before an upcoming appointment, you skip all together?
We chat with Coleen Dixon of Hope Springs Counseling to learn some helpful therapy etiquette tips to help you get the most out of your therapy and see results.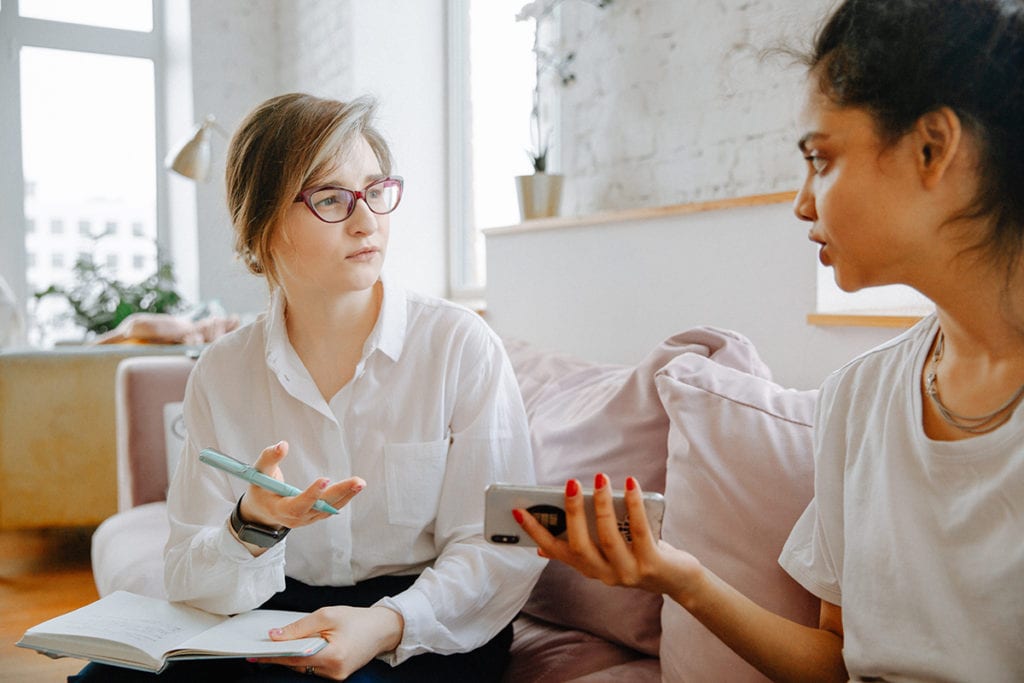 Therapy Etiquette Lesson #1: Show Up (For Yourself)
We've all been there. It's been a tough week and the pull of a day spent watching Netflix and avoiding addressing what happened is all too real. In our head, the last thing we want to do is re-hash the week or confront how we're feeling.
"The times people don't want to come to therapy because they are exhausted is usually the time where they need to come to therapy most." Dixon says. Physical presence is important, but aiming to be emotionally present will reap the most benefits.
"I can tell many clients come in trying to be the "perfect client…It's important to show up as you are. A good therapist will meet you there and respect emotional boundaries," she says. And for those days where we're running late, feeling rushed, or just plain stressed out? Dixon meets her clients there, too.
"If a client is running a few minutes late, I'll offer to do the first ten minutes of the session over the phone."
Etiquette Lesson #2: Identify an End-Goal
"Don't think of goals from session to session. Think of the end product," Dixon states. Setting a long term goal that you can reach cumulatively over your time in therapy is the way to go. It's okay to have a session devoted to blowing off steam, reflection, or even just to take a breath. It's part of the process.
Dixon challenges her clients to visualize themselves at the culmination of their time in therapy, then work towards that manifestation.
"When you think of the person you will be once you finish therapy, how will that person move through their day? How will they approach the same problems and challenges?"
Etiquette Lesson #3: Address Areas of Conflict
Believe it or not, you can disagree with your therapist.
"You are the expert on your own life," Dixon notes.
Therapists typically enter a client's life in the middle of a storm and can only work with what clients discuss session to session. If a strategy isn't working for you, tell your therapist as soon as you know, rather than creating a new point of frustration in your life or starting from scratch with a different therapist. This will make it easier for them to find something that does work for you, and helps you achieve your goals faster.
Therapy is a big step for most and it's always difficult and uncomfortable to come as you are. We've all been found guilty of vigorously brushing our teeth before a dentist appointment or stretching the truth about our diet at the doctor. And at therapy, the biggest and most important rule of etiquette is bringing your whole self, wherever you are, to your appointment. There will be ups and downs, appointments that end with that "eureka" moment and appointments that leave more to be desired.
Therapy is a process of re-building, re-tooling, and re-wiring, and all of those things take time. Building a relationship with your therapist through this process will set a strong foundation to grow and tackle problems head-on.
"In my office, one of the most important things is my relationship with my clients," Dixon says. "When things get tough we don't run, we don't shy away, we work through it!"