At-Home Workouts & Workshops with The Kimpton Gray Week of 6/1
[Disclosure: This week's digital content is created in partnership with The Kimpton Gray Hotel. As always, we only partner with the brands we truly love]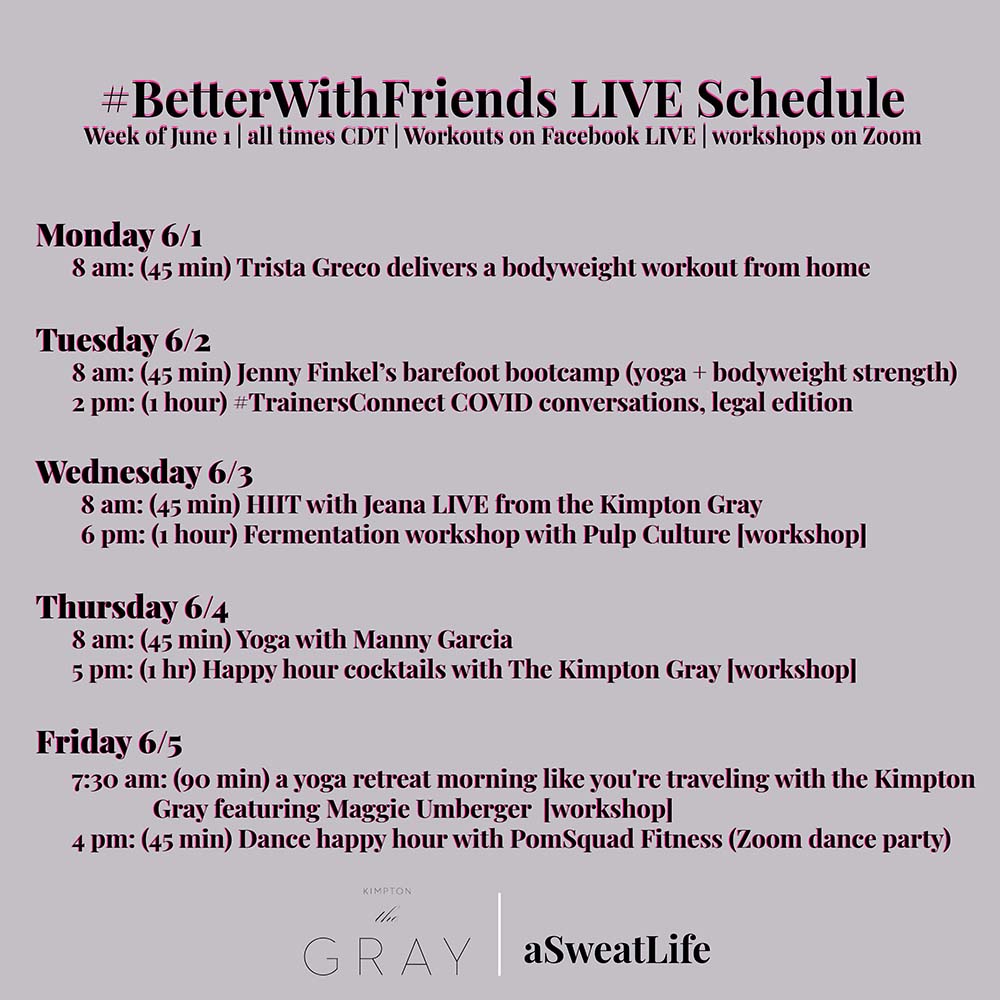 We love the Kimpton Gray Hotel for a multitude of reasons – from their friendly staff, to their healthy amenities like a yoga mat in every room, to their top-notch cocktails and food. And they helped us put on one incredible #SweatworkingSummit last January.
We honestly never thought we'd pine for January, but pining, we are.
And so as we set out to create week 12 of all-digital content – at-home workouts and workshops – The Kimpton Gray Hotel was the perfect partner to help us create a mix of things to keep you from feeling like every day is the same. You'll see LIVE morning workouts on aSweatLife's Facebook page and we'll give you entertaining workshops that make you feel like you're at a bar or on a yoga retreat.
And you'll see a few sights at the Kimpton Gray Hotel throughout the week, which has remained open by putting policies and procedures in place to protect both its guests and employees. So as we head into summer, the Kimpton Gray Hotel is ready for you – whether you just need a change of scenery for WFH or a weekend getaway.
Check rates and book your stay.
Workshops to give you all the good feelings
Tuesday, June 2 at 2 pm: #TrainersConnect – COVID conversations with SmithAmundsen Law Firm
On June 2nd, we are partnering with the legal team at SmithAmundsen LLC to create a workshop to talk through all of the hard stuff so we can come together strong as trainers and plan for successful next moves.
We would love to hear from you on what specific questions you have right now!
Based on trainers' rave reviews from the January #TrainersConnect Workshop, we're bringing back legal counsel from SmithAmundsen to give you ALL the info you could possibly need to know. You'll have the ear of some of the best legal counsel in Chicago to ask your burning questions about post-pandemic safety, how to protect your business and your clients in the new world, what financial impact you might be dealing with, and what you can anticipate as social distancing restrictions begin to lift.
This discussion will focus on:
Business Management: Unemployment benefits, loan options, financial impact
Technology: Music licensing, waivers on technology platform
Social distancing restrictions lifting in Chicago: What that could look like for studios/trainers, safety precautions, best practices for protecting your business and your clients
Wednesday June 3, at 6 pm: Fermentation 101 with Pulp Culture (rescheduled from last week)
Fermentation is so hot right now. From kombucha to kefir, miso, pickles, sourdough and of course booze, the process has been applied to tons of different foods and beverages. So what is all the fuss (or fizz) all about? Bacteria! Fermented products contain probiotics which have a ton of health benefits, especially for your gut. But the often sour smell, strange bubbles and idea of consuming something that is…old can be intimidating.
On Wednesday, June 3 we are bringing in fermentation expert Pete Clausen, Director of Production at Pulp Culture and 101 Cider House, to help us understand what fermentation is, how it is done, how to safely consume fermented products and make our own fermented hot sauce! Pete has been working with fermentation for over 5 years and most recently, he joined Pulp Culture, probably the most innovative beverage we've seen in…well ever. They naturally ferment cold pressed juice for three months, add adaptogenic teas, herbal infusions, super mushrooms and a little fizz to create a clean alcoholic drink with no sugar and no carbs. We cannot wait to ask Pete lots of questions. And bonus, Pulp Culture is offering 20% off online with the code 'Asweatlife' AND will be doing a giveaway!
Thursday, June 4 at 5 pm: Cocktail Hour with Hospitality Extraordinaire Bobby Gonzalez
Park yourself up at this virtual swanky hotel bar for conversation and a cocktail night cap. You will be greeted by your friendly hospitality concierge and bartender, Bobby Gonzalez of the Kimpton Gray Hotel Chicago. Tapping into the Kimpton's deep food and beverage knowledge, we'll create a night of cocktail creations – at home!
Friday, June 5 at 7:30 am: An at-home yoga retreat with Maggie Umberger
So your trip to Bali, Tulum, or Costa Rica for a week-long retreat was cancelled. We've got your back for a virtual version to hold you over until you can travel again. Maggie Umberger will take you through a mini morning retreat in just 90 minutes. You'll roll out your mat for yoga with Maggie and you'll journal your hearts out.
Workouts to connect you to routine
All of our workouts are hosted on Facebook except for our dance workouts – we host those on zoom so we can get the full musical experience that the class deserves.
Monday, June 1:
8 am: (45 min) Trista Greco delivers a bodyweight workout from home
Tuesday, June 2:
8 am: (45 min) Jenny Finkel's barefoot bootcamp (yoga + bodyweight strength)
Wednesday, June 3:
8 am: (45 min) HIIT with Jeana LIVE from the Kimpton Gray
Thursday, June 4:
8 am: (45 min) Yoga with Manny Garcia
Friday, June 5: