How Strength Society's New Leadership Has Reinvigorated A Beloved Chicago Workout
This post was written as part of a partnership with Strength Society. As always, we only write about products, brands, or services we truly love.
aSweatLifers were no strangers to the former Hardpressed, a thirty-minute, high intensity strength workout featuring one-on-one coaching and collegiate weightroom quality equipment. (In fact, we dedicated multiple posts to it, like a detailed account of what your first session feels like and a closer look at former owner Dan Geraci and his battle with a heart abnormality.) 
So when the doors at Hardpressed closed, a legion of diehard loyalists were left hanging, wondering how they were going to replicate the intensity and the results of the unique workout.
"A lot of folks who were obsessed with the workouts and the trainers there wanted to bring it back, because they were committed to the workout and the efficiency of the training," shares Mimi Bosika, co-founder of Delos Therapy and managing partner at Strength Society. "The machines were really hard to find anywhere else. It had so much value and it was really successful."
Not content to lift free weights at the gym, an enterprising group of former clients decided to build their own solution: investing in the concept and rebranding as Strength Society. Using the same space and the same equipment, three managing partners—Fei Wang, Vasu Pinnamaneni, and Bosika—put their heads and considerable expertise together.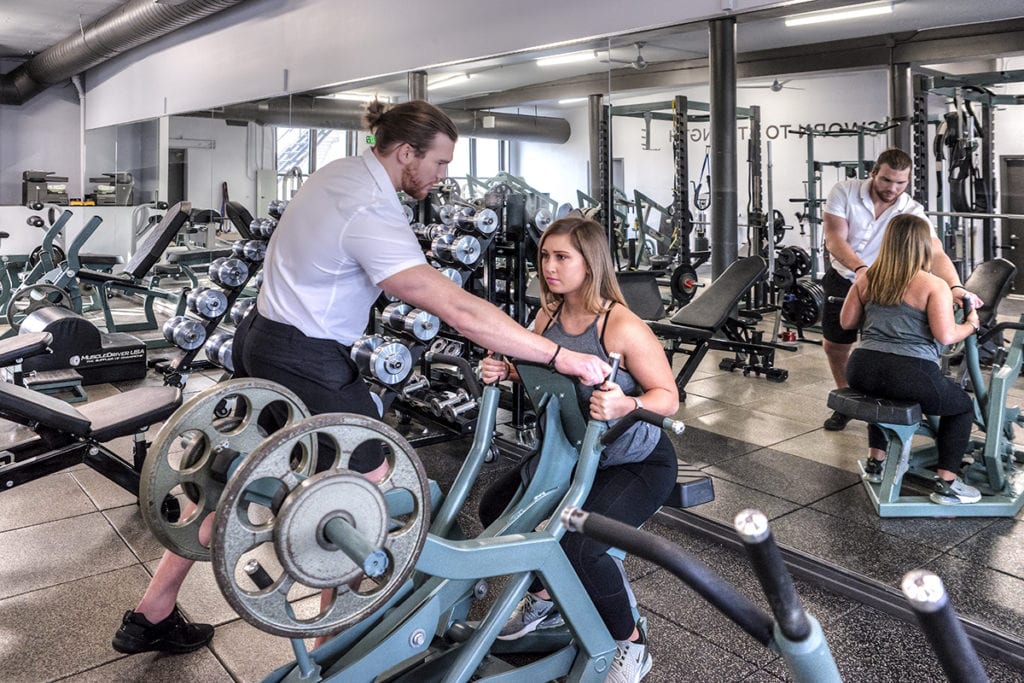 "The product works and there's a demand for it, which is the hardest thing to know when you start a business—this is proven," explains Wang. "We just needed to find the right strategy to get the clients back."
And thus, with a fresh coat of paint and several more improvements, the space reopened in November of 2019 as Strength Society.
How the new team brings business acumen to Strength Society
At the former Hardpressed, the expertise of the coaches in the fitness realm was clear: proper form was adhered to in every rep, and coaches had brag-worthy backgrounds in NCAA weight rooms.
While that experience kept clients coming back, the financial side of the business was a struggle to maintain.
"The business was ultra-successful, but it had some limitations in terms of having business experts," explains Wang. "Everyone was passionate about fitness but struggled in terms of operation and culture. When the doors closed, it wasn't intended that way, but they weren't able to sustain the business that they had created."
Enter Bosika, Wang, and Pinnamaneni, three diehard clients motivated to resuscitate the business model. Each brings a unique professional background to their new role as managing partner. Bosika is a lifelong entrepreneur with a neverending Rolodex of connections in Chicago and beyond; she also spent five years in sales management at David Barton Gym. Wang works in finance at a big name bank, and Pinnamaneni, also in finance, oversees the health and wellness sector at her bank, identifying trends in boutique fitness, larger gym formats, and high-value low-price gyms.
"What I noticed about the former Hardpressed was that it's a really unique workout that is not mass flooded in the market right now," Pinnamaneni shares. "You see spin, boxing, run, HIIT—but you don't see this form of training a lot. There's a hole in the sector."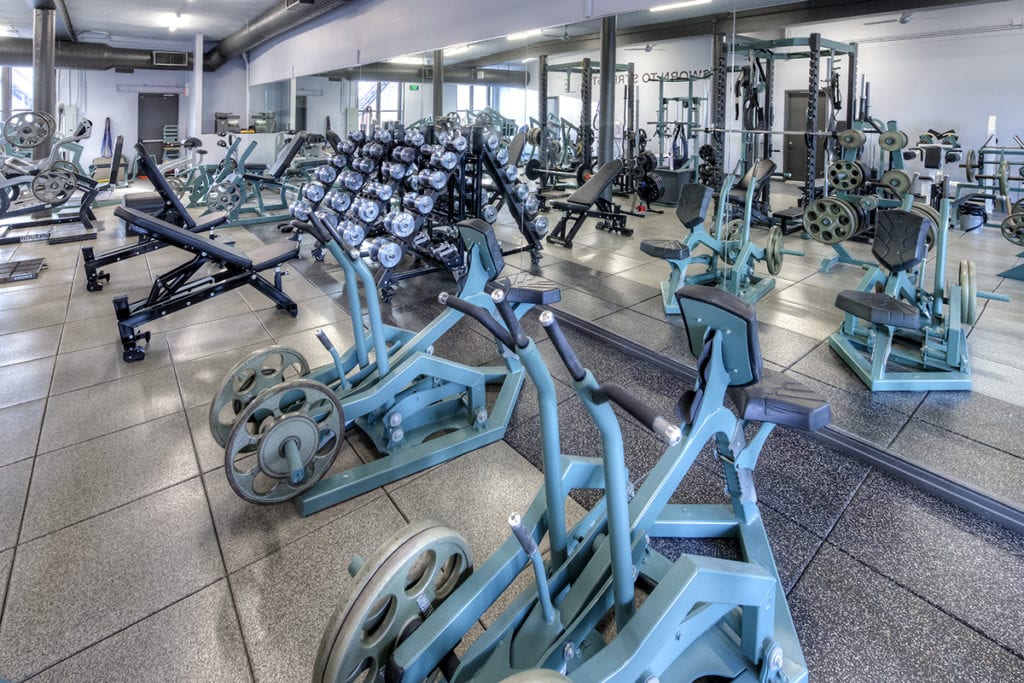 A new level of focus
Focus is a theme throughout the new Strength Society, both in terms of the individuals running the business and in terms of how the workout is structured.
Says Wang, "Strength Society now has a team in place where the individual's skills are used appropriately. We have people who have the mindset of lean operations, looking at the backend of things, experts on branding and culture, and experts in training and exercise science. We have the necessary skills for the various roles to make the business successful."
And just as each individual partner plays to their business strengths, so is Strength Society focusing on the workout is does best: thirty minutes of lifting weight to failure (and yes, for former Hardpressed devotees, that means no conditioning classes).
"It's a serious culture," says Wang. "You show up, you work, you leave." That mindset is reflected in small shifts in branding, too—the people running Strength Society are busy professionals looking for high quality, just like their clients.
But, says Pinnamaneni, don't think that you're going to get in a rut or do the same workout every single week.
"You're not going in there session after session and just do the exact workout you did the previous session," she emphasizes. "We have standard formats of workout —the same machines—but weight and rep count is completely customized to you. That data is then tracked and adjusted for subsequent sessions. You have complete knowledge and transparency in the workout."
Adding in recovery under the same roof
Delos Therapy and Hardpressed were close partners, and Strength Society is expanding on that relationship with an on-site Delos Therapy room for instant recovery.
"The types of clients who frequented the previous gym really benefited from Delos Therapy because it allowed them to work out hard on a continuous basis," explains Bosika. "The treatment room right on site is unique—you finish your workout and go directly to your recovery session. It's very streamlined."
Adds trend-identifier Pinnamaneni, "Fitness and recovery under one roof, there's just not a lot of places that have that in boutique fitness."
The streamlined nature of the gym and recovery appeals even more to Strength Society's ideal customer.
"We're catering to a lot of busy people who work hard and have major careers," says Wang, noting that they're focusing marketing efforts on the corporate world and continuing to rely on referrals as a major source of new clients.
And as far as what's stayed the same—besides the space, clients will notice the same equipment from Hardpressed days (which, Wang notes, is some of the best quality equipment available and thus much safer for use). Trainers have the same high level of education and experience, and the workout is still the same format.
With experienced business leaders and a new focus on strengths in the gym and in the backend of the business, expect Strength Society to make gains this year and aim to add more locations beyond the River North one.
Want to try Strength Society for yourself? Click here to inquire about the method, values, and team that govern Strength Society.