7 Tips for Working Out During Lunch
If you are looking to schedule a workout in the day but can't seem to wake up early enough for that first light class or get out of work in time to make the last class at your favorite studio, you might want to bring your fitness gear to work and try working out at lunch instead!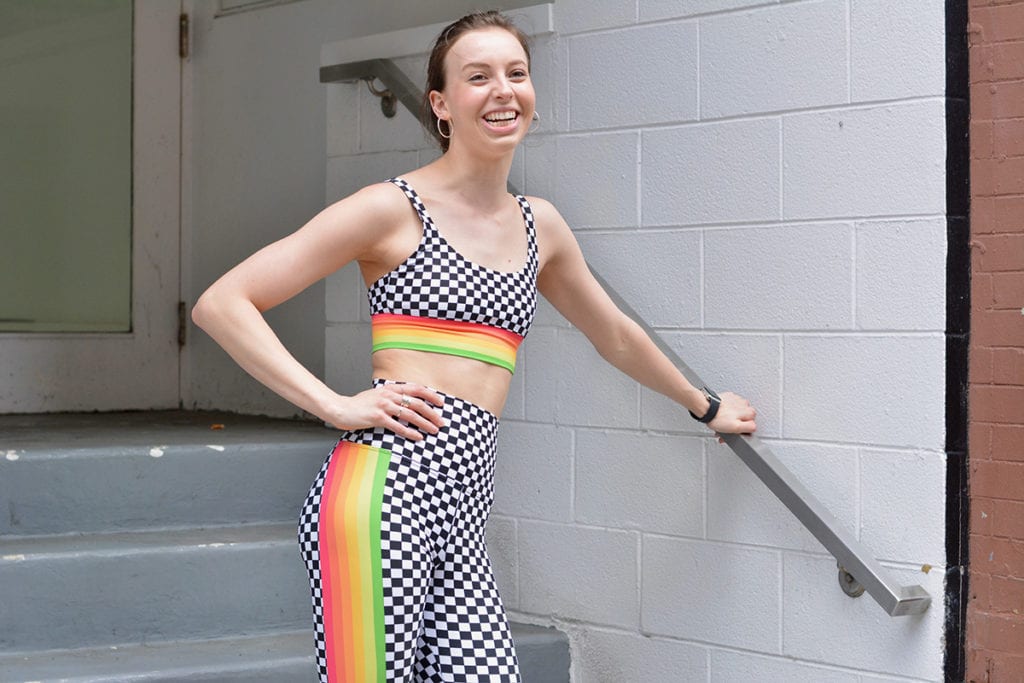 Why? It's in the middle of the day when you're wide awake, looking for something to shake that midday slump, and you know that you can get it in before feeling too exhausted on your commute back home. And it lets you sleep in a bit longer—if you're like I am, you are NOT one to wake up at 5 a.m. to sweat!
Plus, as long as it's not a super sweaty class or you're really pushing it and don't have time to shower, it's easy to manage a lunchtime workout and still get back in time to look put-together and presentable at the office. 
Not only is working out during lunch pretty convenient if you have a gym in your office building or a class at a studio nearby (you can TOTALLY do a 45 minute class and make it back!) but also it helps make the day go by faster too. It's a wonderful, welcome break you need an energy boost for the remainder of the afternoon and already had that extra cup of java. 
You might feel unsure about how to go about that lunchtime workout, though. Here are some tips for getting in that sweat session and not letting it ruin your day's productivity—it will only enhance it, really!
Pack your bag the night before
One thing that can help for lunchtime workouts is packing your workout bag the night before to ensure you have everything you need and don't feel rushed in the morning. 
"That way you have no possible excuse to cancel your workout when you are already prepared," says Rubie Canton, CPT and instructor at Shadowbox in River North. "Also when you are running on limited time it helps keep the process smooth and effortless," she adds.
At night, you have more downtown to adequately prep and make sure you have it all—the clothes, shoes, snack pre- and post-workout, gear, hair ties, water bottle, and anything else.
Choose a class or gym nearby
Book a class that is relatively close so you can have a chance to shower and even eat directly after your workout, says Canton.
"Nothing is worse than rushing to a class and potentially being late. It gives you the worse anxiety when what you are trying to do is reduce that," Canton says. 
And a close location just makes it more convenient all around. Even inquire to see if your office building has a gym in it and if your company has any partnerships with gyms and boutique studios in the area. You might get a discount!
Work out before you eat
"There is nothing worse then doing a HIIT class with a full stomach. Typically after a workout you are hungry too, so wait after your workout to eat lunch," says Canton. If you eat and get too full, you might be tempted to ditch it.
"I would recommend having a second breakfast/snack around 10:30am to hold you over a little longer," she says. Then have that lunch after the class! Or, if the pre- and post-workout snacks are big enough, that could quality as a two-part lunch.
Go with your co-workers
"Everything is better with friends; see if a coworker wants to take a class with you twice a week or you take turns picking workouts to do together," says Kat Wiersum, interval instructor at Studio Three in Chicago. 
This will keep both of you accountable and gives you someone to have solidarity with when the instructor says "5 more burpees" for the third time. Plus, it makes it seem more acceptable to head on out and get a sweat in midday too, since other co-workers are doing it with you!
Use an app
"Use a training or workout app! If your building has a gym or there is an open gym close to your workplace, download an app like Obe, Peloton, Nike Traning Club or a million others and you will never have to stress about what to do for your workout," says Wiersum. The less thought it takes, the less likely you will be to skip it—and apps have done the work for you in curating workouts that are challenging and also based on set times that make them convenient to squeeze in. 
You can even find just 10 minute workouts too!
"These apps have tons of choices from bodyweight workouts, express formats, dance, cardio; anything that strikes your fancy," Wiersum adds. 
Go for a less sweaty workout
If you are worried about coming back to work sweaty and getting ready to go back to the office in general after a class, consider a workout that may not leave you quite as sweaty.
"Pilates and barre classes can be good options for this! You can maximize your workout without worrying about smelling like sweat in your next meeting," says Wiersum. 
That might mean saving spin and HIIT for mornings, evenings, and weekends instead.
"And if you don't have an opportunity to shower, carry body wipes," says Canton. A quick wipe-down is better then being sweaty at your desk.
Plug workouts into your calendar 
If you have an assistant or use a calendar that is shared to control your daily schedule, plug your workouts into your schedule and block it off. Plan in advance.
"This will help keep you accountable for actually working out and also forces you to step out for lunch," says Canton. "Most people tend to just eat their lunch at work and never step away from their desk for a breath of air," she says. Yet, it's not good for health!  
What's more, "having a calendar for the workouts holds you accountable and makes it a priority in the grand scheme of your day. Tell your assistant to respect that time block the same way they would a doctor's appointment; health is wealth," says Wiersum. No backing out now!