Gym Bags Unpacked: Necessities for an After-Work Fitness Fanatic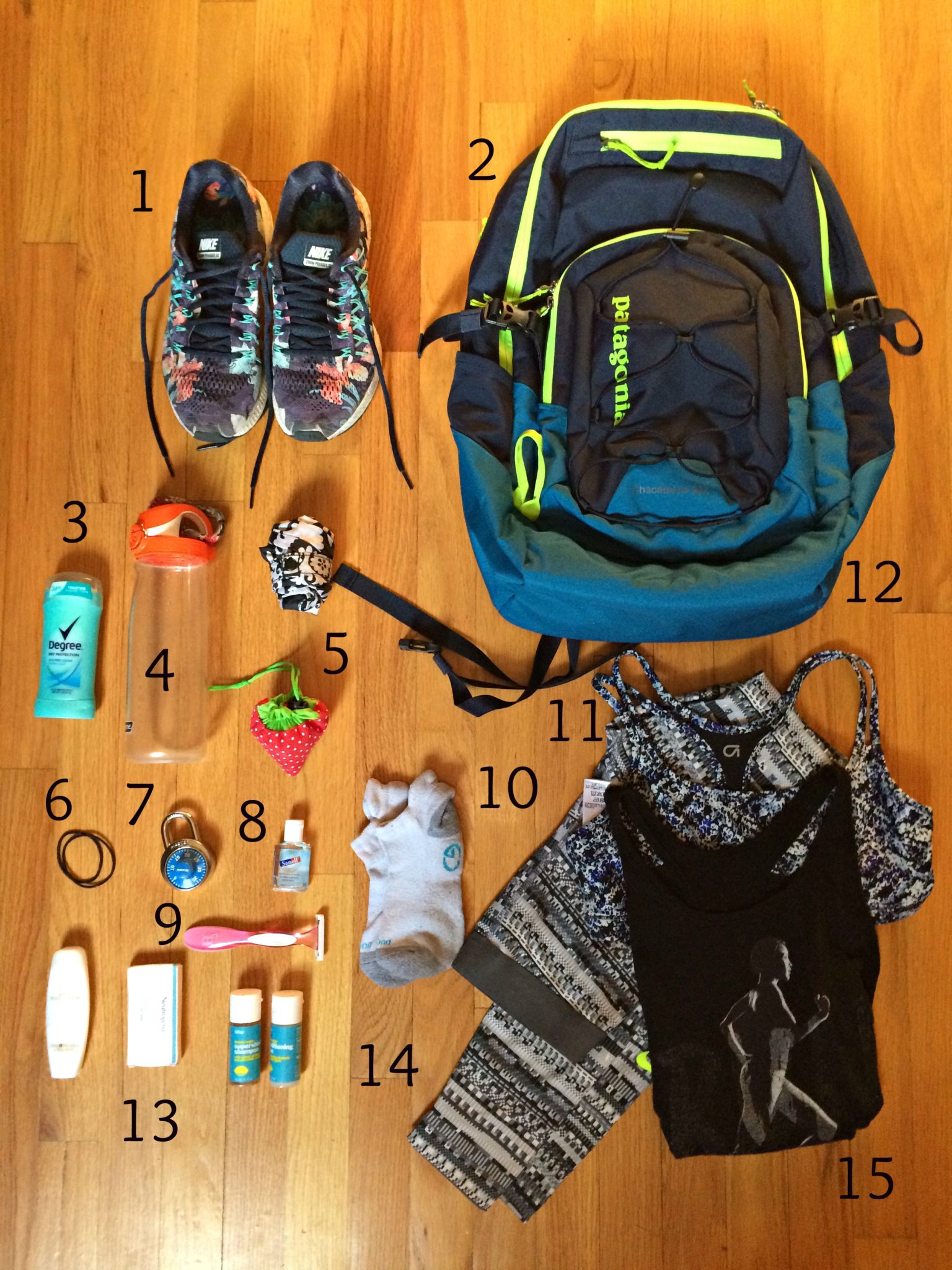 I am an evening workout person. I love heading to a 5:30 class after work (although lately it's been more like a 7 PM class), and then either grabbing ingredients for dinner or meeting friends out for a quick bite. To keep me prepared for anything, my gym bag is carefully packed with everything I need.
I have tried a lot of sneakers over the years, but right now my favorite is the Nike Air Zoom Pegasus 32. I picked up this pair in the special edition Photosynthesis when I was in New York last summer and I love the flowered pattern. These sneakers are great for everything from a running class on the treadmill to plyometrics and even rowing. Since I wear them every day, I usually get a new pair every four months or so to prevent shin splints or other injuries.
2. Patagonia Chacabuco Pack Backpack 32L
In the summertime, when I'm carrying a bit less, I have a smaller backpack that I like to carry. For the holidays this year, I got this larger bag from Patagonia and I have been loving it! It's plenty big to keep everything that I carry around, plus an extra sweatshirt or scarf when it gets really cold. Since I like to work out after work, the back pocket for my laptop comes in handy. It also has a lot of pockets in the front, a key clip, and two water bottle pockets – one of which I sometimes use for an umbrella.
If I plan to go anywhere after the gym, of course I need deodorant! Degree has been my long time favorite brand.
4. Nalgene On the Fly Water Bottle
This has been my favorite water bottle for a while. It has a clip for the top that keeps it shut and prevents leaking. The opening is the perfect size to drink quickly but not spill all over yourself. I like to keep a carabiner-style clip on the top that I can clip my keys to as well.
5. Fold-up grocery bags
I often stop by the grocery store on my way home, so I like to bring these reusable grocery bags that fold up and fit easily in my bag. Not only are they good for the environment but some grocery stores (like Whole Foods) will even give you a small discount when you bring your own bags.
6. Extra Hair Elastics
I have pretty thin hair, so I love the extra thin style hair elastics. Although I usually keep a couple on my wrist, I always keep a few extra in my gym bag in case they break or I forget them.
7. Lock
Although some gyms have locks built into their lockers, many don't. I always carry a lock with me just in case I need it. I have the code programmed into my phone, and sometimes I write it on my hand while I'm working out, since my brain tends to shut down and forget things while I'm working hard.
8. Hand sanitizer
You never know where you're going to end up after the gym. When my hands have been on the gym floor doing push-ups or planks, I like to have hand sanitizer in case I don't make it to a sink before dinner. These mini bottles are perfect for throwing in your gym bag, and can be refilled from a larger bottle when they run out.
9. Disposable Razor
If I end up showering at the gym, I like to bring a high-quality disposable razor so that I'm not stuck with the cheap single-blade type that they have in locker rooms.
10. Gym Socks
My favorite are the Women's Athletic Socks from Target. They're inexpensive, and I love the extra fabric above the heel. It's great for preventing blisters. The only problem is that the pack comes with multiple colors and I'm a little too organized to even match the pair with purple logos with the pink. In addition to the pair I'm wearing that day, I like to keep an extra pair in my gym bag, just in case I forget to throw them in one day.
I love these reversible sports bras from the Gap. Being able to flip them inside out helps me match them to a lot of different outfits. They have a comfortable fit and just enough support for me. Plus, you can often find them on the sale rack for a pretty good deal!
12. Extra pair of underwear
Not pictured because, well, some things in life need to be a secret. I always throw an extra pair in my bag just in case I decide to shower. There is nothing worse than getting out of the gym shower and realizing you forgot to bring clean underwear!
13. Lotion, soap, shampoo and conditioner
I like to grab a bunch of extra bottles of lotion, soap, shampoo and conditioner whenever I'm staying in a hotel. Although lots of gyms provide these products in their locker rooms, you never know what you're going to get if you bounce around from gym to gym like I do. Keeping these little bottles handy ensures you always have what you need, and because I didn't pay for them I'm not too worried if I leave them behind in the locker room.
These pants are my favorite winter purchase. They're surprisingly warm, even as the temperatures drop. This fun pattern in a neutral grey color allows me to pair with a spectrum of different colored tops. They are perfect for any sort of workout, but are definitely my go-to for outdoor running this year.
I put my active tops to hard work, so I feel silly spending a ton of money on them when they don't last me all that long. The tanks at Old Navy are usually under $10, so I can buy quite a few and not feel so guilty if I end up donating or tossing them after a year or so. Sometimes I can even shop the kids' active rack, where I've found tank tops for as little as fifty cents!
Let us know!
Did this post help you get closer to achieving one of your goals?