What Do We Do When Our Fitness Identity Shifts?
While reading Amanda Lauren's recent article on why she left ClassPass, a particular line struck me, "I was a ClassPass member for so many years that it felt like an identity to me, much in the same way people talk about being vegan." For those of us who don't just work out, but truly love the world of fitness – from tracking trends, to trying new workouts, to signing up for races and competitions, to using fitness as a way to find community – our role in this world can often become part of our identity. While the word "athlete" once defined Olympians and people working professionally in their sport, today anyone who laces up a pair of sneakers or steps onto the yoga mat can see themselves as not just a person working out, but an athlete with a distinct fitness identity.
We're spending not just our money on fitness, but our time, taking vacations to run on beautiful trails or heading down to beaches to spend our time on the yoga mat. The success of groups like November Project or Daybreaker come because fitness serves as a conductor to help us with the age old challenge of making friends as adults. But what impact do we see when our role in our fitness community changes?
How my fitness identity has changed over time
Over the past several years, I've watched my interests sway and shift within fitness. For years, I rarely let more than one day a week pass without a group HIIT class. I jumped around from studio to studio, making friends with the regulars and instructors. I was the first to know when a trainer was moving from one studio to another, and had my days carefully planned in a google spreadsheet a week in advance so that I could invite friends to join me.
In the summer of 2016, I was newly married and still excited about the world of group fitness. I re-learned how to ride a bike and completed my first long bike rides, building up from a short commute to a two-day 150-mile ride to raise money for multiple sclerosis, followed the next month by my first century ride. My interests began to shift, and although I was still doing group fitness regularly, I was spending more and more time on the bike, getting excited and planning rides. I started a cycling club, organizing dozens of people on rides to the Chicago suburbs. I found myself reading about cycling components and new bikes in my spare time, slowly growing both my interest and my knowledge base. It wasn't long before I'd become the go-to among friends and co-workers with any questions about cycling.
Then, as tides do, another phase ebbed and flowed. Runner friends encouraged and pushed me to run further and faster than I had before, and in December of 2017, I ran ten miles for the first time. Opportunities came my way to run more, including three half marathon weekend getaways and a 400-mile relay across the desert with a group of female ultrarunners. I joked that once we moved to Seattle in summer of 2019, it wouldn't take long before I was signing up for an ultramarathon. Sure enough, that fall I signed to take on my first 50K this coming May. I've become the go-to text when someone wants to know what headlamp or hydration pack to buy (the answers are Biolite and Nathan, respectively). My friends tease me relentlessly for the countless times in the past I'd claimed that I wasn't a runner, especially when my picture showed up in Runner's World.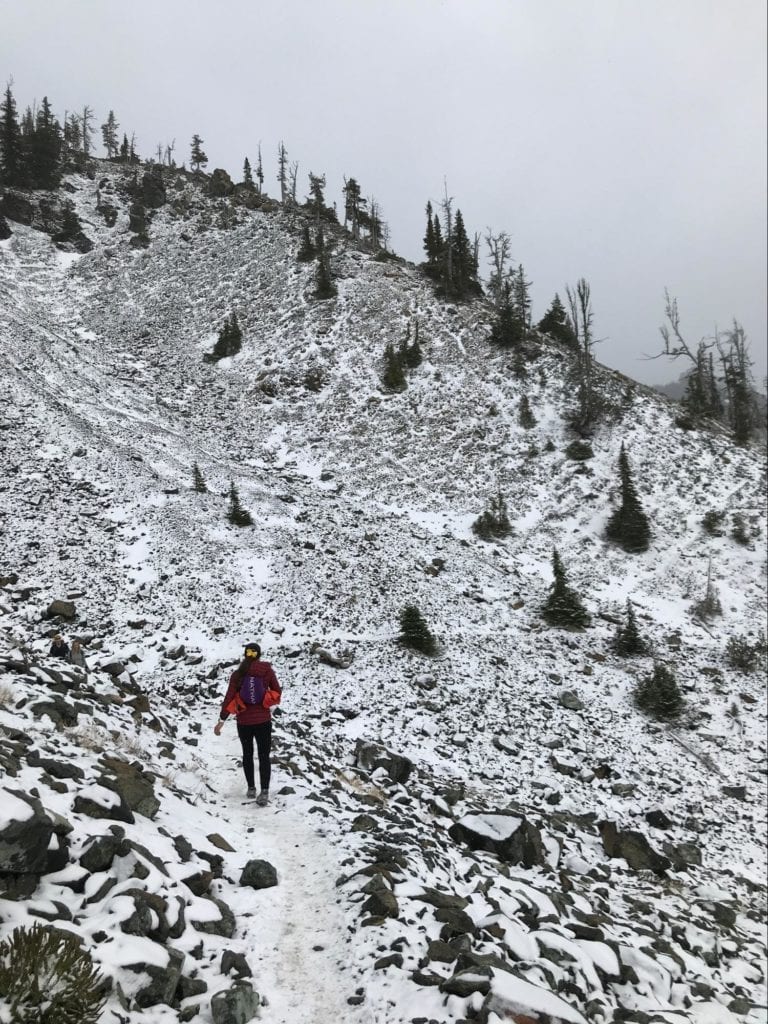 And yet, my brain can't help but think about the fact that I haven't taken a single group fitness class since moving to Seattle over seven months ago. On the tails of running my highest mileage week ever, part of me aches looking at my beloved road bike on the wall, knowing I haven't been on it in more months than I'm willing to admit. Another part, specifically my hamstrings, ache from a long-overdue strength day, fooling myself into believing I could still lift the weights I used when I spending six hours a week in the weight room.
It made me stop and think, how did I get to this place? Can my identity within the fitness world mold and change over time while remaining an athlete or have I become a fraud who claims to be a strength athlete and a cyclist? Am I finding joy from the sports themselves, or the friendships and experiences I pick up along the way? What will come next in my journey, and how can I embrace the phase I'm in, while maintaining the growth I accomplished in my last phase?
How to be happy with where you are right now
It's these times when we have to grant ourselves permission to be happy. To realize there are reasons – like the beautiful moss-lined trails where I spend my weekends and the outstanding group of women I run with – that our paths shift and grow. We have to have gratitude for our bodies for allowing us to move with our changing desires, allowing us to remain challenged and excited for new feats. We have to have forgiveness for not being the person we were a month, year, or decade ago, while remembering that person still lives inside of us. Maybe I'll come back around to lifting weights every day, or prepping for another century ride on my bike. Maybe I'll keep running long distances in the mountains, or pick up a new sport, like cold water distance swimming.
Whatever comes next, it's okay to know that I'm not less of an athlete just because my interests have changed. I'm still mentally and physically strong, even if my capabilities have altered.