Four Hacks for Organizing Your Kitchen
It's that time of year again – New Year's resolutions are on the brain and a lot of them center around cooking. Whether you're planning to eat less meat, take on a major challenge like Whole30 or COOK90, or cook a recipe from every cookbook you own before buying another one (guilty), the kitchen is at the center of those goals.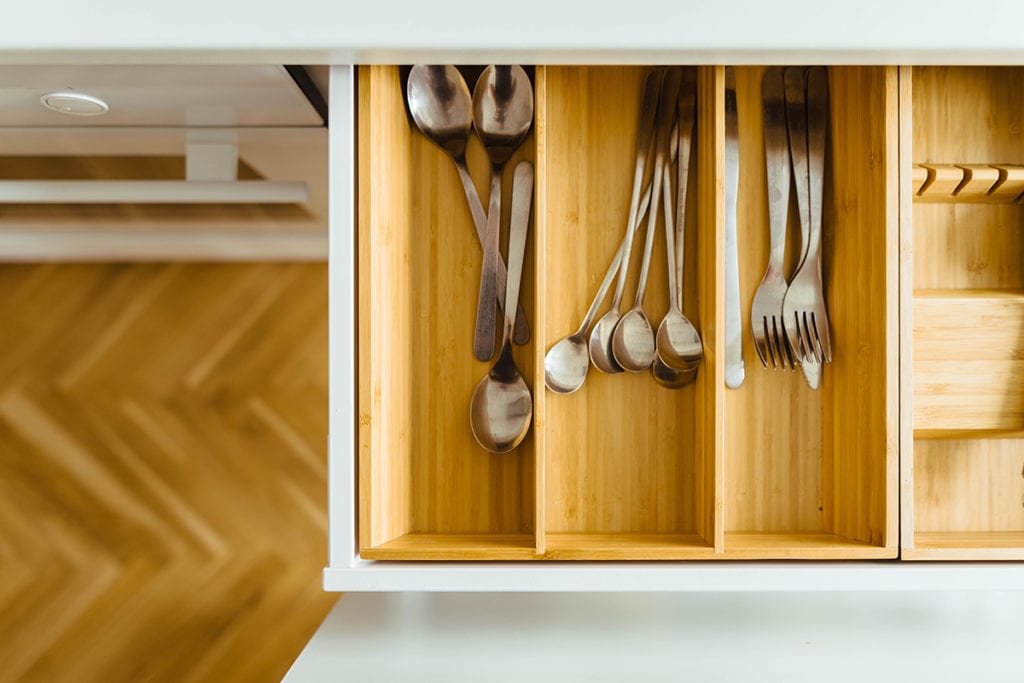 If you're planning to cook more this month or year, the idea may feel a little daunting especially if you're facing a cluttered kitchen. You may be wondering the best way to organize your kitchen cabinets before taking on your new foodie goals, and we've got you covered. Whether you want to do a major kitchen overhaul or simply make a few tweaks, try these kitchen organization hacks to get you inspired to spend January in the kitchen.
Purge unused items
We're all guilty of hanging onto those specialty ingredients we swore we'd use or hoarding Tupperware like we're running our very own ghost kitchen. Before you go and reorganize everything in your kitchen, get rid of some of that clutter. Take out every item and rather than asking whether it brings you joy, ask yourself "will I use this?" If the answer is no – toss, donate, or repurpose it.
Store based on usage
Pro tip: cooking is easier when you don't have to run in a thousand different directions to grab a spoon, spatula, and salt all while your water is boiling over and your veggies are burning. Store your items in the proper section of the kitchen to ensure a good flow while you're cooking. Keep knives near cutting boards, spatulas near the stove, and baking supplies in a drawer or cabinet together.
Additionally, prioritize the items you use the most and keep them in the easiest to reach places. Keep the appliances you use every day out on the counter and stash away those big bulky appliances that you only pull out for special occasions or specific recipes. If you're big on sheet pan dinners keep baking sheets in an easily accessible cabinet, but if you're devoted to the skillet meal like me stash those things away to make room for the tools you use most often. The best way to organize your kitchen cabinets is any way that makes sense for your lifestyle. If you make sure your kitchen layout is working for you, you'll be more excited about meal prepping or cooking dinner after a long day.
Use vertical space
You've probably heard it before, but if you're living in a small space vertical space is a lifesaver. We'd all love to have a kitchen island the size of Bobby Flay's or a walk in pantry like Gwyneth Paltrow's, but unfortunately we can't all be so lucky.
If you're short on cabinet or drawer space, find ways to stack items and you'll be amazed how much more you can fit. Some great organization hacks to make use of vertical space are getting a stackable spice rack, screwing a few hooks into the wall to hang pots and pans, or stacking Tupperware.
Think outside the box
Sometimes those kitchen organization hacks we find on Pinterest don't come cheap. Consider nontraditional ways to store all your kitchen tools and ingredients if you want to come up with inexpensive ways to transform your kitchen. Who says an acrylic makeup organizer can't be a tea bag organizer or that an over the door shoe rack can't be repurposed to house extra spatulas, whisks, and wooden spoons?
Additionally, rather than spending money on kitchen decor, consider displaying functional items that are also aesthetically pleasing (hello stand mixers) to cut down on costs for your Pinterest-worthy kitchen. A floating shelf displaying cookbooks can double as vertical storage for your recipes and a beautiful art piece.