A Beginner's Guide to Your First Dispensary Visit
It's 2020, and recreational cannabis is officially legal in more states than ever (11, to be exact). Illinois joined this ever-growing list on January 1, with weed now available for purchase at dispensaries across the Prairie State. (The demand is *so high* in Illinois that many shops have already sold out their stock!)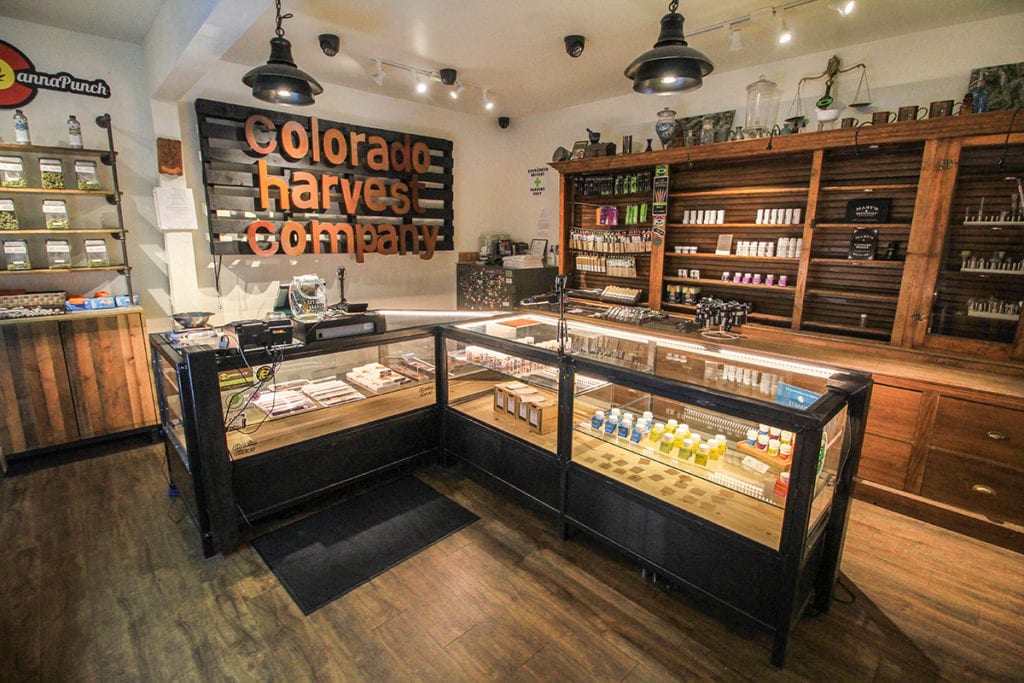 If you've never shopped at a dispensary before but are interested in checking one out, there are definitely a few things you should know before going. I visited a couple of dispensaries myself during a trip to Portland and Seattle a couple of years back, and as a pot newbie, I didn't really know what to expect when I stepped foot inside.
To make your first trip to your local dispensary as stress-free as possible, I chatted with a few cannabis experts for their best advice and am also sharing what I learned from my first-time experience. 
1. You'll need a valid government-issued ID to purchase anything.
Like booze, recreational cannabis is only legal for those 21 and up. (The legal age to purchase medical cannabis, on the other hand, is 18 and up.) You may even be carded by security before even heading inside and then again once you're ready to purchase.
"You have to have a photo ID in order to buy [cannabis], and expect to bring it out multiple times," says Kate Morgan, co-founder and CEO of Live Lilium, a Massachusetts-based company that hosts brunches and other events to educate consumers about cannabis and introduce them to dispensaries in the state. 
Carson Shipley, the media coordinator at (Lux) Pot Shop in Seattle, notes that in Washington State, valid forms of ID you can use at a dispensary include a driver's license, instruction permit, or ID card issued by any U.S. state, U.S. territory, Washington, DC, or Canadian province, as well as an official passport or passport card. 
2. You'll have to pay in cash.
Fun fact: Because cannabis is not legal on a federal level, dispensaries can't process credit card payments, which is why they're cash only, explains Morgan. The good news is, most dispensaries have an ATM machine if you forgot to stock your wallet or you don't have enough with you to buy whatever it is you want, Morgan adds. That said, you'll probably want to hit up your bank beforehand to avoid ATM fees. 
3. Most products will be locked up in display cases.
"Today, dispensaries look a lot like an Apple store," says Shipley. "You can see product locked away under glass display cases. There are also non-consumable items on counters to be touched and explored." 
In Washington State, Shipley says all products for sale must be pre-packaged. While customers can touch the packaging while shopping, they can't open anything. "All of the packaging is sealed shut  to ensure the product hasn't been tampered with," he says. It's similar to going to a liquor store: "You're not allowed to open the bottles in the store," says Shipley. "No product consumption is allowed in any retail location."
4. You'll have a ton of options to choose from…
At (Lux) Pot Shop, for example, they sell raw cannabis flower, pre-rolled joints, edibles, beverages, concentrates, vape cartridges, tinctures, capsules, and topicals just to name a few, says Shipley. And all of these options come in tetrahydrocannabinol (THC) and cannabidiol (CBD) varieties. 
For a quick refresher, THC is the compound in cannabis that gets you high, while CBD is that compound known for its pain- and stress-relieving abilities. "People often think you have to feel high from using a cannabis product," says Shipley. "This is far from the truth. Many products contain more CBD than THC, which is a safe way to enjoy cannabis without feeling out of control." 
5. …so don't be afraid to ask for help.
Not sure whether to buy edibles or flower or something THC-dominant or CBD-dominant? That's where "budtenders" (i.e. dispensary employees) come in.
"Budtenders are very knowledgeable about the products they have and can make recommendations," says Morgan, although it is good to have some idea about what types of cannabis you want to try beforehand. 
I knew I wanted to try edibles when I visited a dispensary on the West Coast because I don't like the smell of smoke–but I had no idea what strain of cannabis to try. The budtender recommended a chocolate bar with an indica strain based on my interest in edibles and how I told her I wanted to feel. (Indica gives you a "body high," putting you into a relaxed state while sativa gives you a "head high" that can make you feel more energized.)
"There's no such thing as a dumb question when it comes to cannabis," says Shipley, so definitely ask your budtender for help. "Cannabis affects everyone in a unique way," he continues. "While one product might work great for your friend, you may feel very differently. Telling a budtender what you plan on doing after you use the cannabis is a great starting point."
6. It may take trips to a few dispensaries to find one you like best.
Every dispensary is different, so consider dispensary-hopping until you find the one where you feel most comfortable shopping.
"I have found that each dispensary has its own culture, so you may want to look around a bit," says Morgan.