The Very Valuable Lesson You Can Learn from Today's VSCO Girls
Every generation of teen girls has a distinct style. Those who grew up in the '90s rocked scrunchies, chokers, overalls, and fanny packs, while the '00s set, of which I was a part of, wore low rise jeans (the horror), velour tracksuits, and polo shirts—so many polo shirts—with pride.
So it's no surprise that the adolescents of today have their own unique look, known by the term "VSCO girl." Not familiar? The name comes from the photo-editing app VSCO, which is pronounced "visco." The app, which allows you to edit and filter photos so they look very Instagram-esque, is sort of like a social network (users have profiles and can "like" each other's photos).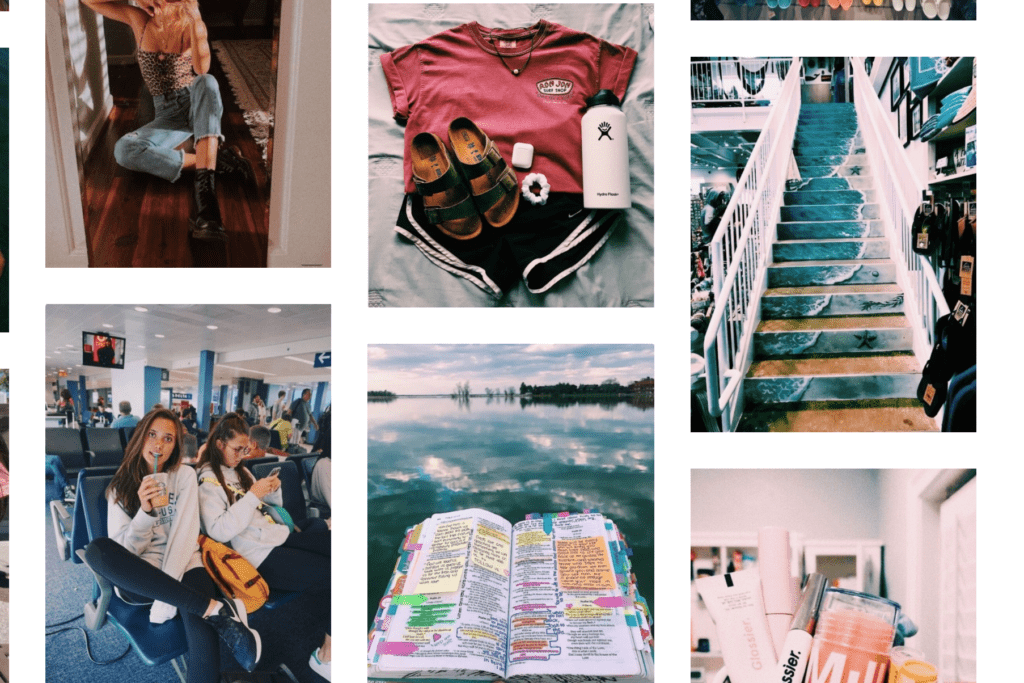 VSCO girls have a pretty chill, laid-back style. The typical VSCO girl likes to wear oversized T-shirts, scrunchies, Pura Vida bracelets, and "ugly" shoes such as Birkenstocks or Crocs. She'll probably carry around a backpack from the Sweden-based brand Fjallraven and a Hydro Flask reusable water bottle. She's not too concerned with looking perfect or wearing a ton of makeup. For example, a VSCO girl favors lip balm and clear gloss over bright lipsticks and messy buns over flat-ironed hair.
Vox reports that at the beginning of 2019, VSCO girls were kind of a joke: All the name meant was that you wanted your VSCO feed to look cool. But this summer, things changed, when VSCO girls started using TikTok, the Gen Z social short-form video app, to talk not only about their style preferences but their desire to save the environment.
That passion for protecting the planet is something we could all benefit from emulating as grown-ass women.
"What I like about VSCO girls is that they make small, incremental lifestyle changes to live sustainably," says Christian McKenzie, an investor in fashion brands and ambassador for Remake, a nonprofit that promotes sustainable fashion. "They know that what is happening to the environment is unsafe and unhealthy for everyone."
Instead of doing nothing, they contribute to the solution by using Hydro Flasks and metal straws instead of plastic bottles and straws and wearing Birkenstocks, which are more sustainable than other shoe brands. "These are all actions that if we collectively do them, it can have a very positive impact on our connection with nature and how we can work together to preserve it," says McKenzie.
Ready to embrace the VSCO girl lifestyle? Consider this your starter pack:
32-oz. Wide Mouth Hydro Flask ($39.95, hydroflask.com)
This large stainless steel water bottle keeps H20 cold up to 24 hours and hot drinks hot for up to 12 hours. It's free of phthalates and BPA, comes in a ton of colors, and you can decorate it with stickers just like all your favorite VSCO girls.
SipWell Stainless Steel Drinking Straws ($4.89, amazon.com)
Americans use about 500 million plastic straws a day, the majority of which end up in the ocean. Make the switch to metal straws (which work a whole lot better than those flimsy paper straws). These come in a pack of four, along with a cleaning brush, and are scratch-proof.
Nacho! Scrunchies ($14.50, nachoscrunchies.com)
The '90s are back, but this time set your sights on sustainably-made scrunchies. These scrunchies are made from sustainable fabrics like Tencel right here in the United States. The tags and duster bags are made of organic cotton, and brand's business cards are made of recycled paper.
Fjallraven Kanken Backpack ($80, urbanoutfitters.com)
Go back to school with this classic backpack, available in a variety of colors with a roomy main compartment and front and side pockets. As a bonus, Fjallraven supports nature-conservation projects through their Arctic Fox Initiative.
Birkenstock Arizona Birk-Flor Sandals ($99.95, birkenstock.com)
These sandals have been beloved by generations of people, so stock up and get a headstart on summer with this popular pair made with the brand's signature footbed. Many of the materials used to make Birkenstock sandals, like cork, natural latex, and leather, are sustainably sourced.