Strength-Forward Group Fitness Experience, Train Moment, Set to Open Doors This November
Disclaimer: This piece is written as part of a partnership with Train Moment. As always, we only write about the experiences and things we truly love!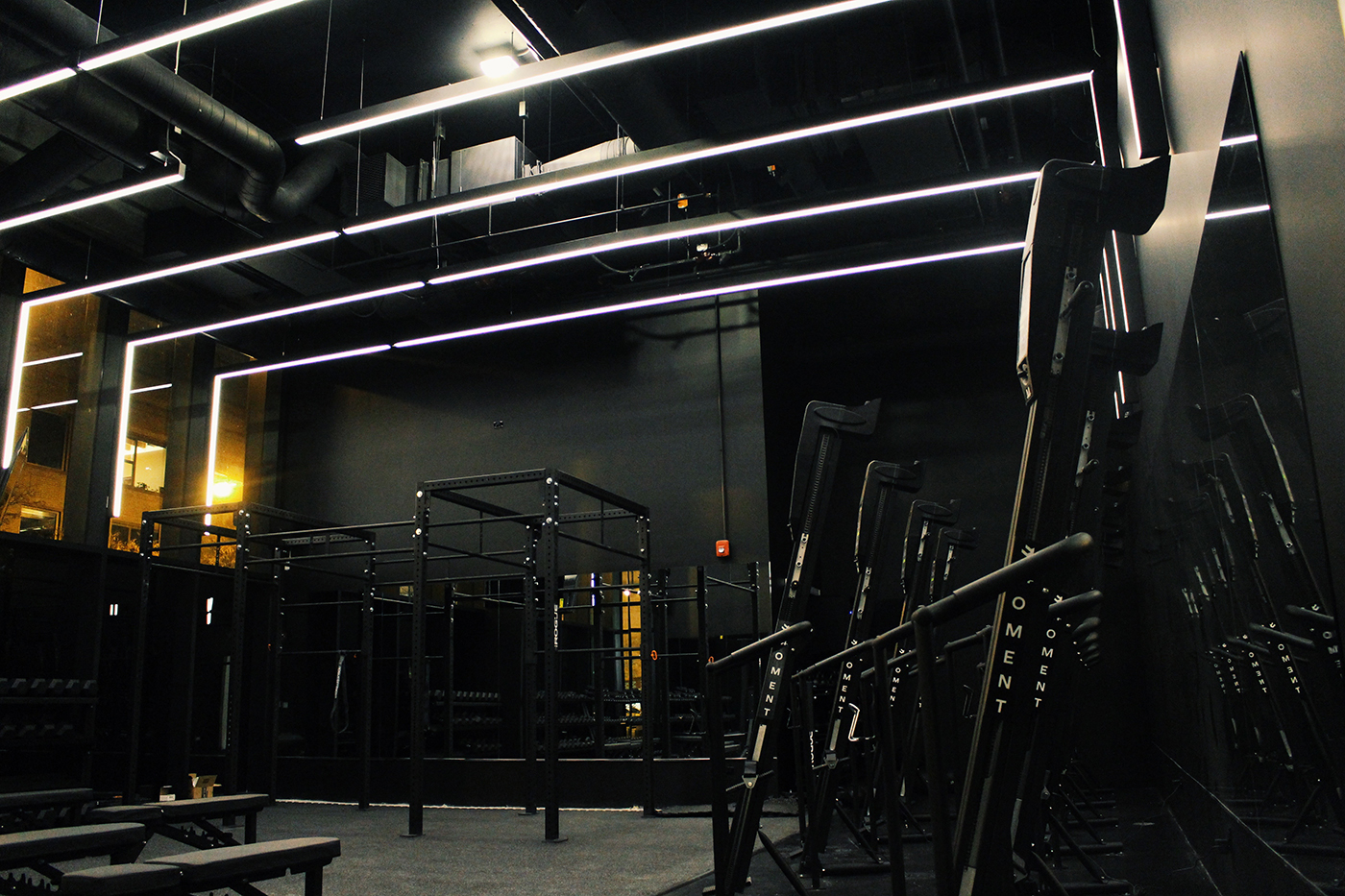 I genuinely love challenging myself through fitness. It is why I gravitated towards #Sweatworking events early on. The idea of trying new things while meeting new people, to get out of my comfort zone in a couple different ways, was enticing. It's no surprise that when Nik and Kati Rodriguez agreed to put me through a Train Moment-style workout well before the new strength and HIIT training studio opened its doors in Chicago, I didn't have to think twice.
"I'm so in! Tell me when and where!" I proclaimed with excitement.
Nik put me straight to work when I arrived for this private session, something he is no stranger to after working as a personal trainer for the past seven years. And experience a strength and conditioning challenge, I did. In the best way. I don't use VersaClimbers in my regular training, and even though I incorporate heavier weight training into my routine, I don't often push myself the way I would if I had a trainer.
Afterwards Nik and Kati, the husband and wife duo and co-founders of Train Moment, sat me down to asked me about my first impression. What did I think of the unparalleled, strength-forward group training experience combining simple, effective and low-impact strength training with HIIT conditioning intervals on the VersaClimber?
I told them this workout is no joke, and I understood why it's been dubbed "Your New Love Hate." They designed it that way. It's packed full of strength training elements you don't often see in a group fitness setting (think a heavy assortment of free weights, full adjustable strength benches, and a Rogue pull-up rig for body weight work), and interval sprint training on the VersaClimber.
"I love the VersaClimber … [there is] the ability to train really hard and [it] produces little to no impact and wear and tear on your body," Nik told me. This is precisely why it's become a favorite of athletes of all levels and is making a big comeback in the mainstream.
But more than a workout that is hard just for the sake of being challenging, this workout had an intelligent, programmatic spin to it, built out of Nik's desire to bring a very personal, strength-forward style of training to a group fitness environment.
As Nik describes, a lot of group fitness you'll see today offers endurance training or strength endurance (higher reps, or for time increments rather than weight prescriptions with lower rep counts of 8-12 which will be utilized at Train Moment).
The couple saw a gap in the market, and they decided to make their mark in the industry.
Filling the gap: a big goal, years in the making
To understand how Nik saw the opportunity to offer larger scale group training with a personal training take, let's take a step back.
After playing football at the University of Notre Dame, Nik moved to Chicago with a degree in marketing and psychology and a love for fitness. He knocked on the door of the first fitness facility he could find, a Pilates studio. After becoming a trained instructor, he immediately started leading classes. But his real passion came from training clients one on one in the weight room, and soon after found Hardpressed. He worked his way from interning in this heavily strength-focused personal training facility to full-time training and into owning a piece of the business.
After Hardpressed, Nik went on to co-found Strive Village, another primarily personal and small group training facility. Around that strength-focused gym, Nik watched the rise of boutique, high end group fitness – with a greater emphasis on strength training in general.
The rise in both trends in the fitness industry spoke individually and in absolute harmony to the co-founders of Train Moment. Nik wanted to continue pushing what was possible for a strength-focused gym, and Kati Rodriguez's eye for design and customer experience made them the perfect pair to launch a brand. The intentional programmatic layout of the gym is all Nik. Everything you see, hear, smell, touch and experience in the studio space – from the lighting to the eucalyptus towels handed to you after the workout – is Kati.
From personal training to boutique group fitness: defining a brand
"You have to know what you are to stay true to what you are. You can't be wishy washy about that from the beginning," Nik said of starting a business, fitness or otherwise.
Nik knows exactly who he is as a coach and an entrepreneur, and he knew just the people to pull into the fold to help him achieve this big goal of launching an entirely new fitness concept.
"It'd be exhausting to wear all the hats," Nik said. "As a business owner … being able to be open to let people in to help you out is huge."
Very much in Nik's wheelhouse, though, was the ability to see a granular idea to a fully realized physical space. Three years ago, Nik tapped into the idea of utilizing VersaClimbers as a means to make the most out of every moment of a 50-minute strength-forward workout.
Making the most out of a moment is a theme woven throughout the studio . From the language you'll hear the coaches using, to the efficiency of the workout, to the lasting impressions the space leaves, for Train Moment, it's all about the mystery of a moment.
The name of the gym itself is inspired by a pastor in Los Angeles, Erwin McManus, Nik told me. "I read a line in one of his books, 'That's the mystery of a moment. It can either pass you by or it can change your life,' and so that just hit me and stuck with me."
At Train Moment, Nik and Kati want you to know that every moment – big and small – is worth noticing, working for, and celebrating. The small moments allow you to achieve the big, and this dynamic duo plans to celebrate those as they purse their big goals for Train Moment well beyond this first brick and mortar.
Growth mindset: On the horizon for Train Moment's launch and beyond
With a history of learning the ins and outs of the fitness industry and a brand three years in the making, Train Moment positioned itself to open, scale, and grow. The team would like to open a second location in Chicago, and extend to a few more major cities where it makes sense after establishing its first presence.
Interested in trying out the studio? It's in the West Loop at 167 N. Desplaines Street conveniently located between The Loop, River North, and West Loop in Chicago. This gym is ready for you to try it out starting November 18 and it's packed with amenities like showers and a vanity bar.
Ready for the best news? Train Moment is giving away a complimentary intro 3-pack to Train Moment for the first 25 readers to register and use the discount code, ASLMOMENT at checkout. And on top of that, one lucky registrant will be selected at random to win an unlimited month to Train Moment! Register in minutes via their iOS App or through trainmoment.com on mobile or desktop. Pre-sales are also live and run through Friday, November 15 at midnight.