Everything You Need to Know About E-Cigarettes
I was living overseas when I first noticed electronic cigarettes (or e-cigarettes or e-cigs). The local tobacco shops, or tabacchi, started selling the cartridges, and soon entire stores dedicated to vaping appeared in the small Italian towns we visited.
It wasn't until I moved back to the US in early 2018 that I realized how popular the devices had become. Almost every strip mall seemed to have a brand new vape shop, and every gas station I passed advertised Juul.
Despite the recent surge in popularity, electronic cigarettes aren't new. There have been several iterations and patents dating back to the early 1930s, but they weren't introduced commercially in the US and Europe until 2006.
But what's the draw? How did one brand come to dominate the market, and why are many states trying to ban e-cigarettes outright?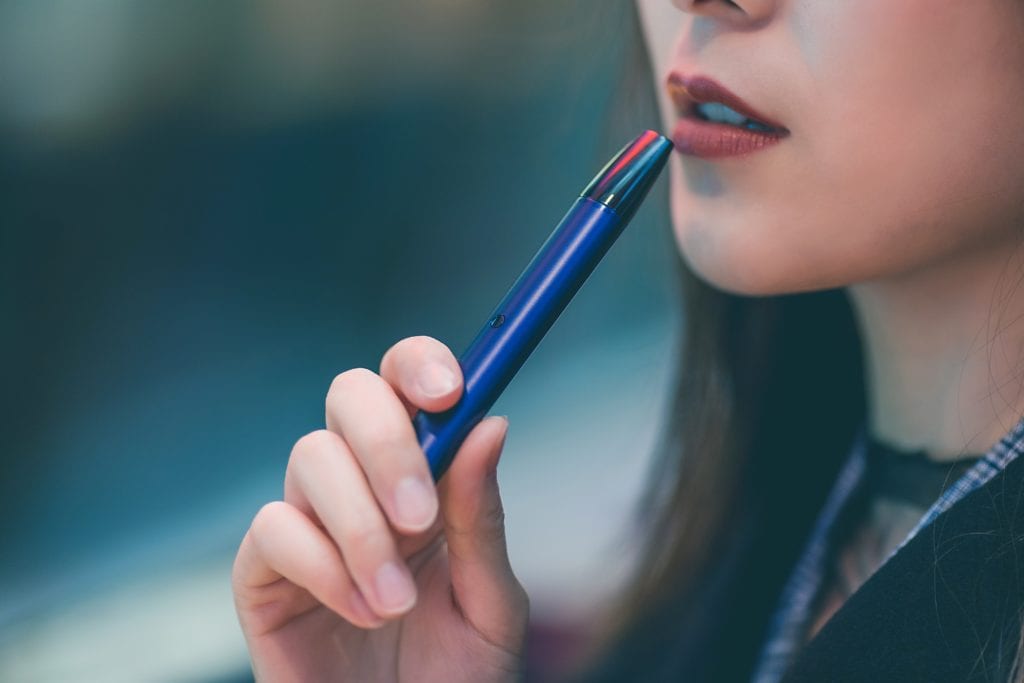 E-cig basics
Jackie C and her spouse started vaping together after being introduced by a coworker.
"We both got hooked pretty fast," Jackie says. She had occasionally smoked traditional cigarettes before and found herself drawn to vaping. "The buzz it gave me was awesome, and it calmed me down without making me smell like cigarettes. I didn't really know how bad they are for you and told myself it was okay."
According to the CDC, "E-cigarettes work by heating a liquid to produce an aerosol that users inhale into their lungs. The liquid can contain: nicotine, tetrahydrocannabinol (THC) and cannabinoid (CBD) oils, and other substances and additives." Users can choose the type (and flavor) of cartridge they want to use – ranging from traditional tobacco to much sweeter flavors.
You can see the draw: there's no distinctive cigarette smell, and unlike a traditional carton of cigarettes, vapes can be small and discreet. Some products fit in a pocket and can easily be mistaken for a USB device.
A safer alternative to smoking?
E-cigarettes have been touted as a way to quit smoking, or as a safer smoking option. Founded by former smokers, Juul cites a desire to empower smoking adults, with a mission statement that specifically addresses adults using e-cigs as a smoking cessation tool. (It's important to note that studies about e-cig usage and smoking cessation or nicotine addiction don't necessarily indicate a correlation. Former smokers have shared anecdotal testimonies, though.)
However, as early as 2008, the World Health Organization warned users against using e-cigs in this manner: "Contrary to what some marketers of the electronic cigarette imply in their advertisements, the World Health Organization (WHO) does not consider it to be a legitimate therapy for smokers trying to quit."
Dr. Tania Dempsey agrees. She's an active staff member at Greenwich Hospital and a member of both the Institute for Functional Medicine (IFM) and the American College of Physicians.
"The thought was that this was a purer way to get nicotine into the body than smoking tobacco, given the thousands of chemicals that burning tobacco contains," Dr. Dempsey says.
"It turns out that vaping nicotine releases volatile organic compounds and particulate matter that when breathed in can damage the lungs. E-cigarette cartridges also contain carcinogens and toxic chemicals. Research has also shown that the majority of people who switch to e-cigarettes to help them with smoking cessation continue to be addicted to nicotine, and thus never really quit."
A mysterious vaping-related illness
In July 2019, Wisconsin reported several cases of severe lung disease. As of the end of September, the CDC confirmed over 805 cases and 12 deaths. Dr. Dempsey says that while there are several hypotheses, it's still unclear what exactly is causing the illness. All patients had a history of using e-cigarette products or vaping, though there have no links to a specific brand or substance. Over a third of the patients are 21 or younger.
In early September, Michigan became the first US state to ban flavored e-cigs, alluding to ongoing health issues. (The six-month ban goes into effect this month.) Major cities including San Francisco, CA (home of Juul) and Boulder, CO have also passed similar measures.
"Those who vape are urged to stop, "Dr. Dempsey says. "If they continue vaping, they should be on alert for symptoms that can suggest that they are developing this lung disease.  These symptoms include cough, shortness of breath, fever, chest pain, weight loss and abdominal discomfort."
And on the morning of this article's publication, another damning study came out comparing the lung damage from vaping to that of chemical burns.
The rise (and fall?) of Juul
Juul launched in June 2015, reinvigorating a slumping e-cig market. Almost immediately, there were claims that the product, which comes in a variety of sweet, fruity flavors, targeted teens. (Juul has since stopped selling many of its flavored options, though that hasn't stopped other brands from selling similar products.)
The concern is for good reason: over the last few years, teens have started vaping at an alarming rate. According to the 2018 Monitoring the Future Survey, 17.6 percent of 8th graders, 32.3 percent of 10th graders, and 37.5 percent of 12th graders reported vaping over the past year. According to Psychologist Dr. Kelly Rabenstein Donohoe, teens are more susceptible to vaping and adverse consequences.
"Their ability to make safe choices based on long term goals is not fully developed," says Dr. Donohoe. "Additionally, side effects can be amplified due to the ongoing development of brain tissue." These side effects can include mood changes, loss of concentration or appetite, nicotine addiction, physical withdrawal symptoms, and anxiety and depression. Plus, the younger users are when they start vaping, the more they'll normalize these physical and psychological changes.
Despite the marketing to teens controversy, Juul has been the best selling e-cig on the market since November 2017 after multiple rebrands and successful rounds of fundraising. But their troubles are far from over; for the past year they've been under increasing scrutiny. Here's a brief timeline:
What's next?
The global backlash against e-cigs (and Juul) continues. In September 2019, India banned vaping outright, while China stopped online Juul sales.
In September, the Trump administration also proposed a partial ban on flavored e-cig products. The ban would exclude tobacco-flavored products and would be rolled out by the FDA over the coming months. (In 2009, President Obama signed the Family Smoking Prevention and Tobacco Control Act, giving the FDA the power to regulate the tobacco industry.)
Even early adopters are becoming cautious about how often they pull out their Juuls—and some are deciding to quit altogether.
"I used for probably five, six months until I realized how much we were spending on it, and got a little more educated on what's inside. I also started taking better care of my mental health which decreased my anxiety," says Jackie. "Neither one of us use it anymore."
It seems that e-cigarettes and the right to vape will be a hot topic for the rest of the year. Medical professionals appear to agree that vaping is incredibly harmful, though we don't know to what extent. There will surely be more long-term studies on vaping its effects, especially on younger users. We do know that the number of vaping-related illnesses and deaths is rising – and that should continue to haunt companies like Juul as they try to move forward.