S'August: How I Embraced Sober Curiosity For A Month
In July, I spent an over indulgent month in Switzerland on work travel… and let's just say when the job sends you to Switzerland for a month, you don't miss out on the local delicacies of cheese, chocolate and champagne.
So, in the pursuit of making healthier choices and as a semi-self-experiment on my own willpower and ability to turn down alcohol, especially in social settings, I embarked on Sober August. The lessons I learned from sober curiosity shifted my perspective on how alcohol (and lack of alcohol) influences our own habits, our relationships with others, and our relationships with ourselves.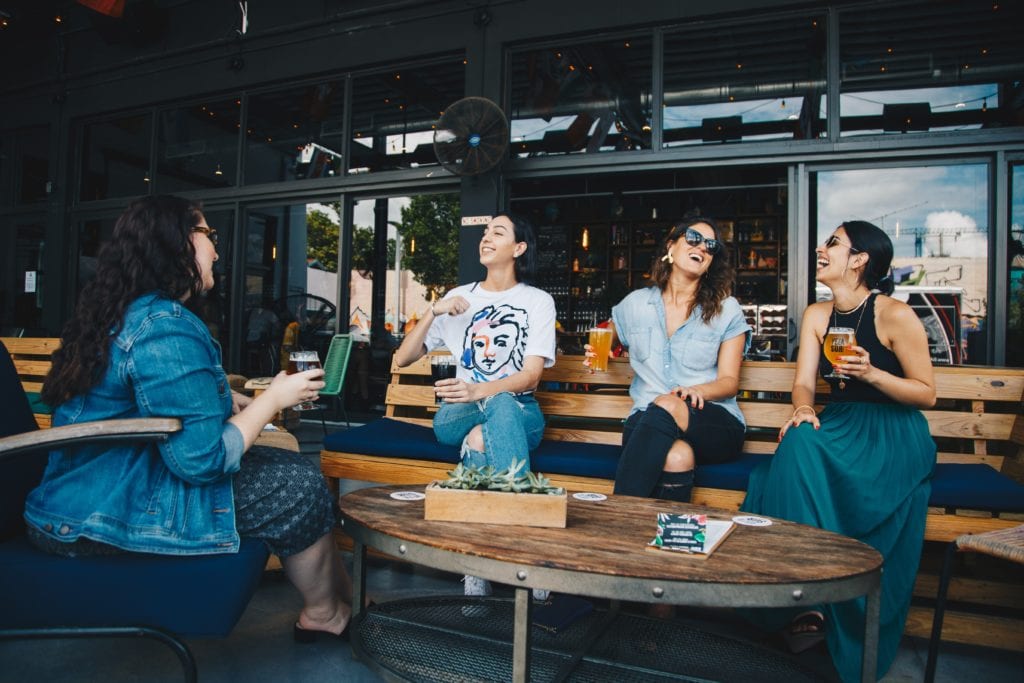 What does sober curiosity mean?
According to Ruby Warrington, author of Sober Curious: The Blissful Sleep, Greater Focus, Limitless Presence, and Deep Connection Awaiting Us All on the Other Side of Alcohol, sober curiosity can be thought of "as a 'wellness' approach to (not) drinking alcohol." The idea isn't a hard stop to drinking or a 12-step process to sobriety, Warrington said. It's not a recovery method for alcoholics, either. It's about recognizing drinking habits and acting on that understanding.
This is such an important clarification. One of the major things I noticed socially was a stigma surrounding not drinking alcohol and how people want you to justify this choice, unless you're in recovery.
How others reacted to my sober curious month
Choosing sobriety just because you want to isn't satisfying to most people. I noticed this especially in group settings, and I was surprised that people seemed truly preoccupied with whether my drink contained alcohol or not. If I were a vegetarian ordering a black bean burger instead of beef, no one would bat an eye. But the second I ordered a non-alcoholic drink at a bar, the questions and peer pressure started flooding in. "Why aren't you drinking? That's so lame! Come on, just have one drink! Noooo you have to drink with me!"
Plus, I spent the month with about a hundred coworkers, most of whom I had never met before. I was choosing to engage socially and interact with my peers and new coworkers—but I was choosing to do so without alcohol, and the amount of conversation and questioning surrounding my choices made me feel like I should have stayed home. This was an eye-opening lesson for me about alcohol's role on the social scene, and it highlighted how drinking is the center of nearly any social function after 5 pm.
In the beginning of the month, especially when out with new coworkers, I tried to keep my sober curiosity this month quiet, feeling judged and worried that if people didn't already know me, they would think I was boring. However, I soon decided that if I want to feel supported in my choices, I needed to own my decisions with confidence and boldness, and even more importantly, not seek out approval from people who would judge me for making a healthy, responsible and even challenging choice. 
How I spent my nights and weekends without drinking
As the days and weeks went on, I cut back from putting myself in bar-type settings, which often meant "missing out" on hanging out with my peers. I would still join coworkers and friends for dinners, but would head home before everyone went to the bars, wanting to avoid the questions, the judgements.
Meanwhile, with my alcohol-free nights in, I was able sleep well, wake up before work and take runs by the ocean, and show up full of endorphins, rested, and ready to conquer the day. I began to own my decisions to take better care of myself and began to hear more "I wish I could do that" instead of the judgements I first received.
Instead of meeting up with friends at the bar, I found other alternatives. One night, I met my friend for an evening yoga class and ordered in Thai while having deep and meaningful conversations—ones that we remembered the next day. Another time, a friend and I went to the beach and ordered smoothie bowls, watching the surfers ride the waves as the sun set over the San Diego coastline.
Fortunately, there is a rise in people wanting social spaces to hang out without alcohol. Nearly 40 percent of global consumers reported a desire to decrease alcohol consumption for health reasons, according to Vox.
In addition, alcohol companies themselves are responding by creating alcohol-free products to help people avoid that "fear of missing out" and include those who are choosing to stay sober in typically alcohol-centered settings. In fact, the market for low- to zero-alcohol beverages is expected to grow by 32 percent between 2018 and 2022.
As S'August came to a close, I learned some major lessons that apply to taking some time off alcohol and also the best ways to support yourself—and others—in their decisions.
Don't be the devil on a friend's shoulder
When someone shares with you a healthy choice they are making, SUPPORT THEM! Whether it is skipping the pastry at the coffee shop, or ordering a side of Brussel sprouts instead of fries, try not to shame people for making a healthy choice! It's great to share delectable treats and drinks with friends, but if someone is trying to make healthier choices, the best thing you can do is support them, instead of peer-pressuring and judging.
Own your own choices
On the flip side, just because YOU are choosing to make a healthier switch, don't expect others to follow suit, especially if you're hiding your choice. The moment I decided to feel empowered by my choice to refrain from alcohol instead of embarrassed or lame, others responded much more positively.
Surround yourself with people and places that make you feel good. Period.
If you want to have a wild Friday night on the town, or go to a yoga class, or somewhere in between, listen to yourself. Choose what makes you happy, and include people who lift you up and make you feel good.
There's never a perfect time to make a healthy change.
There will ALWAYS be something—a birthday, the holidays, a wedding-—in the way to convince you now is not the time to start your healthy habit.
I encourage you to ignore the excuses and the things telling you it's not possible to make a change. Try a week, two weeks, three weeks, and just see how far you go! There's no time like the present to make a change, create a new habit, and try something new.