The RIGHT Way to Clean Your Workout Leggings
I'm ridiculously lazy when it comes to washing my workout leggings. Instead of taking any special care to make sure I get the most life out of them as possible, I throw them in with the rest of my dirty clothes, drop them off at my local laundromat (because living in a tiny NYC apartment means I don't have a washer or dryer), and hope for the best.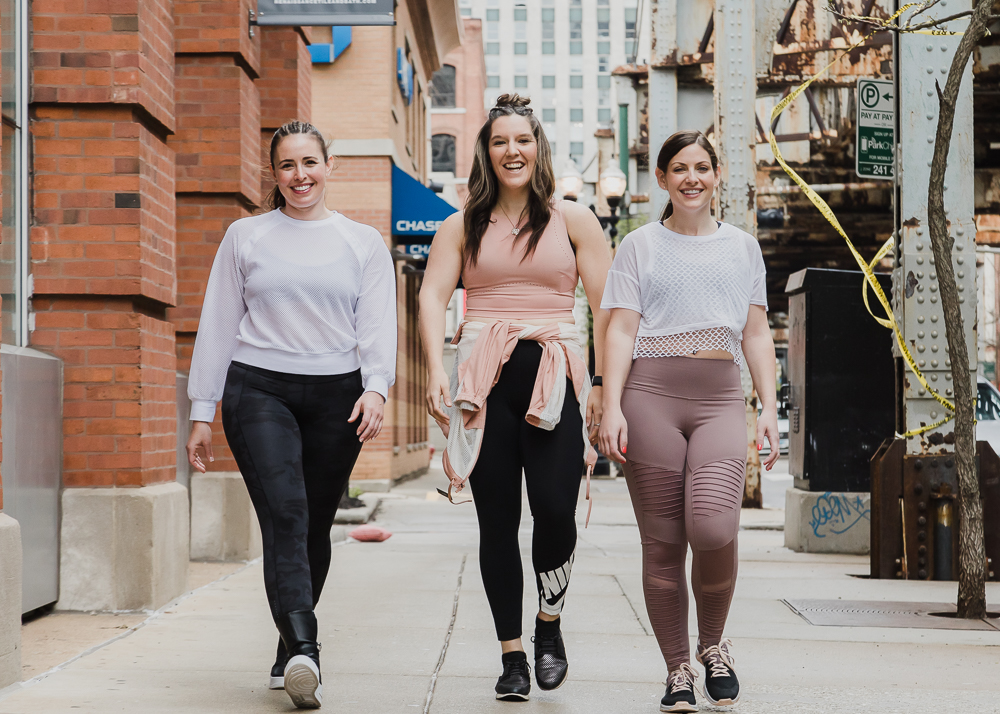 But I often find my leggings looking a little (OK, a lot) worse for wear once I get them back. I'm not alone: According to a survey from Hex Performance, a line of sustainable laundry detergent for activewear, 63 percent of participants say their leggings have pilled, faded, and even deteriorated within a year. 
There is a better way to clean your workout leggings, and it doesn't take that much effort so it's something that even I can commit to. I called up a few experts to get their advice, and here's what they had to say.
1. Wash your leggings after every workout.
"Washing leggings and workout clothes after every sweat is a great way to prevent bacteria, dead skin, and more from building up on your fabrics," says Drew Westervelt, founder of Hex Performance. "Leggings are also very tight to the skin, so even wearing them for general activities can be a reason to toss them into the hamper." 
Rachel Piskin, co-founder of ChaiseFitness, says you may not necessarily need to wash your leggings after a gentle yoga class where you're probably not going to be sweating. Since she wears her leggings all day and throughout teaching, she always washes hers after one wear. 
2. Choose the right detergent.
Westervelt explains that because leggings are made with synthetic fabrics, you should use a detergent specifically designed to clean these types of fabrics. He says Hex Performance Detergent ($7.99, target.com) will "protect your investment by maintaining the fabric's strength, stretch, and sweat-wickability." 
fabrics. He says Hex Performance Detergent ($7.99, target.com) will "protect your investment by maintaining the fabric's strength, stretch, and sweat-wickability." 
Nicole Lazzerini, fitness blogger and co-founder of LVL Fitness, likes using non-scented detergent to make her workout leggings last longer. Her favorite is All Free Clear Liquid Laundry Detergent ($7.99, target.com).
Don't add bleach, though, as this can damage the elasticity of your leggings, points out Lazzerini. After all, as she says, "You don't want those Lulus falling apart on you."
3. Avoid fabric softeners and dryer sheets.
27 percent of respondents in the Hex Performance survey say they use fabric softeners or dryer sheets when cleaning their leggings, which I learned is a major no-no. "These formulas were designed decades ago for cotton, so when it comes to synthetics, they basically just brush the surface and leave a coating that actually traps things like sweat and bacteria," says Westervelt. Ew! 
4. Keep it cold and gentle. Skip the hot water when cleaning your workout gear.
"Cold water and a gentle cycle is the best choice for washing most leggings," says Westervelt. "For extra-delicate clothes, or those with more intricate designs, you can also consider turning them inside out, hand washing, or putting them in a mesh wash bag to protect them in the washing machine." 
4. Hang leggings to dry.
Do not, we repeat, do not put your workout leggings in the dryer like I've been doing for years. Lezzerini and Piskin both hang their leggings to dry. "It definitely makes them last longer and prevents them from pilling and losing their elasticity," says Piskin. 
If your leggings are on their last, well, legs…
…it might be time for a new pair (or two). I know I'm using this as an excuse to stock up on some new super-cute new leggings, and I'll absolutely be taking better care of them from here on out. Piskin's current favorite brands include Terez, Ultracor, Alala, The Upside, and Electric Rose.