Five First-Time Triathletes Reflect on The Journey That Brought Them to the Finish Line
Disclaimer: This post was written in partnership with Fitness Formula Clubs As always, we only write about products, services, and brands we love! Want to learn more about race training programs with FFC? Click right here.
Over the past three months, I trained alongside a group of aSweatLife Ambassadors at FFC for the Chicago Triathlon. Along the way, we documented our progress in the journey to Tri. (Read why I wanted to start this goal in the first place, and what the road has been like from starting a new goal to tackling new and big things like my first open water swim.)
Along every part of this journey, as people have asked me how training is going, I've had one thing to say: "I'm having a ton of fun!" And I wasn't lying. It's the first time I trained for something, and I feel like I couldn't have picked a better entry into endurance sport racing.
The FFC team and the TriMonster endurance training program within the club provided all the help we could have needed, answered all the questions we possibly could have had, and helped all of us from aSweatLife build confidence each step of the way leading up to the big day.
"I really enjoyed the Tuesday night brick workouts," said Katie Kobeszka. "I didn't realize how much I missed running and working out with a group for the community feel."
FFC also helped all of us in creating a training plan that felt solid without being overwhelming, with cross-training and rest built in, and plenty of time to train for the portions you felt you needed more work on. For many Ambassadors, including Kobeszka, it was the swim tips that proved most helpful.
"I by no means [am] a pro … but I finally was able to swim 800 meters without stopping a week before the race. That's a far cry from the beginning of this experience when I could barely do 25 meters without gasping for air."
"I love having a plan to stick to for training," Katie Keeley, who accomplished the international distance, echoed. "It helps me stay organized and focused through the weeks. I trained for this mostly solo but one of the practices I made it to was the mock sprint triathlon. That was the best; having a group of people – some strangers, some friends – be so supportive and fun was why I love these races so much."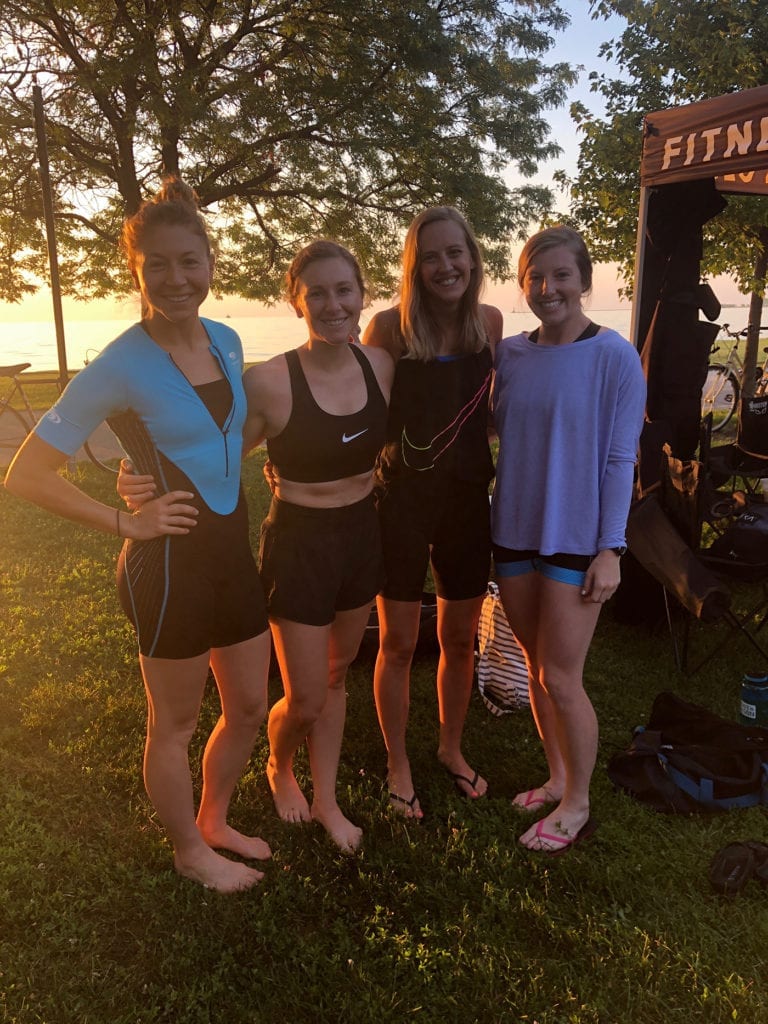 And I am certain it was this positive training experience that made the turn of events on race day (in true Chicago weather fashion, a windy wrench in the plans forced our triathlon to become a duathlon, or "run-bike-run" event) to feel like a hiccup rather than something that ruined the experience altogether.
From June through August, I had highs and lows; awesome training sessions and bad days with low energy; felt on top of the world doing my first open water swim and put my wet suit on backwards in front of tons of people, only to have to strip it off and try again, dripping sweat.
There were days I felt the effects of imposter syndrome and doubt, and days when I felt like I could keep riding for miles and miles (for some of Team aSweatLife who stumbled upon a training day with FFC that entailed a 40-mile bike ride, they did). But ultimately, the journey felt like the destination because I shared in the experience of each little win and each small struggle with a group.
So, fittingly, this last piece of the series is anything but a wrap-up. Once the swim portion of the Chicago Tri was canceled, I got right down to searching for the next triathlon for which I could train and compete.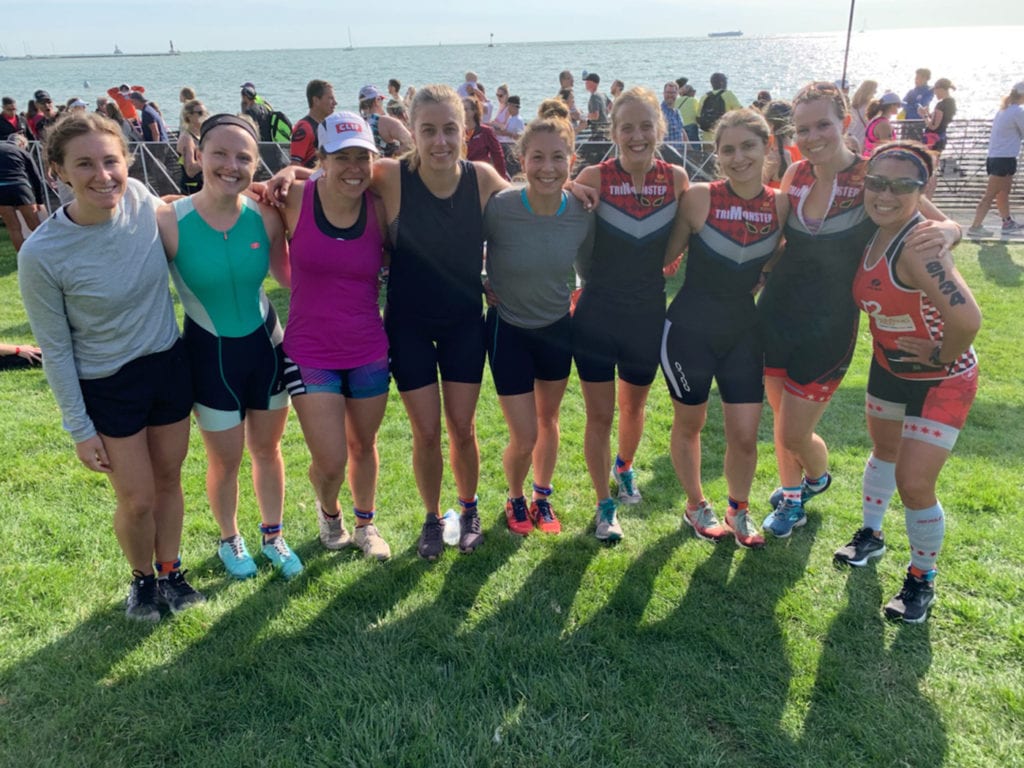 And as always, I learn so much from this community of fitness enthusiasts when it comes to setting and achieving big goals. I couldn't wait to ask them what they want everyone else to know if they want to tackle something seemingly scary like a triathlon.
Keeley, the most experienced triathlete among our group, wants you to know you've got the right to be confident. "Don't be intimidated by anyone; with a multi-sport race it is so easy to stand next to someone with a nicer bike or a better wet suit and immediately feel defeated. But you put in the time and you're there to compete as much as the person right next to you. Not having the best bike or newest triathlon suit doesn't dictate how well you will race."
For first time triathlete Keely Bannon, it's simple: "Just relax, breathe, race your own race, kick lightly in open water, and tell yourself over and over 'you got this!'"
And for Katie Eldred, who learned one very vital lesson the hard way this time around, it's this: "Pump your bike tires before the big day!"
If you want to try out what FFC has to offer for endurance training specifically or otherwise, now is the time. September 2019 is FFC's 35th Anniversary and to celebrate, you'll receive an enrollment fee membership special for $35 for any single club membership, and $135 for any all access or premier membership.
To note: the $35 enrollment fee offer is not available at FFC West Loop, as they don't not offer a single club membership at that club, but the $135 special enrollment fee is valid there. This offer expires on September 2. All the details can be found here.