Tri-al and Error: Taking on Your First Open Water Swim
Disclaimer: This post was written in partnership with Fitness Formula Clubs As always, we only write about products, services, and brands we love! Want to learn more about race training programs with FFC? Click right here.
As I sit down to write this I'm still coughing up lake water, but I'm blissfully happy about it.
Since we kicked off a summer-long challenge to train for and complete the Chicago Triathlon, I've been swimming nearly every other day at a number of the Fitness Formula Clubs locations with lap pools. Sure, I'll switch it up from Lincoln Park to West Loop to Union Station, all of which are gorgeous and perfect to get your feet wet with the swim portion of triathlon training. But let's be real, there's nothing that can compare to the great outdoors. And for many of the aSweatLife Ambassadors who are training for the Chicago Tri together, it's been the thing we've avoided like the plague.
Until this morning, that is.
After a truly tragic attempt at putting on my borrowed wet suit (only to find out as soon as it was zipped all the way up, it was on backwards) I wasn't off to a great start. But I played back my lesson with Coach Chris in my mind, remembering the key pointers he taught me about breathing, the cadence of my arm stroke and how to save energy wherever and whenever possible. I waded into the water at Ohio Street Beach, glanced around at my surroundings (the busy city backdrop to my left and an expansive lakefront with no end in sight to my right was very different from the 25-meter lane directly in front of me that I've grown accustomed to over the last month), and dove in.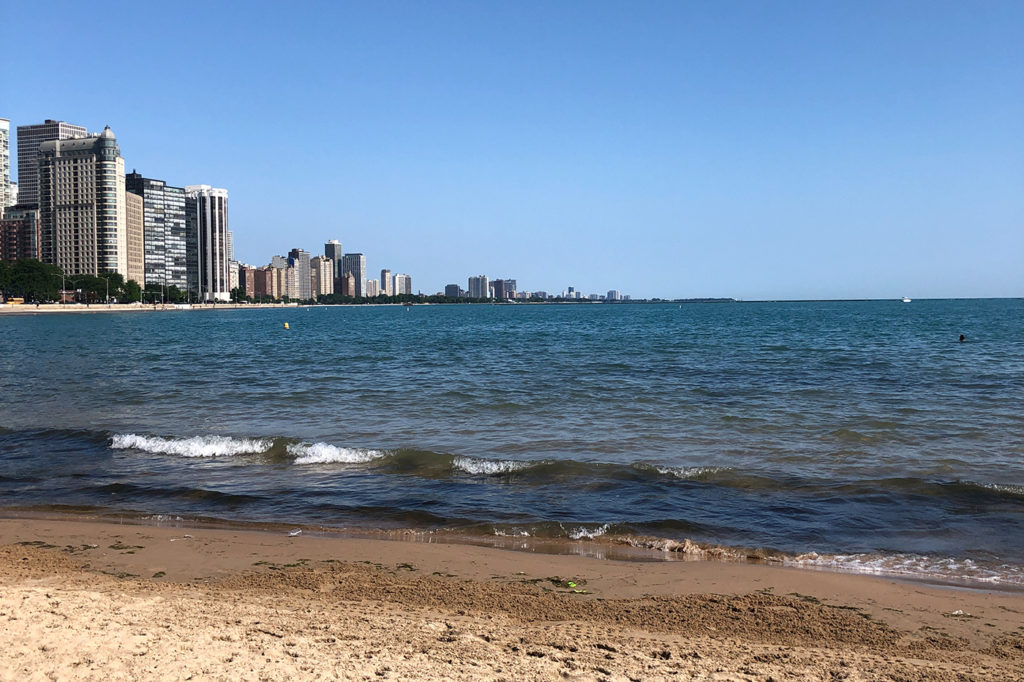 As it would seem, there's really no other way to start a big, scary task like training for a triathlon than to just dive in. Whether it's your first one or not, it's always tough at the start, but FFC has been a huge help as we do just that. And for all of us who raised our hand to complete a triathlon this summer, the ways in which FFC creates a full network of support and community have made us all feel so much more prepared for that first open water swimming moment – and many other milestones along the journey.
Three big ways we've been supported by our triathlon training community, the TriMonsters through FFC.
Digital programming
The Training Peaks programming we receive in our inboxes daily has been a key factor in me going for and reaching my mini training goals throughout this three-month journey.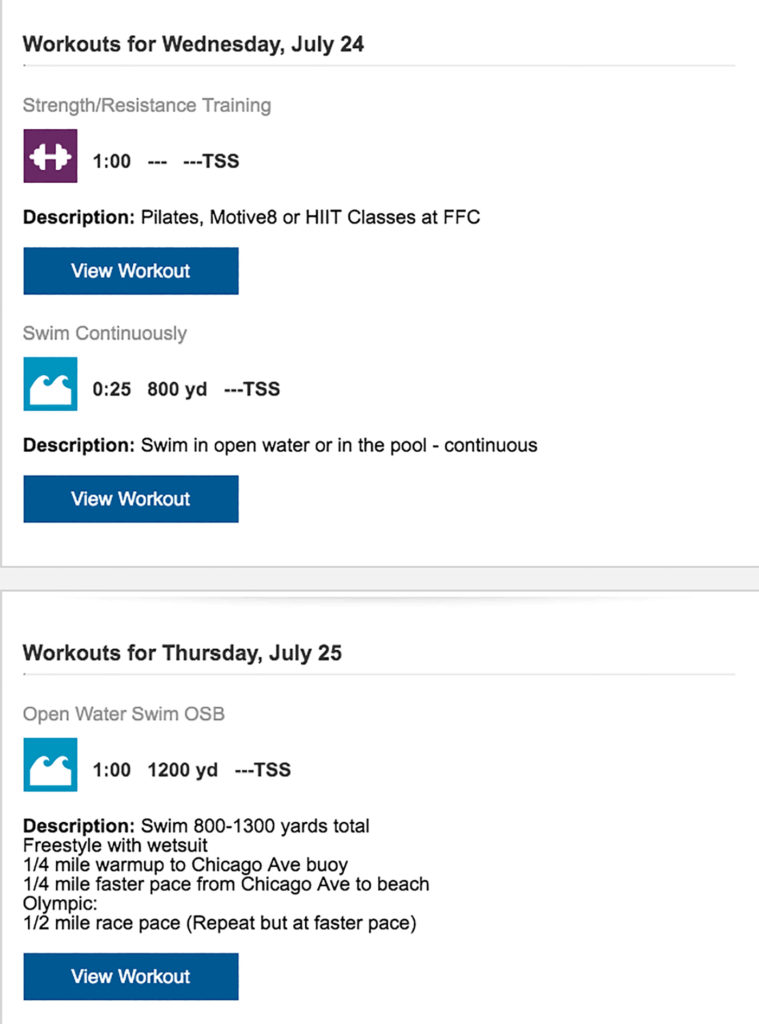 As Katie Keeley, who has participated in many endurance sport races, says about Training Peaks, "I haven't been able to stick to a standard week or follow the Training Peaks schedule to a T, but I have been loving the structure of it. The emails and visually seeing the schedule on Training Peaks has helped me immensely."
Group training opportunities
For other Ambassadors who are first-time triathletes like Keely Bannon, Katie Eldred and myself, the digital training program plus the in-person community that FFC offers has made the training journey more enjoyable.
Sure, you can use any of the facilities whenever you'd like while you're training, but almost every day of the week FFC also offers triathlon-specific group workout experiences like BRICK workouts (a bike ride or indoor spin class followed directly by a group run outdoors together for a set amount of time) and swim clinics that teach about sighting, lessons in transitioning from swim to bike to run, and a multitude other skills important for race day.
"I have participated in BRICK workouts, swim technique classes, and open water swim," Eldred said. "Learning how to sight was the most exciting. I also learned to speed up the cadence of your bike at the end so blood rushes to your legs, in order to decrease that jello feeling. The coaches and other participants have been awesome.  They make me feel ready to handle race day and prepared me for things I didn't even know I needed to know."
One-on-one attention
With a stacked roster of endurance sport coaches on staff at FFC, it'd be silly not to take advantage of at least one personal training session. Eldred put it best, "Having a coach pays off! I have learned and improved at a much faster speed than I would've on my own."
I couldn't agree more. I think back to my lesson with Coach Chris frequently as I'm swimming, knowing how much stronger my workout is with those simple form corrections in mind.
"Coach John and Chris have been such a positive source of support and encouragement," Bannon agreed.
Some of my most pressing questions about the logistics of race day were answered with ease by Coach Chris. Like for instance, what kind of gear do I absolutely need to buy? Coach Chris told me, "All you really need to do your first race besides a bike (any type will do), is a pair of swim goggles and pair of "tri shorts" or a "tri suit."
And as the race gets closer each day, and when my nerves creep in, I'll call to mind his advice: "Trust in the training process and follow the training plan. Even though the anxiety of the race coming up sooner will sometimes cause first timers to want to "cram" in a lot of training, don't! If you miss a workout, just continue with your training plan as if you did the workout and build distance gradually."
Before my first open water swim, I pictured not being able to see anything, feeling like I was drowning, and all my training going out the window. And while I may not be able to rate my workout ten out of ten (how can you, really, when you start the day quite literally backwards), I emerged from the water half a mile later with the most epic smile on my face. And I am so grateful to get to share this kind of growth journey with the rest of the crew at aSweatLife and community at FFC going through it too, as well as all of you.
Read the first editions to this triathlon training journey here and here, and stay tuned for the conclusion to this summer triathlon series in partnership with FFC next month. To learn more about TriMonster, triathlon training or the other types of endurance programs available at FFC, visit this link. You can also give TriMonster a try for free by clicking here!