10 Travel Beauty Must-Haves for Your Next Summer Vacation
It's peak vacation season, and beyond all the swimsuits and sandals we know you're going to stuff in your suitcase, there are a few key beauty products you should bring along for the ride as well. Before a recent week-and-a-half trip to France (where I ate all the croissants), I researched the best travel beauty products and came up with a list of essentials that proved really useful on my journey. Not sure where to start when it comes to packing beauty products for vacation? Use this list of carry-on friendly items as your guide.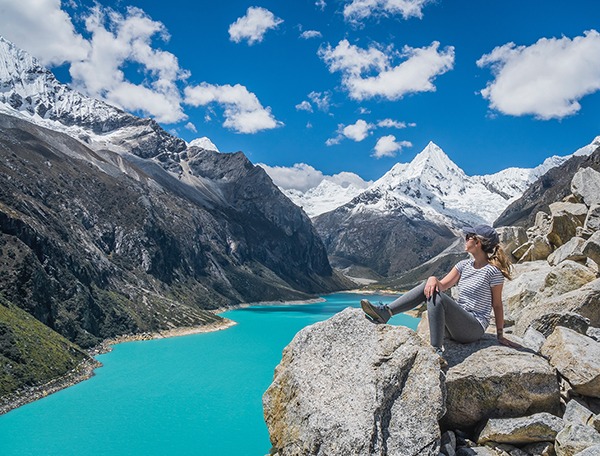 Sunscreen
The most important travel beauty product you can pack would definitely have to be sunscreen. If you're planning on sightseeing out in the sunshine all day long, it's key to protect yourself from UV damage with a broad-spectrum sunscreen with an SPF of at least 30. Try: Supergoop! Unseen Sunscreen Broad Spectrum SPF 40 ($32, sephora.com), which is oil-free and virtually weightless so you won't feel like you have anything on your face.
For body, I like Sun Bum Original Sunscreen Lotion SPF 30 ($3.99, target.com). For on-the-go touch-ups, Colorscience Sunforgettable Mineral SPF 50 Sunscreen Brush ($65, amazon.com), is good to have.
Makeup remover wipes
You don't want to be dealing with a liquid cleanser which could cause potential spills in your bag, so wipes are the way to go. Simple Kind to Skin Cleansing Facial Wipes ($5.99, ulta.com) are free of perfumes that irritate sensitive skin and are packed with nourishing vitamins so your face will feel soft and smooth post-cleanse.
Facial mist
Real talk: Flights are seriously drying to your skin. Whenever I get off a plane, I like to freshen up by spritzing myself with a mist, like the Mario Badescu Travel Size Facial Spray with Aloe, Herbs and Rosewater ($5, ulta.com). It's gentle and gives skin a major boost of hydration after being cooped up in the air for hours.
Acne patches
Breakouts happen at the most inopportune times, don't they? That's why I recommend bringing a travel-friendly zit zapper in your carry-on. Yes to Tomatoes Detoxifying Charcoal Zit Zapping Dots ($8.99, target.com) shrink pimples overnight with a combo of tomato extract, charcoal, and salicylic acid.
Aloe
Even the most diligent of sunscreen users can wind up with a sunburn on vacation. Really, it happens to the best of us. Soothe red, irritated skin with a cooling aloe gel, like the Fruit of the Earth Aloe Vera Gel ($8.68 for a pack of four, amazon.com).
Deodorant
No one wants to stink while they're on vacation. Secret has been my go-to deodorant brand forever, and now they make the very portable Secret Freshies Invisible Solid Antiperspirant and Deodorant ($4.99 target.com) for on-the-go application (like, say, after a 14-hour flight). For those who prefer natural deodorant, consider Schmidt's Charcoal + Magnesium Mineral Enriched Natural Deodorant ($2.99, target.com).
Bug spray
There's a good chance mosquitos will be out wherever you're heading. Avoid dealing with itchy bites by protecting yourself with a bug spray. My go-to for years has been Avon Skin So Soft Bug Guard Plus Picardin Travel Size Pump Spray ($5.49, avon.com). It's free of DEET, a controversial chemical used in most insect repellants, but it's still super-effective.
Shampoo and conditioner
Hotel shampoo and conditioner aren't always the greatest, so sometimes it's worth it to pack your own. Treat yourself to the Living Proof Travel Size Perfect Hair Day Shampoo ($12, ulta.com) and Conditioner ($12, ulta.com). Used together, this duo leaves hair smooth and shiny.
Mascara
Vacation is the perfect time to give your skin a break from wearing a full face of makeup, but if you have a night out planned, you may not want to go completely bare-faced. If you're going to bring one makeup product in your travel beauty kit, let it be mascara. I actually picked one up while I was in France that I'm obsessed with: Nars Climax Mascara Mini ($11, sephora.com). It adds volume without clumping or smudging and withstood a day of sightseeing in Versailles.
Tinted lip balm
Last but certainly not least, don't forget about your lips while you're on vacay. Stash a tinted lip balm in your bag to keep your pout moisturized and add a subtle dose of color. I brought Laneige Glowy Lip Balm ($18, sephora.com) with me. It's formulated with murumuru and shea butters for soft, smooth lips.
Let us know!
Did this post help you get closer to achieving one of your goals?