5 Seasonal Pizza Toppings for Summer Pizza Parties
Pizza is a year-round party food—but you might be crazing different toppings based on the season. For instance, in the winter, you may gravitate towards heavier toppings, like sausage or BBQ chicken, and in the summertime, you might look for lighter, more colorful and seasonal toppings that work well for warmer temperatures and rose or spritzers.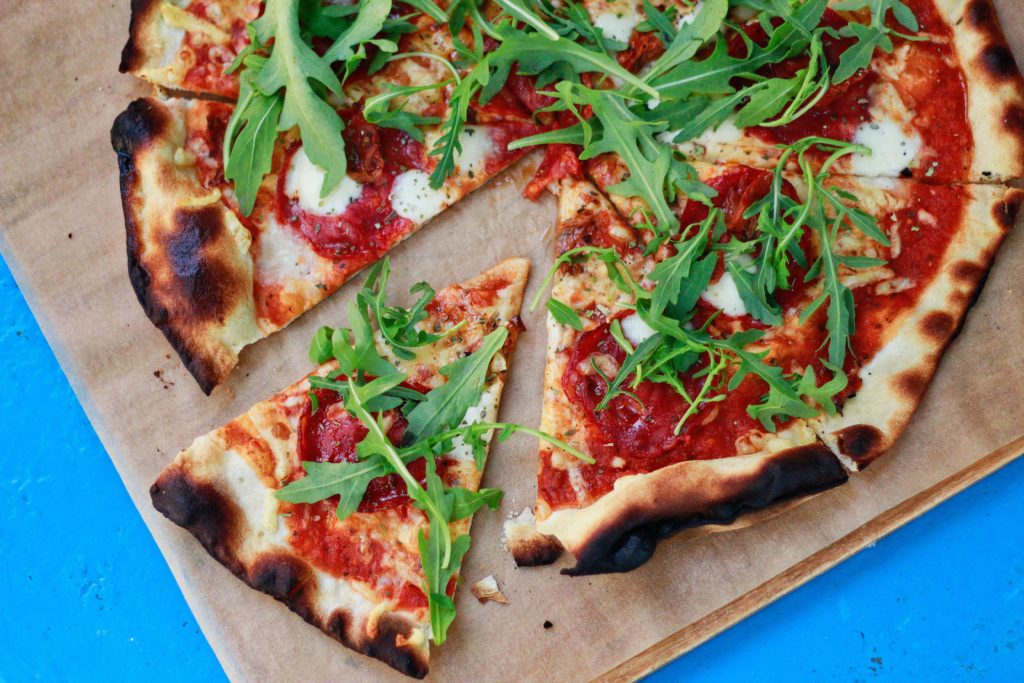 And the good news is there are so many delicious seasonal options to choose from, all of which are at their peak in freshness and can make for super versatile and delicious pizzas. Here are a few topping options from chefs in Chicago—you'll want to visit and order off the menu (if accessible) or whip them up at home!
Peaches
Peaches are right in season for summertime, and they taste great hot or cold.
"I love using ripe peaches as a topping on pizza. They're great with creamed leeks, bacon lardons, pickled under ripe peaches, arugula and robiola cheese, " says Jeff Williams, Executive Chef at The Press Room in West Loop. "The combination of the creamed leeks and bacon with the sweetness of the peach is perfect," he adds.
Zucchini
Try adding hydrating zucchini as a pizza topping, says Executive Chef Jose Torres of The Village in Italian Village Restaurants in Chicago.
"Zucchini is incredibly fresh and can be found easily at a farmers market or be planted at home," he says.
Zucchini keeps the pizza light and not too heavy, which is perfect for summertime noshing.
"Make a zucchini pizza on the grill [using] pesto as the base, top with grilled zucchini and add grated Romano. Finish the pizza off with fresh arugula," he says. Yum!
Mangoes
Another tasty fruit option, mangos work super well with cheese, spices, meat, and herbs, making it really versatile. Try roasted mangoes on pizza with fresh burrata mint, basil, chilis, and prosciutto. The sauce base would be a white pizza and serve with a nice sparkling rose, says Executive Chef Moosah Reaume from Virgin Hotels Chicago.
"Mangoes have that acidic profile when roasted and the burrata will keep the pallet craving for more butteriness with that creamy texture. Chilis will be pickled to make it all pop and fresh mint and basil to bring a super fresh component to the pizza," he says. "Prosciutto is that last umami flavor profile that brings it together." Don't forget to finish with olive oil and sea salt.
Heirloom Tomatoes
Yes, tomatoes are often on pizza! However, heirloom tomatoes are right in season and can go nicely on top of a pizza to add a pop of color and a different flavor. Add peaches, prosciutto, ricotta, and arugula for a great combination.
"The sweet peaches pair great with the salty prosciutto and adding fresh heirloom tomatoes and arugula make for a light summer pizza," says Executive Chef Kevin McAllister of Cafe Robey in Chicago.
Figs
Figs are sweet and have a beautiful texture, and since their season is short-lived, it's time to take advantage of them. Plus, they pair super well with cured meat.
"At the Dearborn, we do a 'flatbread' kinda pizza style, using fresh figs, goat cheese, prosciutto, grilled scallions, arugula, and black garlic molasses," says Executive Chef Aaron Cuschieri at The Dearborn Chicago.
Each ingredient plays a part with balancing texture and flavor, but the star of the show is surely the figs. "The dish was based around using fresh figs on a pizza," he explains.

Drooling yet? Then head to the grocery store, pick up these ingredients, and make a fantastic pizza to enjoy tonight. Invite some friends, break open a bottle of wine or make summery cocktails, and enjoy every single bite.