Reese Scott Makes Space For Women in the World of Boxing
Reese Scott picked up the male-dominated sport of boxing late in life (her words) at age 31. She weighed 220 pounds. But that wasn't the biggest hurdle she faced. It was her gender.
Scott didn't let any of those factors deter her from pursuing her passion though, and she's been on a mission to empower other women and girls ever since. Though she's been training women for years, she opened her own gym, Women's World of Boxing, in New York City in February.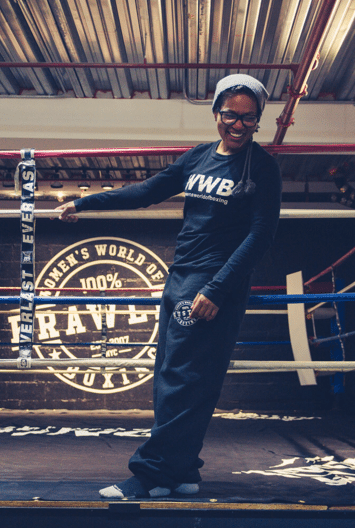 "[Boxing] was something that I knew I loved and it was something I knew I wanted to learn as much as I could about and teach as many girls and as many women as I could," she said. "Because the resistance that I felt 14 years ago coming into this sport as a woman, it was the most challenging, just trying time of my life. Every day taking that walk into that gym where they didn't want me there. It was horrible the things they would do to try and keep me out."
Scott stumbled upon her first gym while taking a walk near her office. No longer feeling inspired in her work as a "one woman art department" for a lifestyle magazine, she was looking for "something that made me feel."
The gym was the "dirtiest, grimiest, most disgusting place" Scott had ever been in. She likened her entry to a needle scratch on a vinyl record, as every person in the all-male gym stopped what they were doing, turned and stared. When she met with the gym's surly female owner, she was told, "You're fat and you're here. You may as well sign up."
Scott decided to try it out for 30 days, but it didn't get a whole lot better. She was assigned a disgruntled trainer who would put her on a treadmill and then send her home without any boxing instruction. After two weeks of the same treatment, Scott found the courage to demand he train her like he did the male boxers she had been observing from the treadmill.   
Most people would have never returned after that first day, but Scott reflected, "I was in such awe of watching the guys train and watching them spar and watching their body mechanics and how they move and seeing all the connections. It kept bringing me back."
Despite the hostile environment, she discovered the boxing gym was where she felt most comfortable in her skin. "I was overweight my whole life," she shared. "I wasn't that picture of what pretty was or what strong was. I wasn't that picture, in my mind, in my spirit."
And since no one paid attention to her, aside from not wanting her there, "It was the place I felt most comfortable to do the work that I needed to do to find myself, because nobody was watching."
Things improved over the years, as Scott found a way to communicate with her trainers and most of the other boxers. Watching her move around Mendez Boxing (the gym she worked out of before WWB) with ease and confidence, one would never have guessed the woman everyone – male and female – came up to talk to was ever treated with anything but respect.  
After becoming a trainer, she eventually quit her well-paying job in publishing and on February 3, 2018, she opened Women's World of Boxing. Not only is it a place for women to learn the fundamentals of boxing in an all-female environment, but the gym feels fresh and modern and is free of the stench of decades old sweat that seems to seep out of a typical boxing gym's walls. Even the bathroom is straight out of a spa.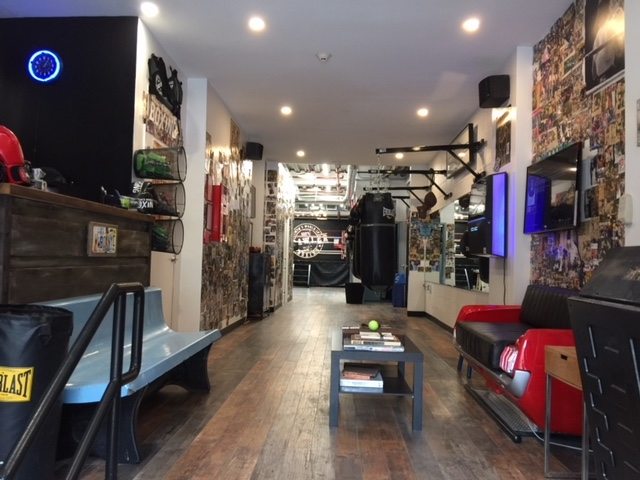 Since she knows what it is like to feel like an outsider, Scott wanted her gym to be welcoming and have a sense of home. "It was really important for me in designing this place to provide that feeling," she said. "It's very daunting for a woman or a young girl to walk into a boxing gym."
Upon that first walk into Scott's introductory Boxing Mechanics series, women are taught to not be afraid of taking up space. It's an instruction she gives when demonstrating a boxing stance, but it can also be applied to everyday life.
"That's been one of the most fascinating things that I've learned training women, is that we have this thing where we feel we're in the way," Scott marveled. "We're not in the way. We're supposed to be here and we're entitled to as much space as anyone else."
"So, yeah," she declared, "boxing stance all day."
Women's World of Boxing is located at 2147 2nd Ave, NY, NY. Scott also sets aside an hour a day to train girls aged 12 – 19 and works with several non-profits throughout NYC, including PowerPlayNYC.