Take Advantage of Post-Workout Endorphins During #SweatworkingWeek with Michelob ULTRA Happy Hours
Whether you're taking on a kettlebell workout, going for a fun run with friends, or kicking ass in a kickboxing workout, all workouts have one thing in common: they end with a flood of endorphins, aka the chemicals manufactured in your brain that give you that euphoric feeling of "Wow, I just DID that."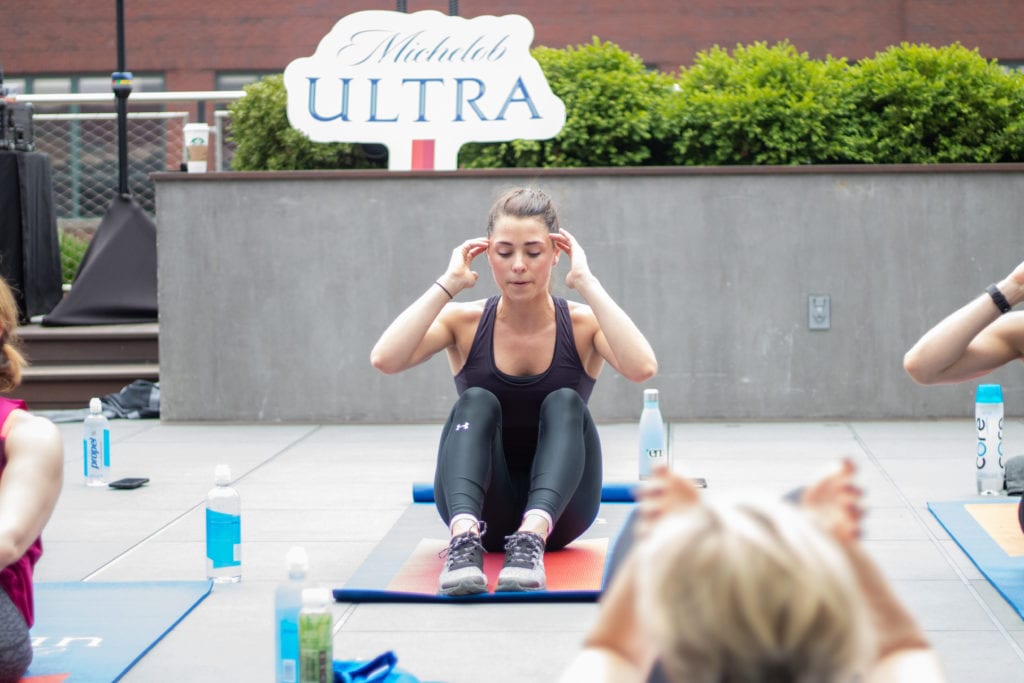 Not only do endorphins trigger positive feelings and good vibes, they also reduce your brain's perception of pain. So, that new deadlift PR you just hit or those 50 kettlebell swings as a finisher won't hit your muscles for at least a few hours.
And during #SweatworkingWeek, we've got the perfect way for you to enjoy those post-workout endorphins to the fullest during the hours before that hurts-so-good soreness sets in: with happy hours at nearby bars, presented in partnership with Michelob ULTRA.
We constantly talk about how #EverythingIsBetterWithFriends, and when our workouts end, we're just not ready to stop hanging out with you guys. That's why we're taking the party out of the gym (or contemporary art museum, or studio, or whatever) and continuing it at a nearby bar after each of our evening workouts this week.
Here's what you can expect from our post-workout happy hours, from Wednesday, January 16 to Friday, January 18:
Wednesday, January 16: Happy hour at Blind Robin after On Your Mark West Side
You never quite know what kind of workout Emily Hutchins is going to throw at you, but one thing's for sure: it's going to be TOUGH. After we take in the gorgeous new West Side facility, we'll head over to the nearby Blind Robin to toast to a successful Hump Day sweat (if we can raise our arms after that workout, that is).
Wanna workout with us at On You Mark West Side? Secure your spot here!
Thursday, January 17: Happy hour at Labriola after RUNAWAY
You know what goes AMAZINGLY with a tough running and strength-training workout? A post-run beer (it's probably why so many run clubs end at a brewery or a pub). We're serving that carb replenishment up via a happy hour at Labriola afterwards. And just saying, Labriola serves some of the best thin crust pizza in the city, too…
Since we have two workouts at RUNAWAY on Thursday evening, we'll be at Labriola starting around 7 pm (after the first workout) and we'll still be there once the second workout gets done — that group will walk over around 8:30 pm!
Get in on this run + beer + pizza action yourself by grabbing a ticket for the 5:30 pm RUNAWAY workout or the 6:40 pm RUNAWAY workout. Don't forget, your first round of Michelob ULTRA is on us.
Friday, January 18: Happy hour at iO Chicago after SHRED415
There's a reason comedy shows often have a one-drink minimum — some jokes are just a little funnier after that first beer, you know? At this special #SweatworkingWeek event, we're combining a signature SHRED415 mini-band workout with a beginner improv workshop led by the geniuses at iO Chicago. Afterwards, we'll make our way to the bar at iO Chicago (we won't even have to go outside!) and continue the fun with the first round of Michelob ULTRA on aSweatLife. Laugh about your improv experience and keep practicing "yes, and" over a round of drinks.
Don't worry, there's still a chance for you to join the sweaty fun — your ticket to SHRED415 and iO Chicago improv workshop is waiting right here!
Let us know!
Did this post help you get closer to achieving one of your goals?