5 Winter Social Activities That Don't Involve Drinking
It's easy to be social during the month of December when everyone and their brother is hosting holiday parties left and right, but things get a little tricky when the month of January rolls around. Everyone is hibernating and getting their hygge on to avoid the cold AF winter weather, but eventually you'll need rejoin the world again and be social again.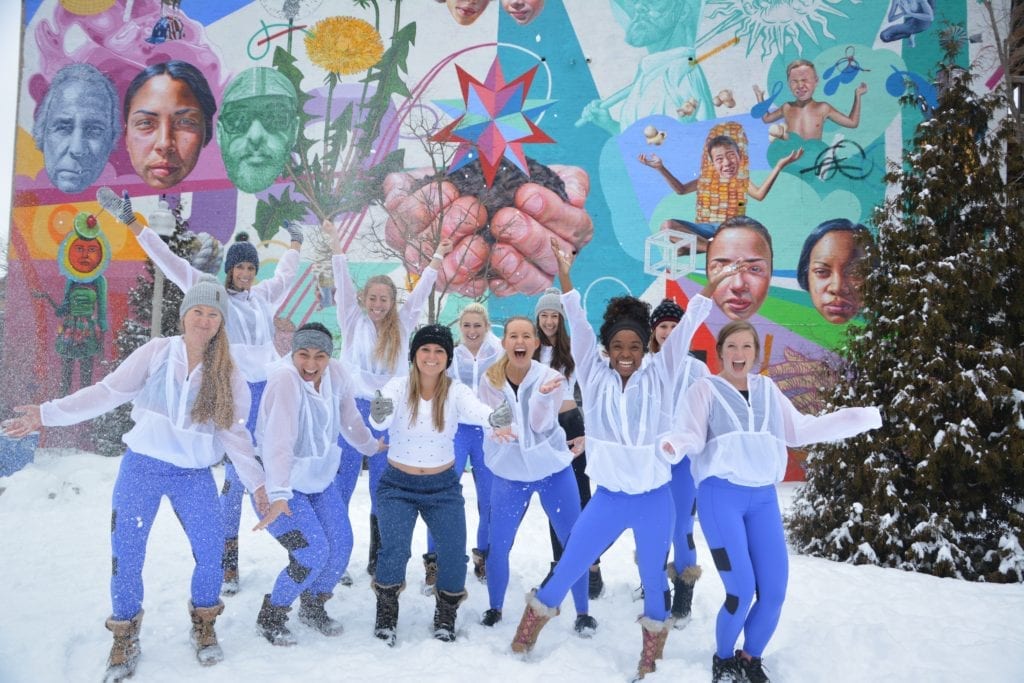 When making winter plans to meet up with friends, it's easy to say, "Let's just meet up for a drink or go out for a glass of wine." Although nothing is wrong with enjoying a winter cocktail out with friends, get creative and try these five activities that are perfect for the winter months. Bonus: They aren't drinking focused!
#1 Host a Healthy Dinner Night In
After a month of holiday indulgences, many of us will be focusing on getting back to our normal diets filled with lots of fresh vegetables, high quality protein sources, and healthy fats. Instead of having another evening dining solo or with your roommate, invite friends over and host a healthy dinner night in. (After the holidays we could all probably afford to stay in instead of going out or ordering in. Trust us, your wallet will thank you later.)
Ask everyone to bring their favorite healthy dinner entree, side dish or dessert and catch up with friends over a healthy meal, potluck style. Need some recipe inspiration? Check out our arsenal of recipes for some culinary inspiration.
#2 Grab Some Friends and Warm Up with a Workout
Although after work plans are nice, sometimes you just want to head home after a long day and crash on the couch. Hey, ain't no shame in that game! Believe me, you aren't alone in that sentiment. I myself have multiple friends who just want to head straight home after work for some much needed me time (myself included).
Instead of forcing an evening workout class and a post-workout game plan, rally your friends to schedule an early morning workout class at your favorite studio. 6am sweat sesh anyone? That way, you still have the entire evening for some healthy hygge and you can begin the day with a solid start. Grab a cup of your favorite tea or coffee with your gal pals afterwards then head home to attack the day.
#3 Get Your Game Night On
Get your game on by hosting a weekly game night with friends and neighbors. Pull out some old school classics like Monopoly, Life and Twister or mix it up with some newer options. Whether you play one game one week and a new one the next or play multiple games in one night, everyone is sure to have a good time at weekly game night. Remember to create a spread of your favorite snacks like fresh fruit, vegetables with hummus and some sweet treats.
#4 Walk It Out
Although it's easy to hunker down and hibernate when the winter temperatures dip below zero and the blustery winds have you wishing it were summer again, winter days do bring with it some sunshine on occasion. Take advantage of these days and head outside for a winter walk. Make a mug of your favorite herbal tea or coffee, toss it in a to-go cup and go for a walk in the park. Don't forget, Fido enjoys sunshine and fresh air just as much as you do, so leash up and bring the pup along. Share the puppy love and invite friends to join you because who doesn't love a day spent with a cute dog?
#5 Schedule a Mani/Pedi
One of the best reasons to head out into the winter weather is for a mani/pedi, am I right or am I right? Treat yourself and go solo for a self care Saturday, meet up with a good friend for an afternoon lunch break in between work meetings or rendezvous after the work week is done and toast with a kombucha. Instead of going out and spending money on drinks, why not use those funds to treat yourself to a little winter pampering? Your feet will thank you after sloshing around in your Sorel boots all December long.

Winer socializing doesn't have be centered around alcohol. With these five activities, your winter calendar can still be packed full of fun get togethers with family and friends.
Tag us @asweatlife so we can see how you stay social during the winter months.