Is Hygge the Key to a Healthy Lifestyle?
The Danish lifestyle hygge, pronounced "HOO-gah," has no literal English translation, but essentially means "the act of coziness." You've probably already come across some mention of hygge; it was named one of the top ten words of 2016 by the Oxford dictionary, more than 20 books have been published on the subject in the United States in the last year and Pinterest called it a top trend for 2017. And, it's not surprising. Not only is coziness inherently appealing; hygge is credited as helping Danes consistently be the happiest people on earth in one of the coldest countries on earth.
I set out to learn how we can adopt hygge to lead happier and healthier lifestyles ourselves. I was a bit skeptical as I began my research; I thought I'd be told to curl up with a book, fuzzy slippers and a warm blanket, and all my problems would magically be solved. And I wasn't totally wrong. In one of the aforementioned 20 books, this plan is recommended on multiple pages, and I kept coming across similar sentiments in further research. The project was starting to feel more like mashugana than hygge.
And yet, I knew there was a good reason why the Danes are among the happiest people on earth. Sure, the authors recommend a suspicious amount of slippers and candles, but it turns out that hygge is more than that. Hygge is about allowing yourself to find pure, unadulterated joy in the moment and the people you are with, even if that if is "just" yourself. It's about self-forgiveness and allowing yourself to relax and be who you are without trying to impress anyone. Hygge is simply about being good to yourself and to the people around you. Pass me my slippers and light my cinnamon candle, and it sounds like the recipe for a lovely life.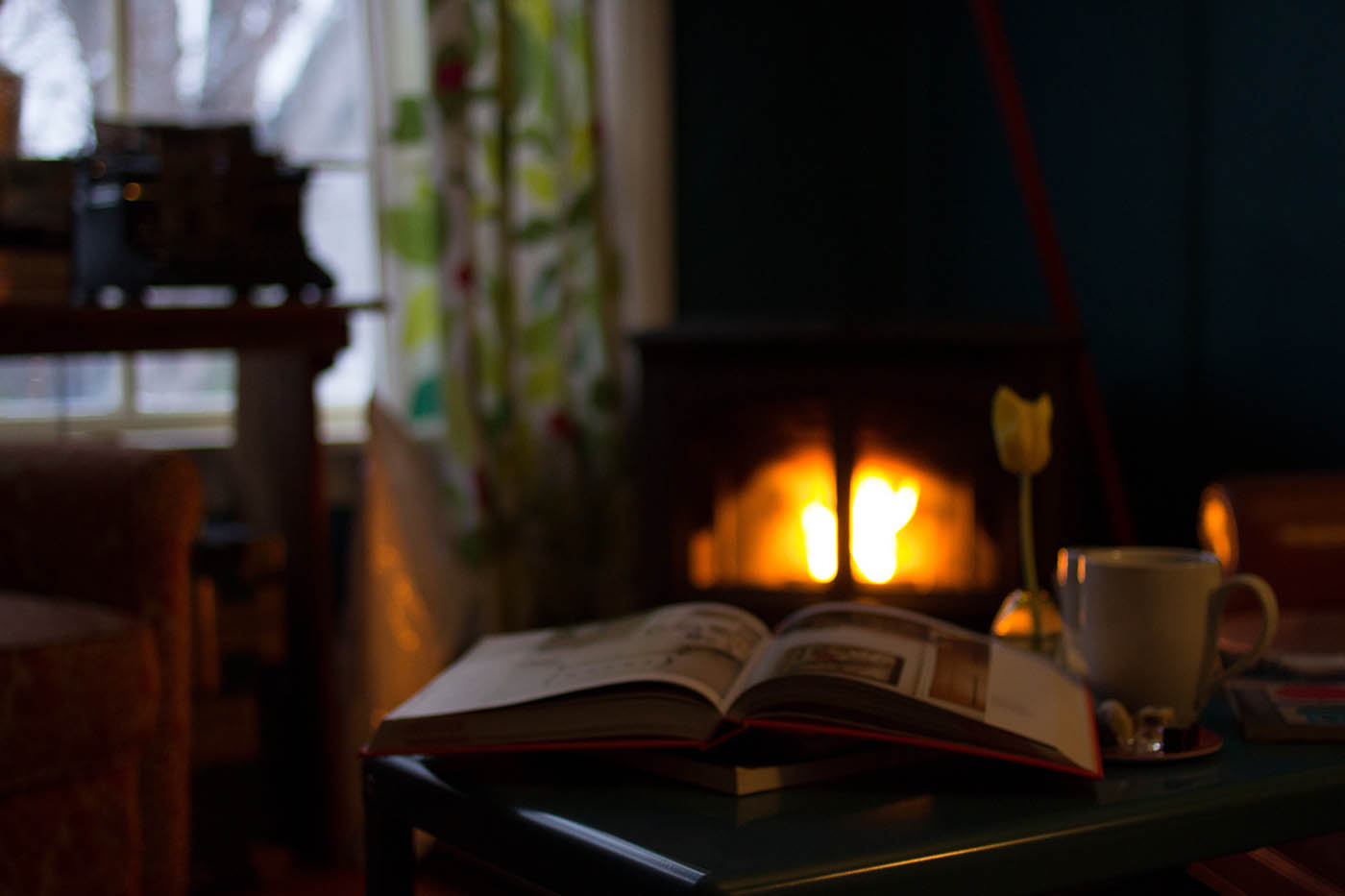 Here are a few of my favorite tips for how to hygge:
Embrace gatherings of friends and family.
It's true that hygge can be found in solitude, but it is most purely derived from intimate interactions with your loved ones. A hygge social experience centers on a loving and accepting community of people, spending time together enjoying themselves – playing games, hosting a potluck or simply spending time talking by a fire. Think about the interactions you've had with family and friends that leave you simultaneously at peace and revitalized with energy – that is hygge.
Spend more time outside.
In Denmark, people who practice hygge believe that it is never too cold as long as you dress your body with the appropriate clothing. Spending time out in nature is very important in hygge, because it allows you to spend time away from the tasks of your everyday life while appreciating your surroundings. An easy way to achieve this is to walk more for enjoyment. Take extra time on a walk with your pup or start taking walks outside your office on your lunch break.
Enjoy every bite.
Hygge is centered on savoring. Be intentional with what you eat and remember to treat yourself – from a glass of red wine to a home-cooked comfort food to exquisite dark chocolate. Or hey, how about all three?
Turn your phone off.
… Or at least put it on airplane mode. Hygge says to switch off your devices and focus on the people you are with, or spend time being still. This is easier said than done – you can start by setting a goal of a specific amount of time to switch your phone into airplane mode. It gets easier not to be distracted when you don't have notifications pinging away. Give yourself permission not to respond to everything immediately; it will be there when you turn your attention to it later.
Give yourself a break.
Hygge is not about perfection. In fact, the more authentic, the better. Hygge is the opportunity for self-care and forgiveness. Appreciate yourself for who you are right now and spend time in that moment. Remember, it isn't about impressing people, it is about relishing in the company of others.