Podcast Remix: How Jen Ator Found Gratitude In the Midst of the World Championship IRONMAN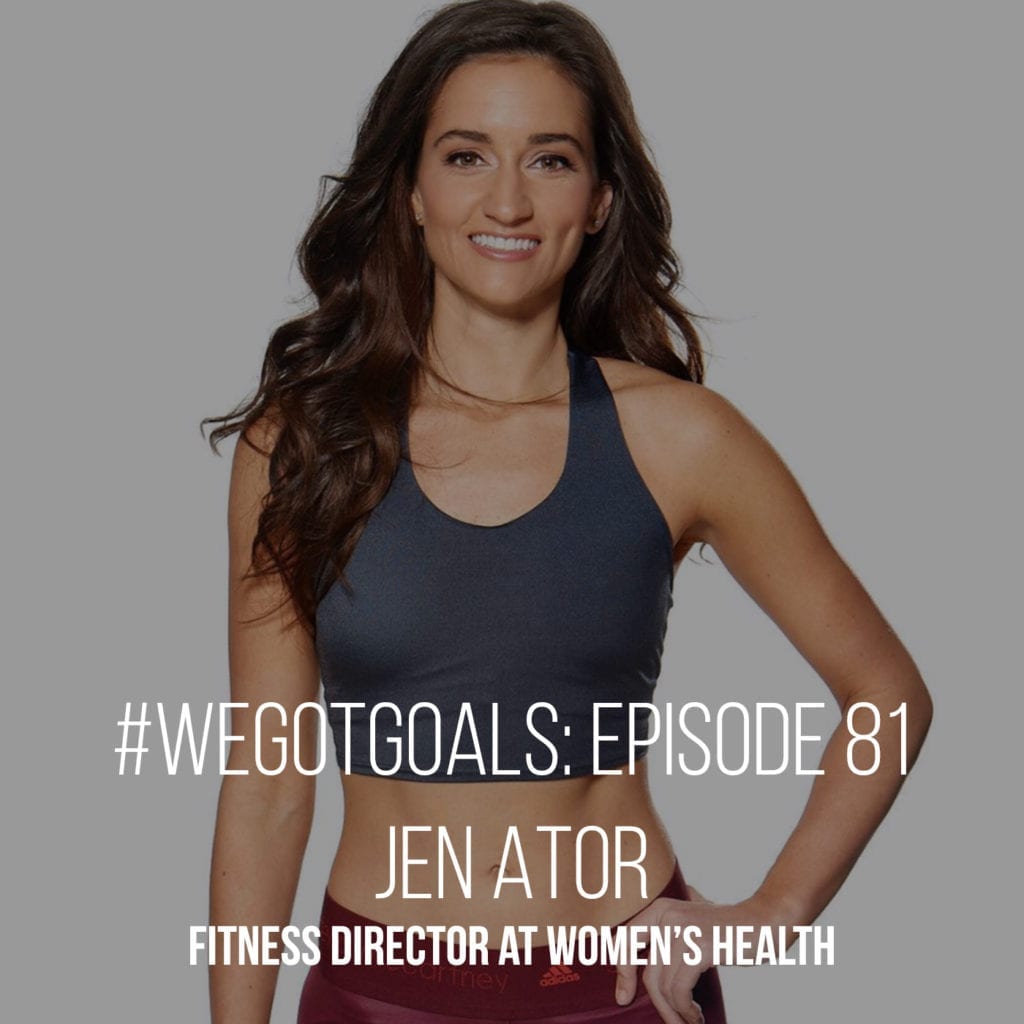 As one of the hosts of the #WeGotGoals podcast, I've had the privilege of hearing from insanely cool goal getters, entrepreneurs, CEOs, and leaders in the health and wellness industry. This week, though, I wanted to revisit an episode that fellow co-host Jeana Anderson Cohen led months ago. Episode 37 is with Jen Ator, Fitness Director of Women's Health.
In this episode, you'll hear Ator talk about a truly wild goal she trained for and accomplished: The World Championship IRONMAN at Kona. I wanted to revisit this episode for a few reasons. First, hearing Ator talk about the training process,  what she calls "the most transformative thing" she's ever done, had my jaw on the floor for about 30 full minutes.
Ator went from a fitness enthusiast, someone who ran a few miles a week, to training for six months straight to swim 2.4 miles, bike 112 miles, and run a full marathon, all in one go. She describes being terrified at first to say "yes" to the challenge, but ultimately, she decided it was an opportunity to show herself what she was made of.
"I'll try, and I'll try my best. Win, lose, or draw, I'll put everything into it," Ator says in the episode.
As a fitness enthusiast without any desire to pursue that kind of physical challenge right now, I listened to Ator's journey to becoming an IRONMAN with reverence, but I also took away more life lessons about setting goals for myself than I expected.
Ator didn't know how all the pieces would come together, but she knew she was going to show up to Kona on a set date in six months, and she just stuck with it. It wasn't easy – you'll hear in the episode, she had lots of ups and downs – but she never wavered in her commitment to being there and showing up for it.
In life, going for something that is truly scary, that you're not sure how or even if you'll accomplish it, is part of the process. Ator's story reminds me to get out of my own way and say yes to that big, audacious goal, no matter what that self-doubting voice in the back of my head may be saying.
Most importantly, Ator reminds us that even when you're doing something that is as hard as completing a 17-hour endurance challenge, there's always a reason to find gratitude for the moment. On the morning of the IRONMAN, Ator's alarm said "Cherish this day," and she hasn't deleted it from her phone since.
Ator's story about the challenge is inspiring, and I took her words to heart on so many levels, for so many reasons. From all of us at #WeGotGoals, we hope you enjoy this episode as much as we did. And if you like what you hear, be sure to rate and review #WeGotGoals on iTunes and subscribe wherever you get your podcasts – including Spotify!
And remember, if you want to be featured as one of our real-life goal-getters in an upcoming episode, just send a voice memo with a goal you've crushed, a goal you're eyeing, or your best goal-getting tip to Cindy at [email protected]