How to Make Healthier Versions of Holiday Food Gifts
From eggnog to latkes and candy canes to Christmas cookies, tis the season of indulgence. It's also the season of giving, and when those two festive realities come together, unfortunate things can occur. Like fruitcake.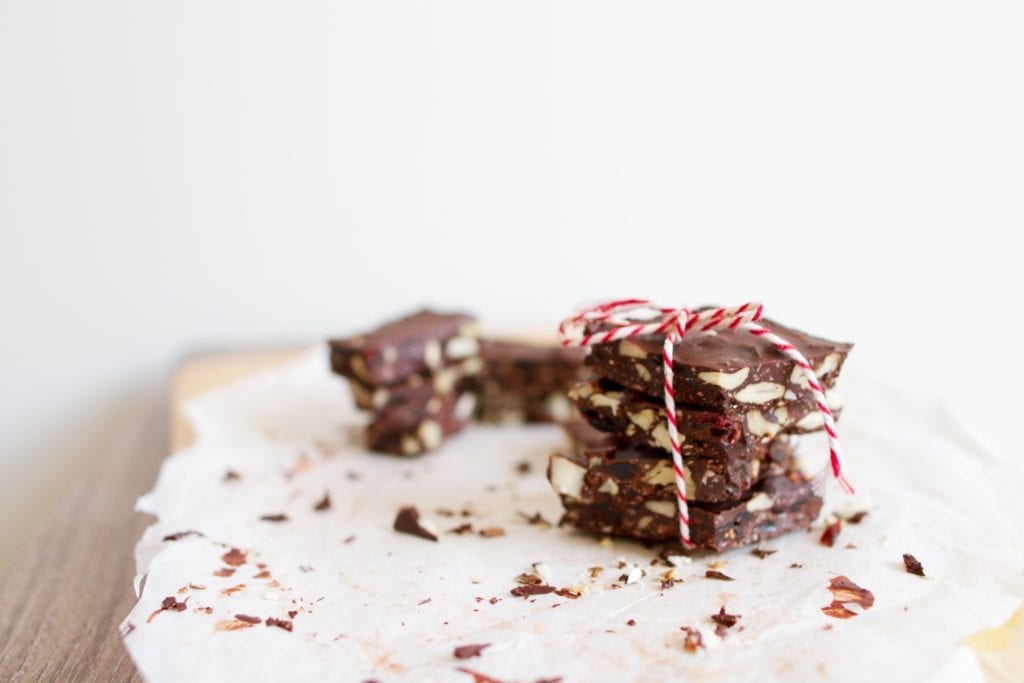 But just because fruitcake has been relegated to the holiday joke pile doesn't mean every sweet treat has to be trashed. In fact, we encourage you to make someone's day a bit more merry and bright with a traditional food gift. It's a great way to show you care. Even better? Our roundup below features healthier versions of favorite homemade treats. Consider it our holiday gift to you!
You won't see any sweetened condensed milk or chocolate chips in this paleo and vegan fudge. Instead, four simple ingredients (coconut oil, cocoa powder, maple syrup, and the nut butter of your choice) meld perfectly for a fudge redux. If you're feeling super "salty," top these gooey bars with flaky sea salt.
Unexpected ingredients, like flax seed and coconut oil, help fancy up this Chex mix while also boosting its health quotient. Plenty of yummy spices (I see you, smoked paprika) add depth and reduce the need for quite as much salt (3/4 teaspoon versus 1 ½ teaspoons in this traditional recipe). Be sure to buy wheat Chex cereal to get the whole grain benefits touted in the recipe title.
Mason jars, festive ribbon, and perhaps a sprig or two of mistletoe are the extra ingredients you'll need to make this not-terrible-for-you cookie mix. To get from jar to oven to mouth, all your friend will need to do is add milk, coconut or vegetable oil, and vanilla.
The festive dark red of the pomegranate seeds really pops against the snowy white base of this holiday bark. Using Greek yogurt instead of white chocolate for this frozen bark is a sneakily delicious way to incorporate protein, probiotics, calcium, and other beneficial nutrients. For another delicious bark recipe, don't miss this dark chocolate super seed almond bark from registered dietician and aSweatLife nutrition editorial consultant Catherine Borkowski, RDN, LDN.
Vegan Banana Bread
I consider myself something of a banana bread connoisseur, so I was skeptical (yet intrigued) by the modifications my sister made to this Simply Recipes banana bread. The original recipe calls for up to 1 cup of sugar; the modified version does just fine with ½ cup of brown sugar. Additionally, my sister eliminated the egg and butter (while adding non-dairy milk) to turn this into a vegan banana bread.
Ingredients
3 very ripe bananas, peeled

1/3 cup canola oil

1 tsp baking soda

Pinch of salt

½ cup brown sugar

1/3 cup non-dairy milk

1 tsp vanilla extract

1 ½ cups all-purpose flour

A few dashes of cinnamon

Optional: a mixture of cinnamon and sugar to sprinkle on top before baking; ½ cup chopped walnuts or pecans
Directions
Preheat the oven to 350 degrees and butter a 4×8 inch loaf pan.

In a mixing bowl, mash the bananas with a fork until completely smooth. Stir the oil into the mashed bananas.

Mix in the baking soda and the salt.

Stir in the brown sugar, milk, and vanilla extract.

Mix in the flour and cinnamon.

Pour the batter into the loaf pan. Sprinkle cinnamon-sugar mixture and/or nuts on top, if desired.

Bake for 50 minutes to 1 hour, or until a tester inserted into the center comes out clean.

Cool completely on a rack before slicing with a bread knife. Or keep it unsliced if gifting to help the bread stay moist.