3 DIY Edible Gift Ideas for Any Holiday
The days are growing longer, yet the holidays are speeding into view. Is the panic setting in as you realize you need to start your holiday gift ideas? THIS year is going to be the year that you are on top of it and get a head start – no more last minute scramble shopping. (Wait, didn't I say I would do that last year?) Make it easy this year with these simple and fun, budget friendly, food-themed gifts – your foodie friends will thank you!
Homemade Extracts
Give a gift that will bring baking to the next level! Homemade extracts are beautiful, unique, and customizable to the flavor you desire. Add a teaspoon into baked goods, icings, whipped cream, oatmeal, coffee drinks or alcoholic drinks. Get started early on this one since it takes at least four weeks to infuse!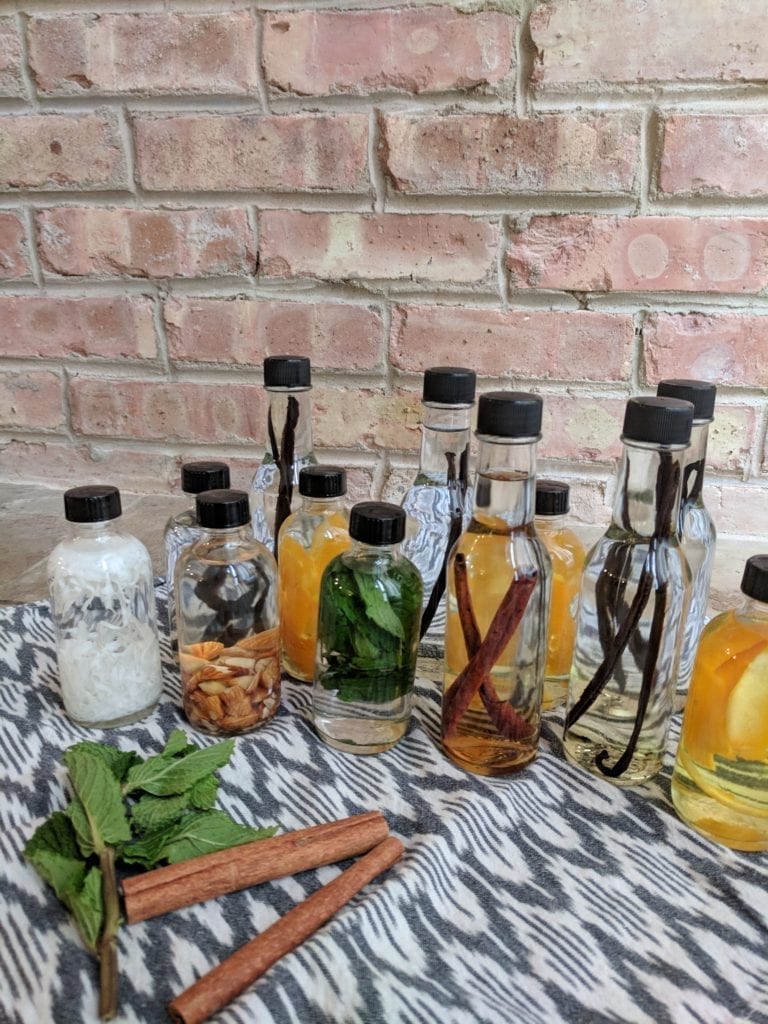 What you'll need:
Larger bottles for infusing

Small bottles with lids or caps for distributing

Vodka (any kind will work)

Flavoring ingredients: Vanilla bean pods, citrus peels (lemon, lime, orange), raw blanched nuts (almonds, hazelnuts), mint leaves, coffee beans, cinnamon sticks

Stickers for labeling
How to make it:
In the larger jars, place the flavoring ingredient inside. Create your own flavor, or use one of the recipes below to get started.

Pour the alcohol over the ingredients so that it is completely covered. Seal the jars.

Store in a cool, dry place. Every few days, give the jars a shake, and make sure that the alcohol is still covering the ingredient (if not, add a little more in).

After 4-6 weeks (depending on the ingredient), you have extract! Using a funnel, pour the extract into smaller bottles to distribute as gifts. The extract may have to be strained through a cheesecloth first, depending on the ingredient.
Extract Recipes
Recipes ingredients are to 1 cup of alcohol
Vanilla Extract
3 vanilla bean pods, split in half

5-6 weeks infusion time
Almond or Hazelnut Extract
¼ cup raw almonds or hazelnuts

5-6 weeks infusion time
Mint Extract
½ cup washed mint leaves

Make sure to press leaves down into the jar so they remain covered by the alcohol

4 weeks infusion time
Citrus Extract
Zest from ½ of an orange, lemon, or lime (or about ¼ cup of zest)

5-6 weeks infusion time
Coffee Extract
¼ cup coffee beans, roughly chopped (can use ground coffee but may be more difficult to strain)

2 weeks infusion time
Cinnamon Extract
4 cinnamon sticks

5-6 weeks infusion time
Dark Chocolate Super Seed Almond Bark
Everyone loves sweet gifts for the holidays, but sometimes there can be too much of the overly sweet and rich treats. Give your friends and family the best of both worlds – a delicious chocolate treat topped with nutritious ingredients and flavors. This bark looks beautiful and will impress your recipients – they don't need to know how super easy this was to make!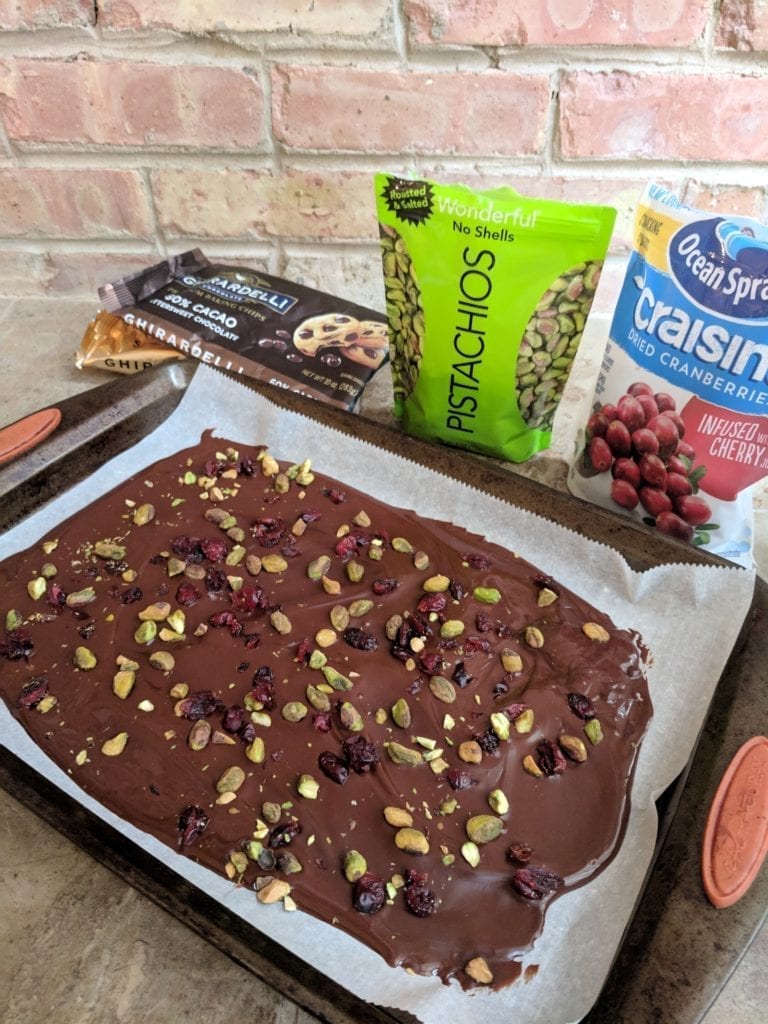 What you'll need:
Baking sheet lined with parchment paper or wax paper

12 oz of dark chocolate (or substitute vegan or paleo chocolate chips for family and friends with different dietary preferences)

Toppings: nuts, hemp seeds, chia seeds, pumpkin seeds, dried fruit, unsweetened shredded coconut, sea salt
How to make it:
Place the chocolate in a microwave safe bowl and heat in increments in the microwave until melted and smooth, about 1-2 minutes total.

Pour melted chocolate onto the parchment paper lined baking sheet and spread out with a spatula.

Sprinkle on your toppings and press down lightly so that the toppings stay put. Make your own creative combination, or follow one of the recipes below.

Place the pan in the fridge to set overnight. The next day, break apart the bark into pieces to give as gifts.
Bark Recipes
Cherry Walnut Chia
Chopped raw walnuts, chopped dried cherries, and chia seeds
Super Seed
Hemp seeds, pumpkin seeds, chia seeds, sea salt
Almond Joy
Chopped roasted almonds, unsweetened shredded coconut, sea salt
Holiday Red & Green
Chopped dried cranberries, chopped roasted pistachios
Salt or Sugar Body Scrubs
Food made into luxurious body scrubs? Yes please! The salt or sugar acts as a great exfoliant, and the oil will soften the skin. Plus the scents will make you want to eat the scrub right there in the shower!
What you'll need:
Makes one regular 16 oz mason jar (or two 8 oz smaller mason jars)
2 cups of salt or sugar (could also use brown sugar but will require a little more)

½ cup of almond or safflower oil (liquid oils work best, but you could also use coconut)

Essential oils, herbs, citrus zests, vanilla extract, cocoa powder, or ground coffee
How to make it:
In a large mixing bowl, add your base (salt or sugar) and oil and combine.

Add in your scents! Try one of the recipes below, or make your own concoction – choose 2 scents to combine, and if using essential oils, stick to using no more than 8 drops of each.

Pour mixture into mason jar and seal.
Peppermint Chocolate Scrub
Use white or brown sugar as the base

Add 5 drops of peppermint oil and 2 Tbsp cocoa powder
Lavender Rosemary Scrub
Use salt as the base

Add 5 drops rosemary oil and 8 drops lavender oil

Place a sprig of rosemary in the jar before pour the mixture in
Vanilla Latte Scrub
Use white or brown sugar as the base

Add ½ tsp vanilla extract and ¼ cup finely ground coffee
Citrus Scrub
Use salt as the base

Add in 8 drops of grapefruit, lemon, or orange oil

Mix in a tablespoon of zest from a grapefruit, lemon, or orange
A few other DIY food gift ideas to check out:
Happy holiday gift-making!