Lightened Up Mashed Potatoes for Your Holiday Table
In my family, mashed potatoes are the prized Thanksgiving side. One year when leftovers were scarce, one of us (read: I), even hid the leftovers in the back of the fridge to make sure I got that last serving.
Traditionally, mashed potatoes are loaded with heavy ingredients (think butter, heavy cream, sour cream, etc.). And when it comes to taste you can't go wrong with a traditional recipe, so if you want to go all out on Thanksgiving then I say do it. Life's about balance after all!
But if you're facing a table of sweet potato casserole with marshmallows, heavy stuffing, and you can't choose between three pies, try this healthier spin on mashed potatoes to lighten up at least one part of your Thanksgiving table.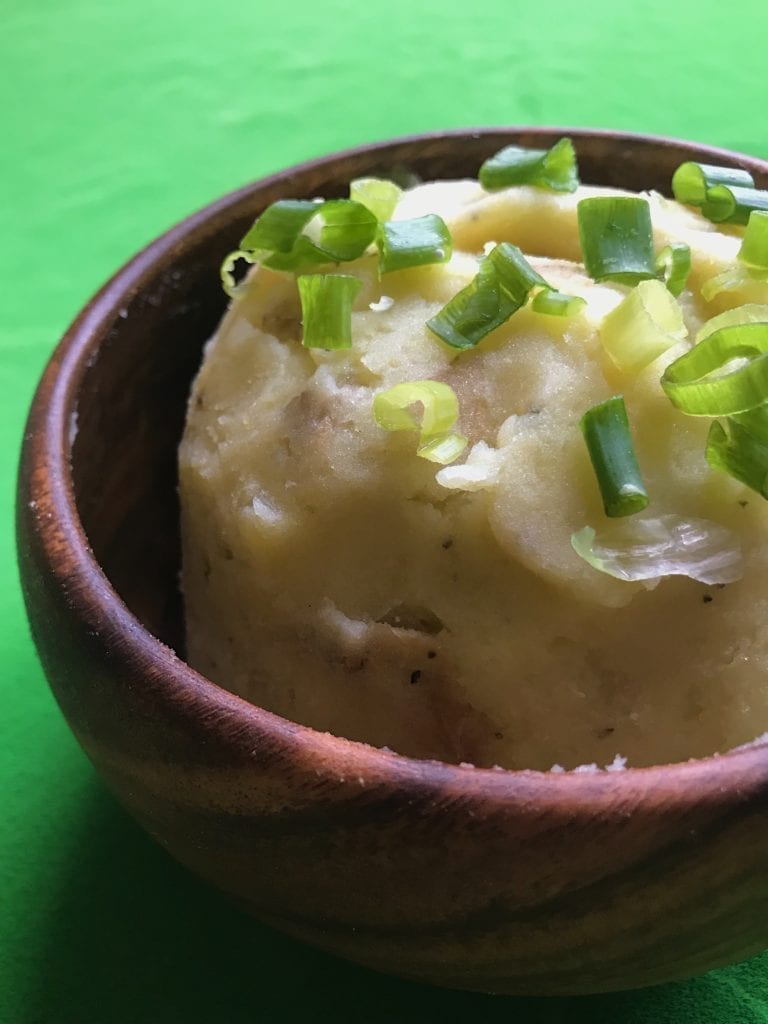 The truth about the nutrition of potatoes
Potatoes tend to get a bad rap when it comes to nutrition – some of our favorite preparations for them involve deep frying, mixing them with lots of butter, and piling them with cheese and bacon. But if we take French fries, loaded potato skins, and good old potato chips out of the equation and look at the base ingredient, potatoes actually have a lot to offer.
Potatoes are an excellent source of vitamin C and potassium, with one medium potato supplying 45 percent of your daily vitamin C and 15 percent of your daily potassium. They also boast additional micronutrients including vitamin B6 and magnesium.
Potato skin in particular is extremely nutrient dense, containing a lot of those awesome vitamins and minerals, so for this recipe we're going to leave the skin on. Greek yogurt lends creaminess and acidity to this dish while adding protein and replacing all of the heavier traditional ingredients that made you fall in love with mashed potatoes at your childhood Thanksgiving.
Throw in some roasted garlic and these are so flavorful your family won't even notice the swap, and you can feel good about one of the carb heavy sides on your holiday table. These potatoes may even give you an excuse to have mashed potatoes outside of the holiday season!
Ingredients (serves 4 – adjust as needed for number of guests):
4 roasted garlic cloves (optional but highly recommended)

1 tsp Extra Virgin Olive Oil, for roasting garlic

2 lbs Yukon Gold potatoes, skin on

½ cup Greek yogurt

Salt and pepper, to taste

Green onion, chives, or parsley, for garnish, chopped
Directions:
Roast the garlic: Preheat oven to 400º F. Peel garlic cloves. Drizzle cloves with olive oil and wrap in foil. Roast for 40 minutes or until garlic is caramelized and fragrant. Scrape garlic on cutting board with the side of a knife to form a paste.

While garlic is roasting, bring a large pot of salted water to a boil. Cut potatoes into one-inch chunks and boil until they are soft and can be pierced with a fork, roughly 10-12 minutes.

Drain potatoes in a fine mesh sieve and return to pot.

Combine potatoes, Greek yogurt, garlic, salt, and pepper. Mash with a potato masher until desired consistency. Garnish with green onion, chives, or parsley.