How Caullen Hudson is Making Change in Chicago Through Fitness and his Company SoapBox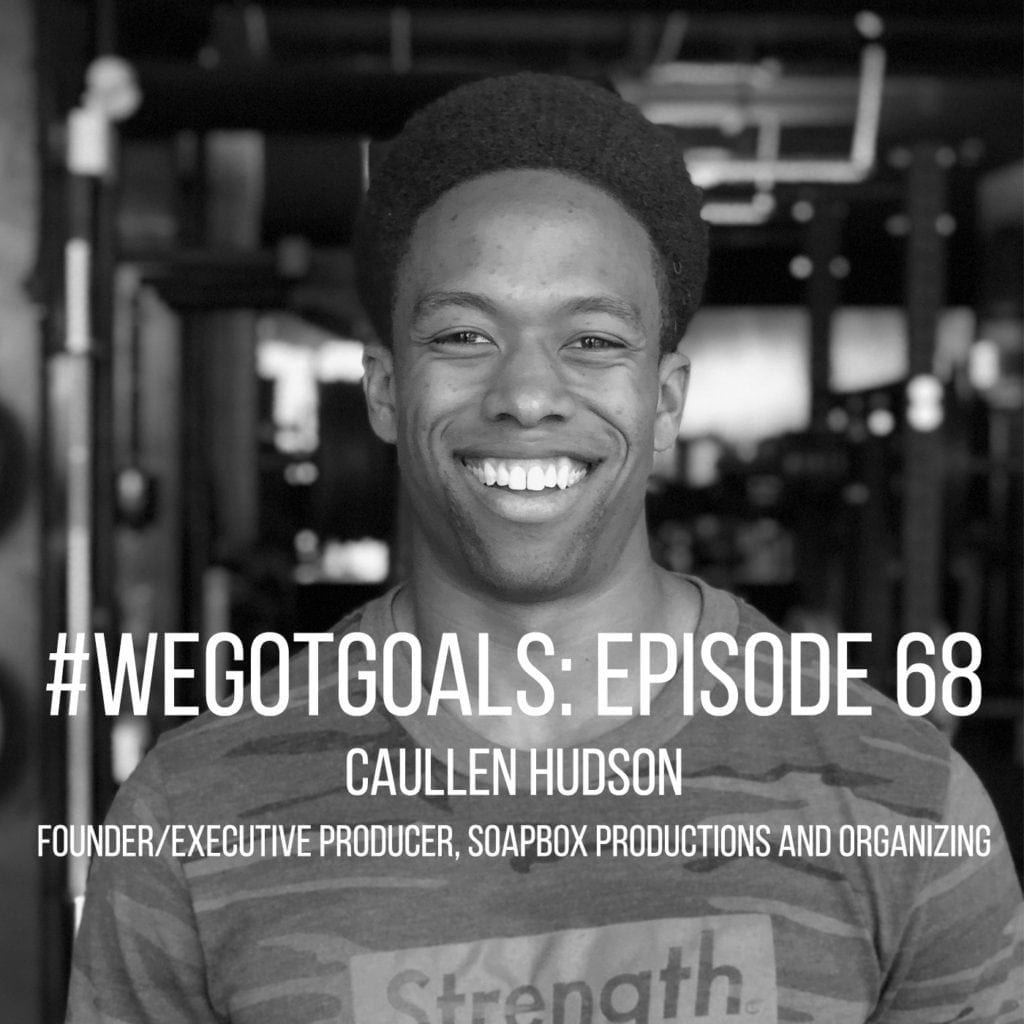 Caullen Hudson is always seeking to inspire – it's just a little different from place to place. In the gym, he's encouraging fitness enthusiasts and flipping tires. Outside of the gym at the company where he's Founder and Executive Producer – SoapBox Productions and Organizing – he's encouraging youth and flipping aldermen.
On this week's episode of #WeGotGoals, Hudson talks about the intersection of wellness, race, and media. His spot on the Venn diagram is right where those worlds intersect, and he uses his unique position to spread ideas and encourage action. In naming and branding his company, the soapbox sends a pretty clear message about what he and his business partner David A. Moran are creating. SoapBox Productions and Organizing creates media – or micro-docs, as the teams calls them – to spread an idea and encourage incremental change.
It all started with a documentary What's Beef? that Hudson produced as a film student at DePaul University, when he studied and documented the parallels between drill rap and activism in Chicago. (And if you're wondering what "drill rap" is, it's a form of rap that's steeped in Chicago's South Side and often includes themes of violence and gang references – Chief Keef is widely associated with popularizing this form of hip-hop.)
Also discovered at DePaul – Caullen's love for fitness. It all started when a friend asked him to take on Shaun T.'s Insanity workouts. When he did, he fell for the kind of cardio that comes with bodyweight workouts, high knees and burpees. And as soon as he saw that DePaul was auditioning new fitness instructors for a bodyweight-specific fitness class, he took it as a sign.
As those two vocations grew in parallel, Hudson saw opportunities to fight against racism, fascism and sexism in big and small ways. Inside the gym, it's as simple as renaming an exercise "person-maker" instead of "man-maker." As a producer and community organizer, he's supporting high school-aged students in West Garfield Park who are organizing to fight against the erection of a Police Academy.
Throughout this week's #WeGotGoals episode, you'll hear Hudson reference the project, #NoCopAcademy. To fully understand it, spend 3.5 minutes on this video.
If you were moved by that short video, it's on purpose, Hudson said. The arts help people understand larger social issues. "They may not read a research paper, but they're going to watch a documentary that will help them understand," Caullen told me.
You can listen to #WeGotGoals anywhere you get your podcasts — including Spotify! If you like what you hear, please leave us a rating and a review. Make sure to listen all the way through, because at the end, we heard from a real-life goal-getter just like you. (Want to be featured on a future episode? Send a voice memo with a goal you've crushed, a goal you're eyeing, or your best goal-getting tip to Cindy Kuzma at [email protected].)