A No-Holds-Barred Q&A With Gunnar Peterson
Gunnar Peterson is one of the biggest names in fitness today. You might remember him from the Khloe Kardashian show, Revenge Body, or some of our recent chats with him on aSweatLife, but he is known for so much more. While he's trained many of Hollywood's A-list including Angelina Jolie and Sofia Vergara, he's also the Director of Strength and Endurance Training for the Los Angeles Lakers.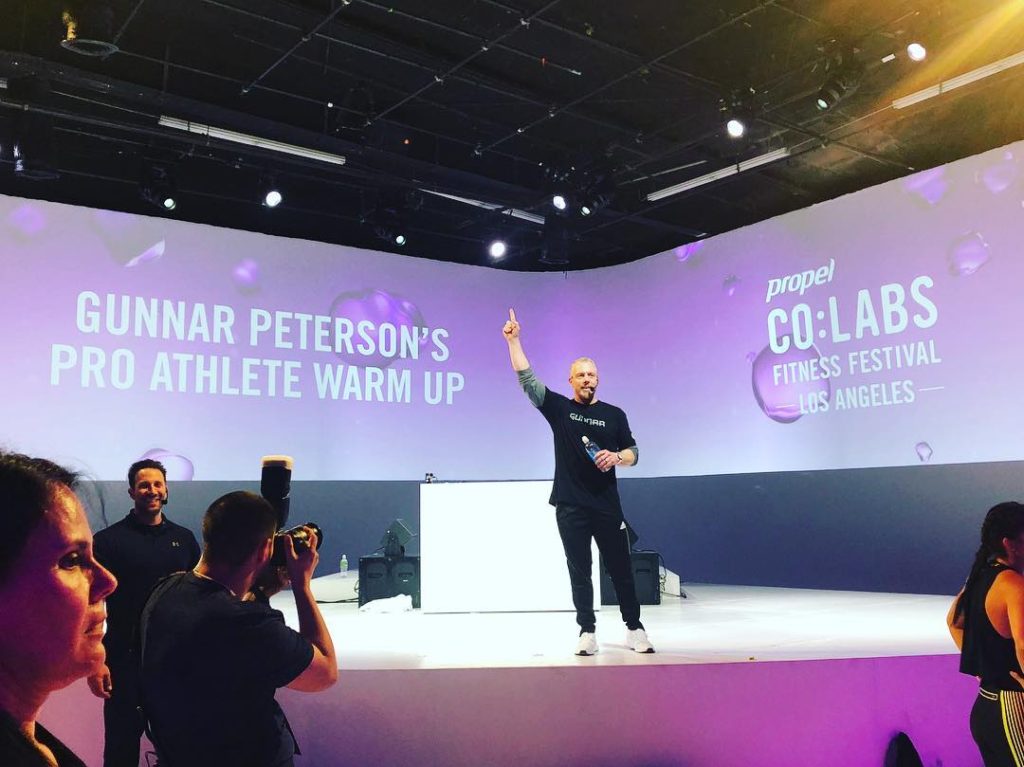 I recently had the privilege of sitting down with Peterson at the Propel Co:Labs Fitness Festival. He revealed secrets of being a trainer, his own morning routine, and advice for people who are beginning their fitness journeys. In this no-holds-barred conversation, he poignantly delivered the truth about fitness.
What is the difference between training celebrities and "regular" people?
In my experience, the only difference is the scheduling. Celebrities have so many things pulling at their day. From their assistants, to management to agents— it's hard to fit it in. So, scheduling is the toughest part, but it's not insurmountable by any means.
What about the physical aspects of training? Are celebrities different in that way?
Anyone who hires a trainer ultimately wants to push harder than they can push themselves or than they anticipate being able to push themselves. So the trainer is there is to set the bar and make sure they achieve it. The people who come to me are pretty driven and goal oriented. They want to do the work and they want it to be tough. They want it to be outside their comfort zone because that's where the party starts!
What is the hardest part of being a trainer?
From my experience, the hardest part is balancing client hours with gym hours, as well as your own fitness, family, friends, and other pursuits.
If you map it out, I think you can do it all. You see people in the entertainment industry from Jennifer Lopez to Dwayne Johnson, Khloe Kardashian and Ryan Seacrest. People have multiple jobs and they do a lot of different things. If they do it, budget their time and map it out, then as a trainer, you can certainly do that.
Don't tell me you didn't have time to workout because you were training nine people that day. Do your workout early. Do it in between. Do it after. There's a way to do it, but you have to map it out. Without a plan and a schedule, you're doomed.
On that note, can you share your best time management tips?
I work it out backwards. What time do I have to be there? How long will the drive be? How long will it take to clean up after my workout? How long do I want to workout for? How long do I want to sleep?
What's your morning routine?
I get up get 3:45am, have an almond butter and take supplements. Natural, not "amp you up" things. I shower and get dressed. My clothes are laid out the night before. And yes, they are laid out in the order in which I put them on. It just makes it easier. I go and do cardio, stretch and lift weights. I eat and clean up. Then I start with clients, usually at 7:15.
Is there a concept you wish your clients understood better?
This skews more towards women, but do not be afraid of lifting weights. Weights are your friends. It's hard to get big. It's a lifestyle and commitment to get big. Lift the weights and you will get a return on your fitness investment.
What's the least glamorous part of your job?
At the end of the day, you're still wiping up sweat. I had these two NFL guys in a few years back, and one of them started throwing up. I have a bucket for that. They finished their workout and when they left, the next person came in. I said, "Hang on a second." I had the puke bucket and I had to walk to the back and clean it. She said, "You're going to clean that?" I said, "It's not going to clean itself." That's probably the low point.
What is the best advice you have for someone at the beginning of their fitness or wellness journey?
Get stated. Don't wait for June 1st or your 35th birthday. Just start. Take a class nearby. Group exercise has a way of inspiring. Don't worry about people looking at you because you're not in shape. Go get started! Everyone is thinking about themselves. Take the class. Take another one. Don't do one and say, "I didn't like it." Give 3, 4, 5 classes a chance.
*Some answers have been edited for length and clarity.