How Melissa Stockwell Refused to Let Losing a Leg Slow Her Down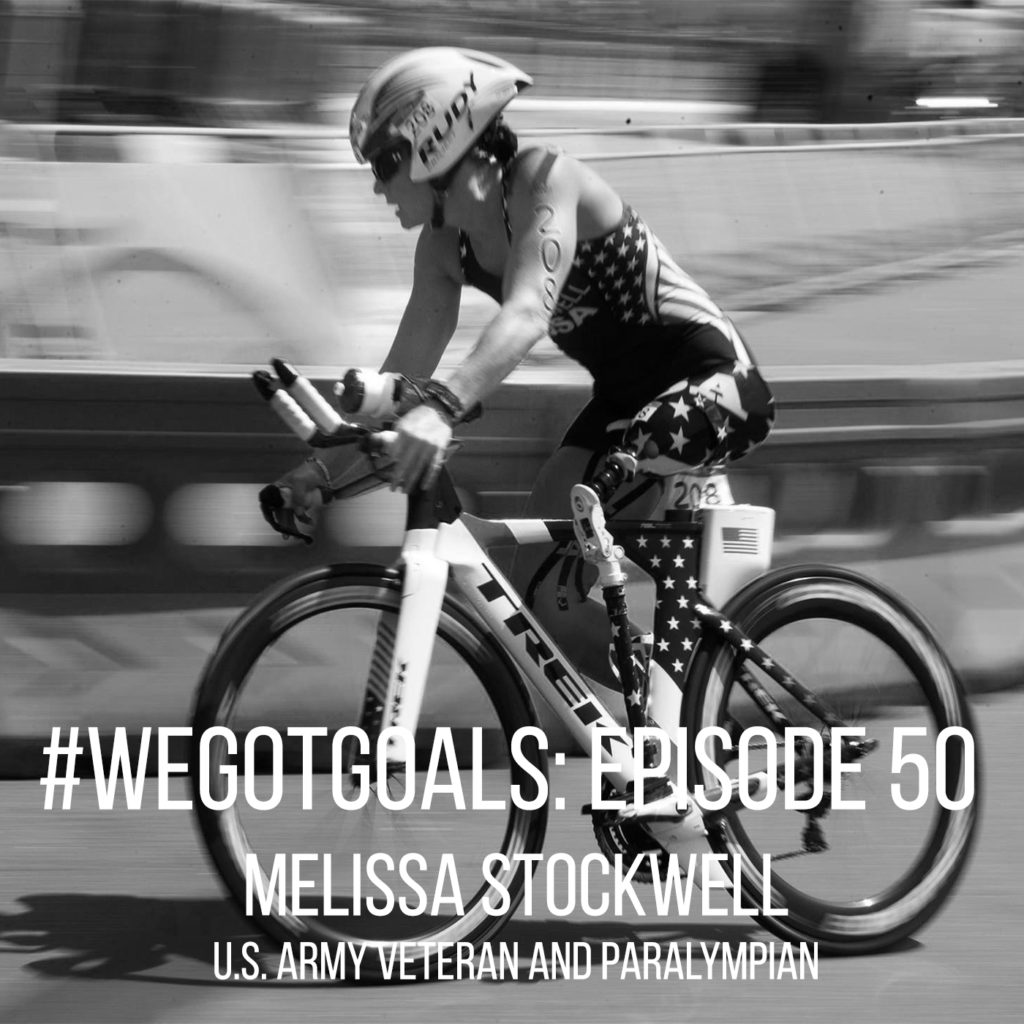 Some people would view the loss of a leg as a tragedy, or at least, a significant obstacle to pursuing the path they'd painstakingly planned out for themselves.
For Melissa Stockwell, my guest on this week's episode of #WeGotGoals, losing a limb offered a second chance at a lifelong aspiration.
As a young gymnast, she'd always dreamed of going to the Olympics. She practiced twice a day. Her walls were covered in Team USA posters, her entire life decorated in red, white, and blue.
Her love for her country eventually took her to the Army and to Iraq, where in 2004 a roadside bomb took her leg.
While recovering at Walter Reed Army Medical Center, she learned about the U.S. Paralympics. That, she knew, was where she needed to be.
"Here I was, an athlete with a physical disability, and I was being told that I could compete on the world's biggest athletic stage and represent a country that I defended over in Iraq," she says. "What greater honor would it be to wear that USA uniform on that stage?"
Stockwell picked a sport—swimming—and trained hard. She made it to her first Games in 2008 in Beijing. The experience was incredible but the results, not what she'd hoped. So she transitioned to triathlon, stayed dedicated, and won a bronze medal at the 2016 Rio Paralympic Games.
Standing next to her teammates on the podium—Americans took all three medals—was the ultimate payoff for all her challenges and sacrifices, she says. And it was all the more meaningful for having come after another major feat—having her son, Dallas.
"To be in Rio on that podium as a medal-winning mom was really just really one of my greatest accomplishments," she says. "I mean, when I think of that moment, I think about everything that went into it and just how amazing it was to be there."
Her path to the medal stand offers one compelling example of the way she digs deep to find the positive in any situation. But it's far from the only way she's wrested control of her own narrative, turning challenges into opportunities to transcend them.
Sure, balancing training, speaking gigs, her role with the Dare2Tri Paratriathlon Club (which she co-founded), and two kids under the age of 4 often proves tricky. But rather than bemoan her lack of time, she maximizes every 15 minutes, and draws a deeper motivation to push ahead from her children and the athletes who come through the Dare2Tri program.
Of course, training comes with its peaks and valleys, days of exceeding your expectations interspersed with not-so-great rides, swims, and runs. Each day, she pinpoints one thing she did that drew her closer to her goal, even if was as simple as getting off the couch.
And yes, she'll be 40 by the time of the next Paralympics, in Tokyo. Her competitors are far younger, have fewer responsibilities. But age has brought her wisdom and a desire to show her children—she now has two, including eight-month-old Millie—that hard work pays off.
So she'll do everything she can to make it there. We won't be surprised to see her on the podium again in 2020.
Hear more about how Stockwell is working to involve women in the sport as chair of the USA Triathlon Women's Committee, what tips she has for other busy moms trying to achieve big goals, and the special way she commemorates the day she lost her leg on this week's episode. And if you like what you hear, subscribe anywhere you get your podcasts (including Spotify!) and leave us a rating or a review on Apple Podcasts.