The Road to 26.2: Crossing the Finish Line
When we last tuned in, our marathoners were deep in the throes of training, each running for a different reason and a different goal. And on October 8, each one of them crossed the finish line of the Chicago Marathon, putting an end to a summer (or longer) of training.
But it wasn't quite as simple as that (it never is, right?). Kim Caplea, the Chicago Marathon regular running for REACT Thyroid Foundation and her late sister, faced an unexpected stumbling block just a few weeks out from the marathon. She had signed up for a 20-mile training race, figuring that if she could make it through that, she'd be in good shape for the marathon.
"I felt great, it was a beautiful morning. But around mile 9.5, I went down a small hill in the middle of a road, and just fell going downhill – all on my left shoulder."
Despite reassurance from the ER that nothing was broken, Kim spent the next few weeks in pain from her bruised shoulder, wondering if she'd even be able to run any part of the marathon. Finally, the week before the marathon, Kim got full range of motion back in her left shoulder. Now, she had a decision to make.
"I figured I'd pick up my bib, run 14 miles to get to [my friends] Emily and Andrea, then maybe drop out," Kim shared. "I sent an email to my donors saying look, I'm injured and probably not going to finish, don't worry about sponsoring me."
However, that wasn't an option for her supportive friend Andrea.
"Andrea took that email and re-posted it on Facebook, along with the message that my sister would say 'Suck it up buttercup!' and run." 
And that's what Kim did – one mile at a time. She started with the goal of making it to mile 14 to see her friends. Once there, Kim realized she felt pretty good, and she thought she could make it to mile 20.
"Once I made it to mile 20, I figured I could walk the rest of the course if needed, and then I could actually finish and get my medal."
Spoiler alert: Kim got her medal.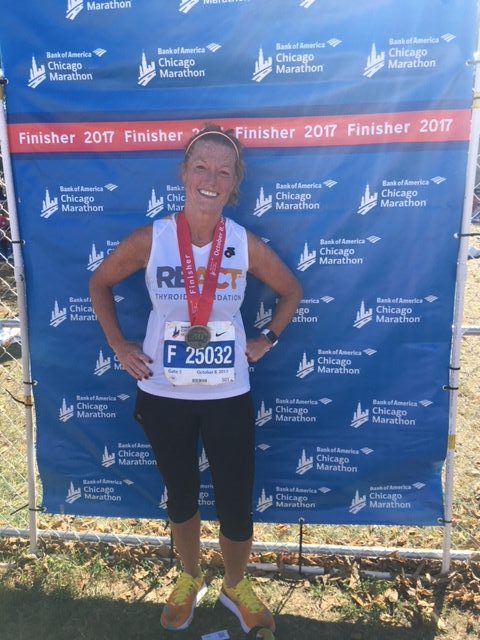 "I really didn't expect to finish, especially with no lost toenails, no blisters on my feet. I actually came out okay. Andrea's post on Facebook the night before the marathon was really the turning point for me – she was right, my sister would have pushed me to run it."
A sister played a crucial role in Violeta Ochoa finishing the marathon this year too. After a summer of being constantly sick, Violeta came down with a nasty cold a few days before the marathon. That, combined with a rough 20-miler that didn't go as well as she'd hoped, had her wondering whether she'd be running at all.
"My sister [Susana] and I were feeling the same – we both had a crappy training season. We went to go get our packets and decided okay, we're just going to do it. Whatever happens happens, and we'll run together and decide as we go."
Although the sisters often start races together, whoever's having the better day usually ends up pulling away during the race. Not this time. The sisters stayed together for the entire course, taking it easy and focusing on finishing one mile at a time.
At the end of the race, Violeta said she felt tired, but not "completely destroyed." Now, heading into winter, Violeta's plan is to regroup and refresh, taking the fall to run easy and focus on strength training and nutrition to get herself prepped for spring marathon training.
Even with a race day that didn't go as anticipated, Violeta was still able to appreciate the passion and support of Chicagoans on marathon day.
"I don't think I could ever NOT do Chicago. I know people that I know are going to be out there cheering. Every year, I think the crowd just gets bigger."
The crowd's enthusiasm was something that definitely stuck out to Matt Lindner as he completed his first Chicago Marathon.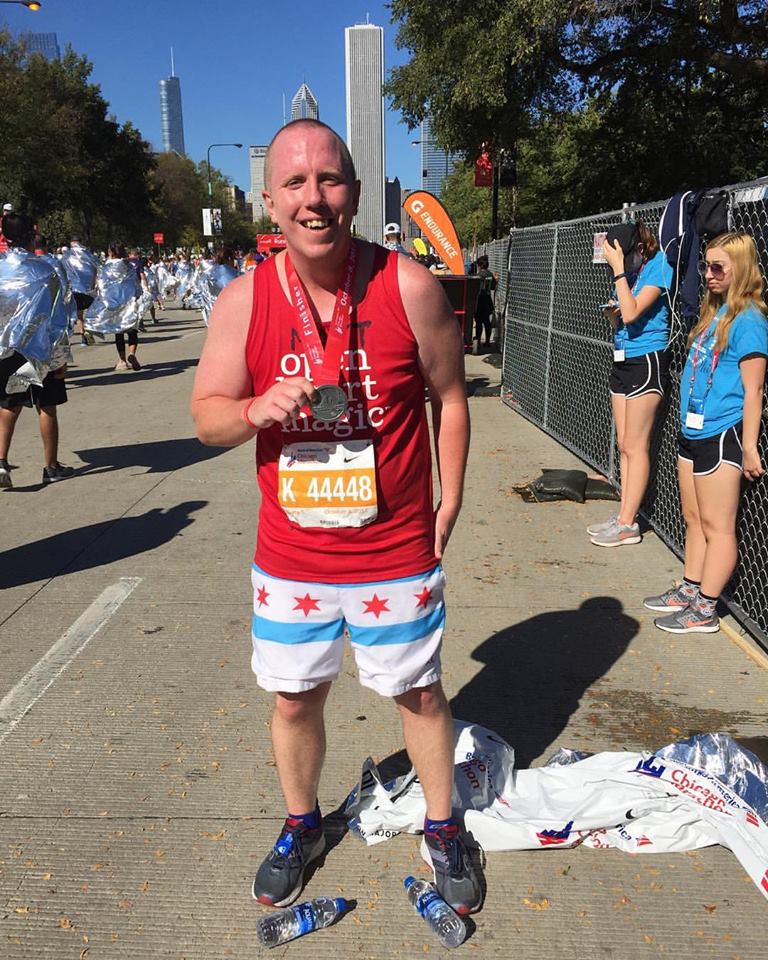 "I saw a baby dressed as a chicken within the first three miles," he commented. "That, and a sign that said 'Run like millennials run from commitment' really stood out to me on the course.
"Conserving energy over the first 13 miles –  it's easier said than done. You get caught up in the energy and excitement of the start. Boystown, Wrigleyville, Old Town are all so crowded. Everyone is just so excited to see you."
Matt came away from the experience having raised over $5600 dollars for Open Heart Magic. Little did he know, his work helping sick kids would lead to some unexpected benefits on race day.
"If you're doing the marathon for the first time, definitely do it for charity. Pay to have the accommodations on race day! You don't realize how much you want that private bathroom until you see the lines for the porta-potties before you run for five hours.
"Running for a charity team also provides you with a built-in cheer squad. People were wearing the same shirts I was, screaming their heads off for me at several points on the course. We had a meeting point with a private room and private bathrooms. Think about what race day is going to be like long before you sign up for a marathon."
Matt had tons of helpful advice for first-time marathoners, now that he was on the other side of the finish line. Some of that advice:
Take the day after the marathon off (I nodded emphatically as he said this, having made that error during my first marathon)

Start your training early. "That helped me the most when it came to avoiding injury," Matt advised. "Most marathon training programs expect you to run three miles straight on your first day, and your first long run is six miles. It took me four or five months as a rookie runner to get comfortable running six miles."

Don't beat yourself up over your finishing time. Instead, "appreciate the enormity of what you just did, and don't worry about missing your goal time. We're not Olympians, we all get a medal at the end. Appreciate how far you've come and where you've been over that time."

Station people on the back half of that race course. "That's when you'll need them! A buddy of mine from Milwaukee was at miles 14 and 16. He ran alongside me for a couple of steps and filmed an interview while we were running. It kept me mentally engaged."

Soak in every minute of race day. "I made it a point to get up as early as possible, because anytime you spend 10 months working to tick an item off your bucket list, you want to enjoy the experience," shared Matt. "I wanted to make sure I got downtown early. There's the excitement leading up to it, the camaraderie with fellow runners, sprinting to the finish line, tasting that first beer which is better than any beer you've had in your life.
"Again, don't take it so seriously. It's such a party in Chicago. The city really does it up big."
Ready to RSVP to next year's party already? You can register for the Bank of America Chicago Marathon here.