Your Ultimate Marathon Mix By The DJ Firm, Exclusive to aSweatLife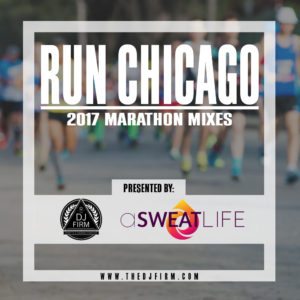 That statement wall in my house – is it too much of a statement? The time I said "you too" when a barista told me to enjoy my coffee. The millions of times I've typo'd "significan't."
These are some of the things I dwell on when a run stretches longer than an hour. And as 40,000 people and I are about to embark on the Bank of America Chicago Marathon, I need all of the distraction from my own thoughts I can get.
Your earbuds serve not only as a distraction from your own thoughts, but also a motivation to move your body in a straight line for 26.2 miles. We've written about the scientific benefits of music for your fitness routine before, but spoiler alert, it's more motivating than almost any other thing when it's done right. And in all seriousness, the right marathon playlist can make or break your race.
The tempo, the amount of distraction, your inability to predict what's coming next – those things all make you more excited to keep moving. You'll be thoroughly entertained and distracted by four different mixes created by The DJ firm, aSweatLife's resident DJs for events. 
Each mix was created by a different DJ at the firm and will take up about an hour of your run, you'll have more than enough music to cover you when you need the motivation. And just when you're ready to move on to a new style, a new mix by a new DJ will kick in.
Let's talk about saving battery on your phone: don't stream these mixes. Luckily the DJ firm made it super simple for you to download. Download the dropbox, add all four mixes to iTunes or whatever you use for music and make a playlist of the mixes. Enable offline listening on Spotify and test the playlist before marathon day.