Over Before You Know It: 30-Minute Classes
In my opinion, 30-minute classes are the unsung heroes of group fitness. Let's be realistic, as much as we would all like to have more time to devote to exercise, that's not always possible. A shorter workout is better than not doing anything and if a class is intense enough, it can certainly get the job done. However, even during those less than overly scheduled times, it can sometimes be difficult to motivate. When the thought of an hour-long class is just not something you think you can handle, it's a lot easier to convince yourself to take a shorter one. Furthermore, I personally find I work harder and slack off less during a shorter class because I need to make every minute count.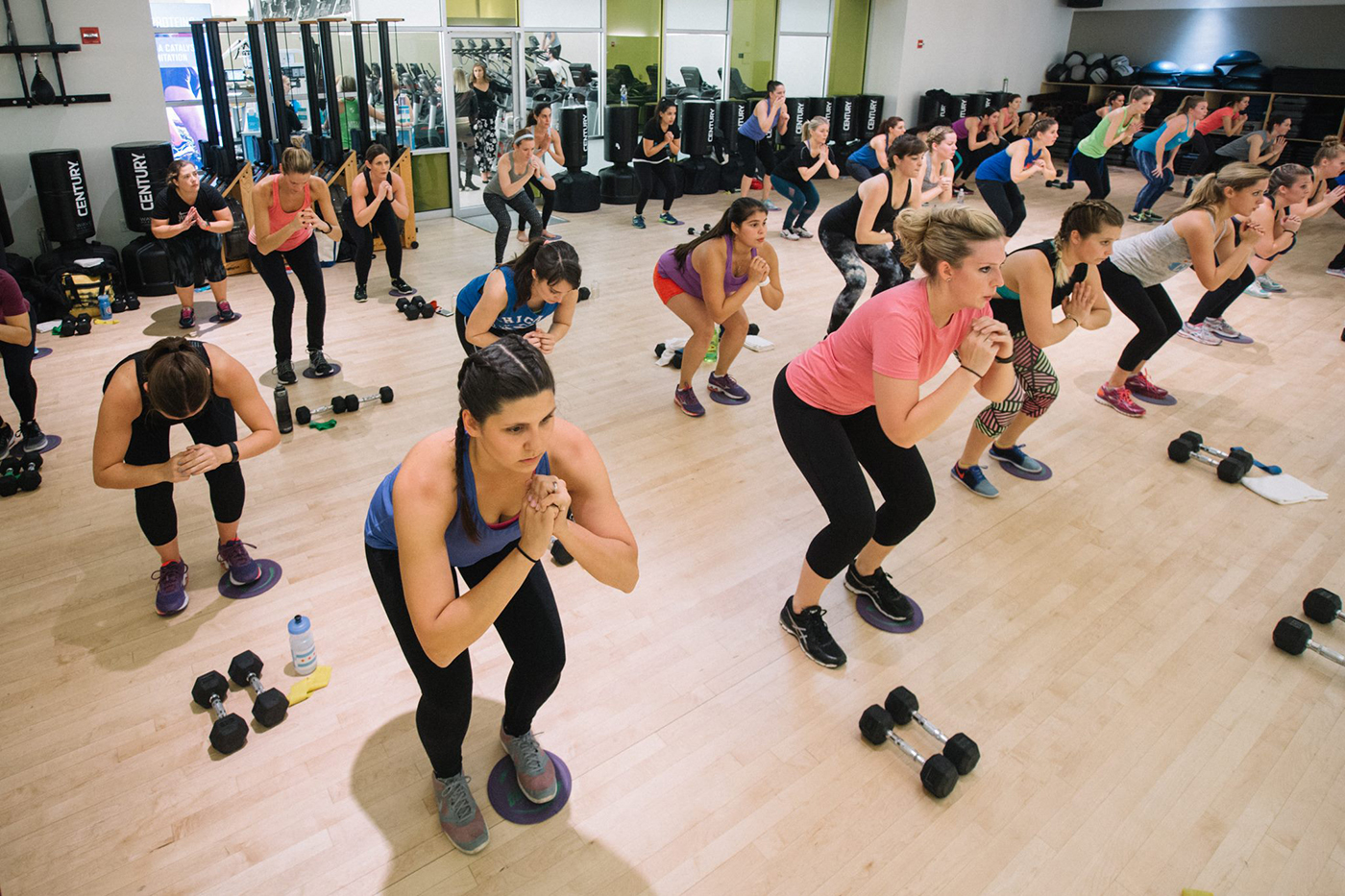 Are you ready to work really hard for half an hour? Here are some of the most notable group fitness classes that will be over before you know it.
Crunch
As a former member of Crunch (it's no longer geographically desirable for me), I can honestly say I never took a class there I didn't like. Crunch has some of the most fun, innovative and effective group fitness classes available, especially for a large chain gym. Crunch offers 30-minute versions of many of their popular classes including Jillian Michaels' BodyShred, Absolution, Ass & Abs, Weigh Hard Cardio, B.L.T Butt, Legs & Thighs, 360-3X, Tread n' Shed, Pilates Mat, Burn & Firm Pilates, POUND, Washboard Abs, Overdrive, Yoga Body Sculpt, Tabura, Chisel, Belly, Butt & Thighs Bootcamp and Upper Cut. Crunch's Base locations, which are the franchised gyms, only offer 30-minute long classes. There are 167 Crunch locations total throughout the US.
Power 30 At Flywheel
Don't have 45 minutes for spin? Flywheel offers Power 30, which is a condensed version of their signature Fly 45 class. Note this class is not available at all studios, but is a great option if you don't have an extra fifteen minutes to spare.
Barre 35 At Cardio Barre
Cardio Barre offers a 35-minute version of their signature class. Cardio Barre is pretty fast paced to begin with, but Barre 35 feels even more intense. You leave feeling like a drenched ballerina. It's a great way to fit in a full body workout on a full schedule. There are 17 Cardio Barre locations throughout the country.
Rise Nation
Rise Nation offers 30-minute long VersaClimber classes. This full body workout is incredibly challenging, intense and fun. The vibe is very similar to spin, in a dark studio with fun lighting and enthusiastic instructors. But you can burn twice as many calories, so there is no need for a longer workout. Rise Nation has one location in Los Angeles as well as another studio being built in Cleveland. It's also a great place to spot celebs. (Whatever motivates you, right?)
PlateFit
PlateFit offers a variety of 27 minute long Power Plate classes including a signature high intensity interval training class, bootcamp, barre and kickboxing. They also offer CelluliteFit, where you can recover from a more intense workout through stretching and massage. It's my favorite class for when my muscles are sore and I just don't feel like moving.
Power Plates are vibrating platforms that cause your muscles to contract 25-50 times per second. Even if you stand on the machine for just one minute, your muscles will contract 1,800 times. Any movement performed on a Power Plate such squatting, jumping jacks, crunches, running in place, etc automatically become more challenging for your body. PlateFit has two locations in Los Angeles, which are West Hollywood and Brentwood. However, you can take a Power Plate class at over 4000 studios throughout the world.
Lagree Fitness 
Looking at the Supra or Megaformer at Lagree Fitness, you might just think you're looking at a new type of Pilates reformer or something Christian Grey would have, but you're not. Lagree is like Pilates, but with a massive dose of steroids. Sebastien Lagree always says, "If it's not shaking, it's not working," and if you're doing it right, you will shake a lot. Lagree focuses on slow movements using heavy resistance. There's a lot of lunging, standing and getting your body into positions you didn't know existed. Classes at Lagree Fitness are 25 minutes long, but can be longer at other licensed studios that offer the program. At least for me, 25 minutes is enough.
Les Mills
Les Mills is a fitness program offered at 17,500 clubs across 100 countries. There are four different 30-minute classes available. Les Mills Sprint is a spin class based on high intensity interval training. For most of the class, participants work at 85% of their maximum heart rate or higher.
Les Mills' Grit program offers a series of three different classes. GritCardio is a strictly cardio class that uses no equipment. GritPlyo combines plyometrics and power agility training, using an exercise bench. GritStrength combines jumping and agility training exercises with weights and a bench.
The Drop at Bay Clubs
Bay Clubs offer a 30-minute class called The Drop, which is a full body cardio and strength-training program set to EDM music curated to motivate. The class is movement based and there is no additional equipment used. There are over 20 Bay Clubs in California.
asweatlife.com
And if you can't make it to a 30-minute class at your gym, take up even less time and try any of these little to no-equipment 30-minute workouts.