Taking a Closer Look at Chicago Fitness Budgets
A few weeks ago, we set out to get a better understanding of what fitness spending looks like for a handful of millennial women in Chicago. This week, we'll take it one step further (er, nerdier). After reaching out to a dozen more women, here's what we've heard about where you're budgeting those hard-earned dollars for sweat.
(Note: Please keep in mind that this is a small sample taken from anonymous people who willingly participated in the Chicagoland area. It is by no means meant to be an accurate representation of fitness budgets or fitness spending for millennials in the city more broadly; it is just meant to display the results of a survey based on the results we received. Thanks to those who shared with us!)
Around 75 percent of respondents took advantage (in some way, shape or form) of free workouts, although most only take advantage when it is convenient to do so; only 20 percent take advantage "as much as possible." 12 percent of respondents don't take advantage of free classes or workouts at all, but want to. (Pssst, if you're one of those 12 percent, check out our calendar!)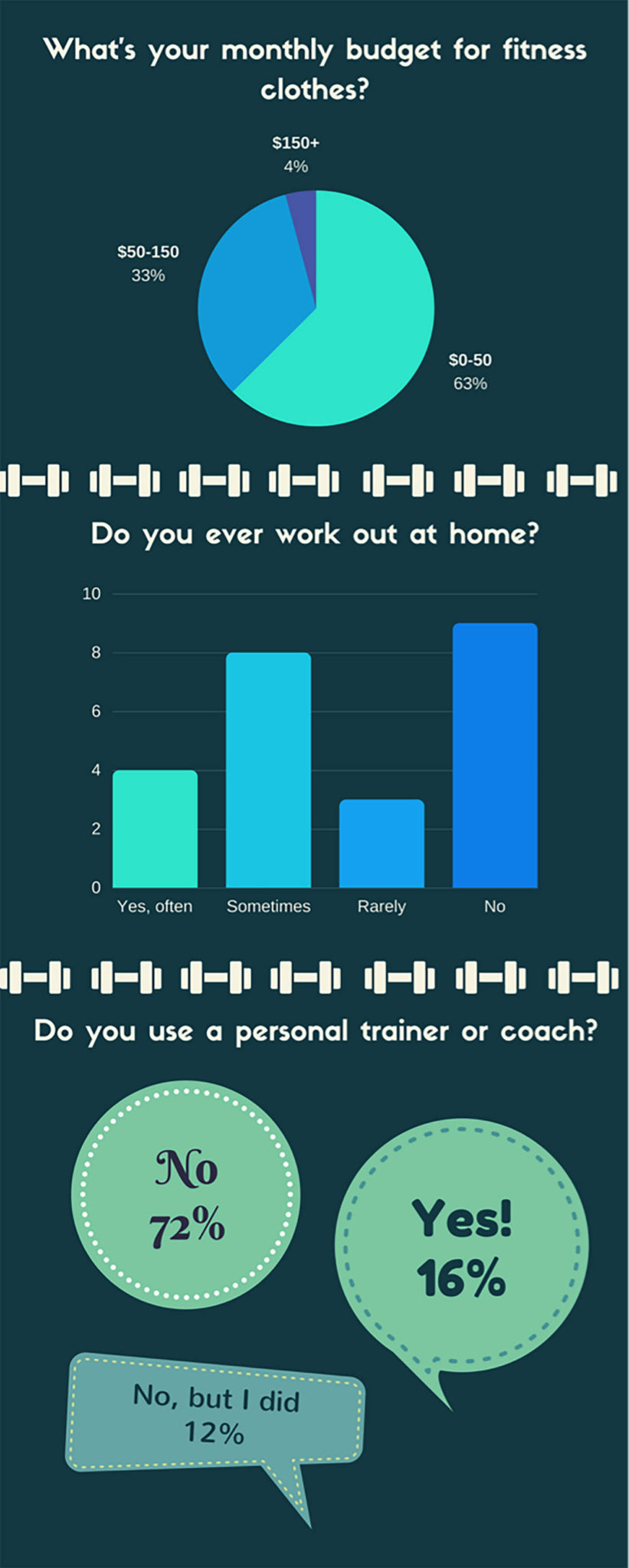 I was surprised to see that most fitness apparel spending fell in the $0-50 range monthly (I expected it to be higher), especially with athleisure at its height; yoga pants have never been more accepted as real pants (#blessed). However, the more I think about it, the more I realize that I fit in the same crowd. A few years ago, I was spending a lot more on fitness apparel – but I also didn't have as robust of a fitness wardrobe as I have now. Nowadays, I find myself spending $0 some months and spending $100 or more on others every few months for larger purchases like new running shoes.
I was also surprised that more people don't work out at home, especially with (a.) Chicago weather and (b.) the availability of workouts online fo' free. Reasons for not wanting to work out included (but were not limited to): limited space, little motivation and wanting to be a good neighbor.
Here's some other (anonymous) food for thought from our respondents:
On those expensive fitness class splurges:
"Sometimes it is hard to justify spending $30 on a class that, even though I enjoy it, I could get the same physical benefits if I went to the gym (that I already pay for monthly) and do my own circuit / routine. I still do that $30 class, but just not as regularly as I'd like."
On more options while working out at home:
"I also sometimes pay for monthly subscription services because I work out at home so often. My Beachbody on demand subscription is about $35 every 3 months I think, and I paid $39 last month for a Buti Yoga subscription."
On taking advantage of all the studios this city has to offer:
"It's hard to keep it in budget when there are so many great classes in Chicago. I have learned to take advantage of '30-day new student" promotions to mix up my routine and save some money at the great gyms. TBD on what happens when I have toured too many!!"
On how fitness spending changes with age:
"At 33, I'm older than any of the women included in the fitness diary article; my priorities and financial situation are very different now than they were 5-10 years ago. If you had surveyed me when I was 23, my monthly totals would have been about $65 instead of $200-$250."
On traditional gyms vs. boutique gyms:
"I wish I could afford a monthly pass to Flywheel or Studio Three on top of my gym membership, but paying for both would be insanely expensive, and I just can't give up my gym membership – it's the best way to ensure that I'm incorporating lifting into my routine, it's convenient/close to my condo, and I know what I'm getting in terms of each spinning instructor. Plus, I love the sense of community I feel whenever I walk through my gym's doors. The front desk people know me, I sit next to the same people in spin class (one of whom has become a good friend) and there are other regulars I always acknowledge/chat with."
On spending now vs. later:
"Better to spend money on physical and mental wellness now than medical bills in your future."
On keeping nutrition on budget:
"I bought a food scale and regular groceries to maximize my nutrition to see weight loss results."