Announcing #SweatworkingWeek, January 9-14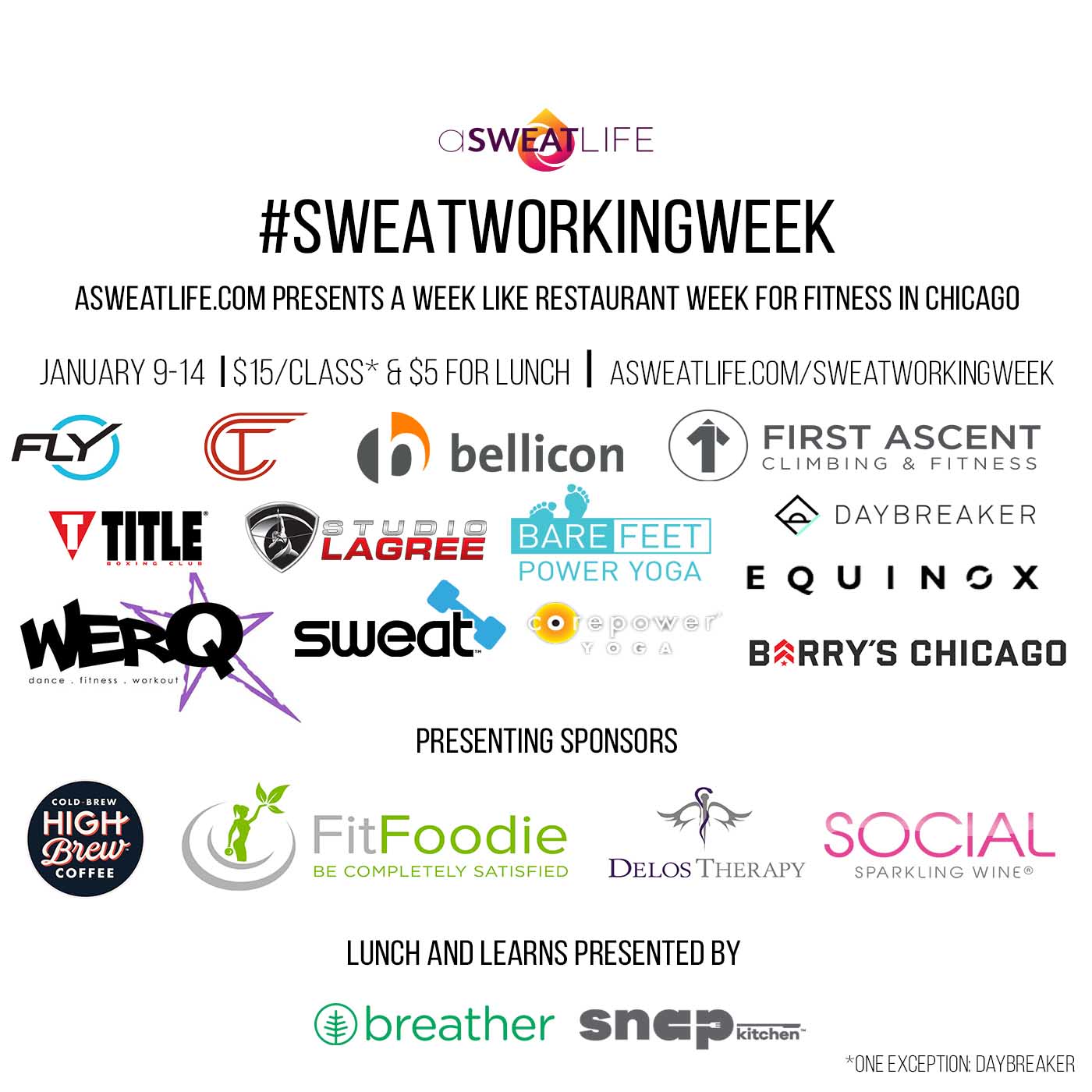 This summer, we had a crazy idea. Take the thing that we loved so much – #Sweatworking – and make a week of it. After putting that into action and spending a week doing all the fitness, we saw that this was something that you could get behind.
From January 9-14, at the time of year when your New Year's resolutions could be pulling at your heart or hamstrings, we're doing it again. We're partnering with studios we consider to be some of the best in the city to offer a taste of their classes for just $15 a pop to incentivize you to get in the doors of your new favorite fitness studios. Think of this as your restaurant week for fitness. And just like #Sweatworking, we'll take over a full class on a schedule so you can mix and mingle with friends or meet your new workout buddies.
We're doing this for a few big reasons:
We want to help you strengthen a habit. You'll be able to spend the week trying new ways to sweat and setting the tone for 2017. If you find something you love after the week – settle down and stay a while.
We want to make trying something new a little less scary. We can guarantee that you won't be the only new person in class and we know from experience that being a newbie alongside other newbies makes those first-time jitters a little less jittery.
We believe that everything is better with friends. Throughout #SweatworkingWeek, we're taking over full classes because we want you to shake a hand and have some human interaction. You can rest assured that the classes will be packed with people who will be supportive if you're new and will cheer you on along the way regardless of your fitness level.
Here's the line-up:
And you may notice that in the middle of the day, we'll have Lunch and Learn sessions. We're partnering with some smart people and brands to enrich your mind while you nosh on delicious lunch. The Lunch and Learn sessions will be just $5 and all proceeds from those sessions will go to the Greater Chicago Food Depository. We'll release a final roster of those lunchtime sessions two weeks before #SweatworkingWeek kicks off, but we're excited about what we have on the docket.
And at the end of the week, if you attend even one #SweatworkingWeek session, you'll be invited to our closing party at Barry's Bootcamp where we'll have lots of goodies and surprises. Read: Even if you don't get a chance to grab a ticket to Barry's Bootcamp, you can celebrate with us.
Excited to spend the week with us? Spread the word with the shareable images below or send us your favorite workout photo to [email protected] and we just might create an image especially for you.