A Healthy Dose of Pumpkin for Any Meal of the Day
It's no secret that we love fall around here. There isn't anything quite like spending our days in the crisp air with our cozy sweaters and a football game (and this year, a historic and outstanding dose of baseball, too). And the fact that the food that's in-season is delicious doesn't hurt. By this time in the season, you're inundated with ways to infuse pumpkin into your life. But when it's this delicious, and surprisingly healthy, it makes sense why. Pumpkin is a very versatile fruit – it boasts high contents of fiber, potassium and vitamin C, making it good for your heart. Higher grams of dietary fiber (1.7 grams per ounce!) mean you feel fuller longer. Pumpkin is also rich in vitamin A, which helps improve your vision.
We've compiled recipe ideas below to get you thinking about using pumpkin in your breakfast, lunch, dinner and snacks this week. 
Overnight oats are a breakfast staple. They only take a few minutes the night before to make, or anytime with about 30 minutes to soak before eating. I make mine at home, commute to work and then enjoy at my desk. Preparing this tasty breakfast ahead of time so you have something waiting for you makes the start to your day a little easier. Give the dish a fall flavor with by taking ordinary overnight oats and making them into Pumpkin Spice Latte Overnight Oats. This recipe takes a little more planning ahead because it calls for chilled coffee, but it is definitely worth it.
Sipping on smoothies is another favorite for breakfast, or really, anytime. Great for taking on the go to enjoy on your commute or while out running errands, this smoothie is a nice alternative to super sweet pumpkin beverages. For an added boost after your workout, try adding a scoop of your favorite vanilla protein powder.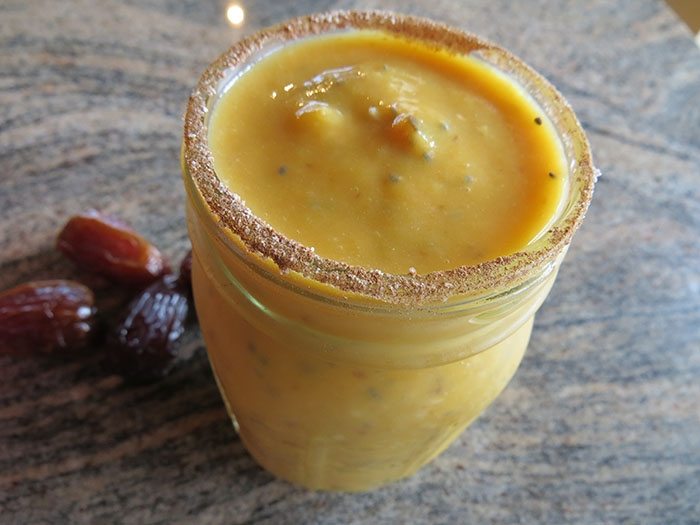 Stuck on what to bring to a football party or your group's friendsgiving celebration? Pumpkin Hummus is a seasonally delicious appetizer. A mix of sweet and savory, this hummus is perfect for dipping pita chips, veggies or apple slices. Start by adding all your ingredients to the food processor, puree and finish with a drizzle of olive oil. You can also try this topped on sweet potatoes, salads or in wraps.
Savory pumpkin may just be our favorite pumpkin. And, if you add kale and build them both into a lasagna, we may just fall in love with you. Perfect for dinner and easy to portion out for bring-to-work lunches, these lasagna roll-ups come together in a snap.
Looking for a delicious alternative to pie this Thanksgiving? This recipe might be your answer. Instead of graham crackers, the crust is made with brown rice cereal. It sounds weird but trust us, it works. Full of tasty fall spices and made with greek yogurt and greek yogurt cream cheese, it's the perfect dessert to enjoy with family, friends and a side of coffee.