Lunch Bunch: Pumpkin and Kale Lasagna Roll Up Recipe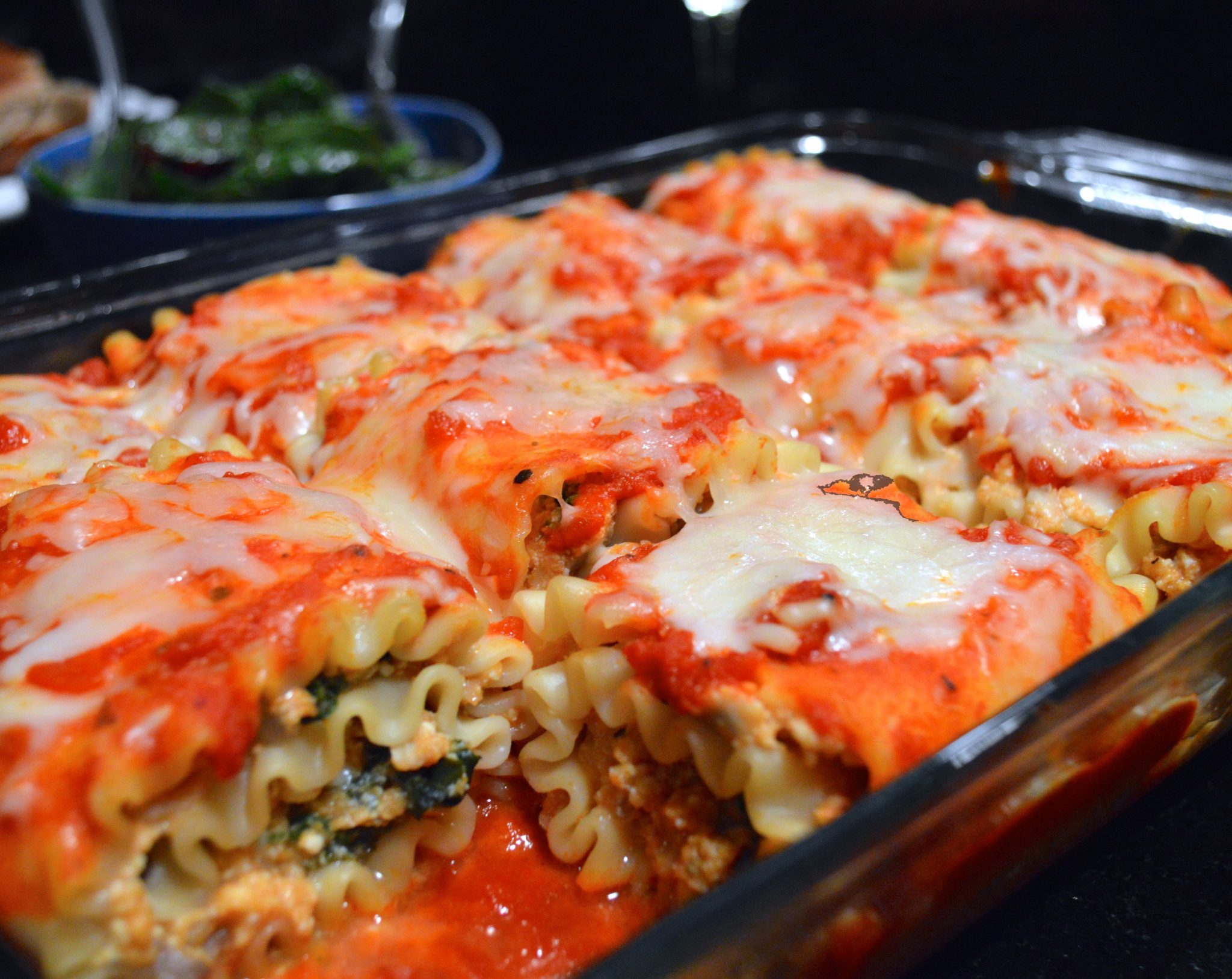 This time of year always seems to instantly speed up. To me, December is full of tree trimmings and holiday parties, a full work schedule mixed with shopping for loved ones and last minute travel plans home. In the midst of all this wonderful chaos is a lot of cooking, baking and some more cooking.
With everyone's list of 101 things to do around the holidays – the best tip is to find meals that are easy, healthy (of course) and can be made ahead of time! Boom, now you're the hostess with the mostess.
My sister shared this lasagna recipe with me last month. The Pumpkin and Kale Lasagna Roll Up recipe via Health Aperture is absolute GENIUS. My sister has a newborn and rarely has two free hands to make the gourmet meals that she was once used to cooking all the time (which were fabulous at by the way).
With limited time, one can make this recipe ahead of time on a Sunday afternoon (or during a baby-free time) and it is simple enough to make in a time crunch. Now for the genius part of this recipe – the lasagna noodles are rolled-up for perfectly portioned meals! No waiting for the lasagna to cool or messy portioning…simply eat immediately as it comes out of the oven, separate your portions for the week's lunches into air-tight containers, or freeze for your holiday party next week!
Who said that you couldn't have dinner for lunch?! With ONE noodle per roll-up, you are not going overboard on the carbs and you're also filling up on the fiber-rich and vitamin-E packed pumpkin. Did you know that pumpkin is a great source of potassium? Switch up your post-workout banana routine with pumpkin because both foods are rich in potassium, a nutrient that aids in restoring your balance of electrolytes. If you like to hit the gym mid-day – you've got a perfect lunch to refuel and reenergize your body!
The kale adds a subtle, nutrition-packed green to the dish. For your lunches, feel free to portion out the roll-up over a bed of spinach or kale and this will steam up nicely with the lasagna.
I kept this recipe simple by using what I had on-hand in my pantry. If you would like to use fresh herbs or roasted pumpkin, I'm sure it would be absolutely delicious! My take home message is to keep it simple and healthy over the holidays…leaving you stress-free, balanced and happy.
Grab your weekly lunch planning and prep plan here.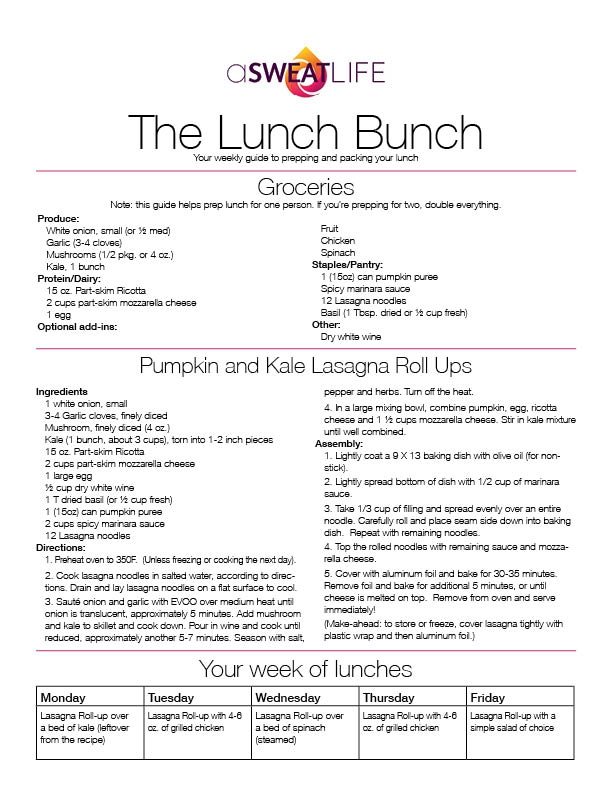 Grocery List:
Produce:

White onion, small (or ½ med)
Garlic (3-4 cloves)
Mushrooms (1/2 pkg. or 4 oz.)
Kale, 1 bunch
Protein/Dairy:

15 oz. Part-skim Ricotta
2 cups part-skim mozzarella cheese
1 egg

Pantry:

1 (15oz) can pumpkin puree
Spicy marinara sauce
12 Lasagna noodles
Basil (1 Tbsp. dried or ½ cup fresh)

Frozen/other:
Optional add-ins: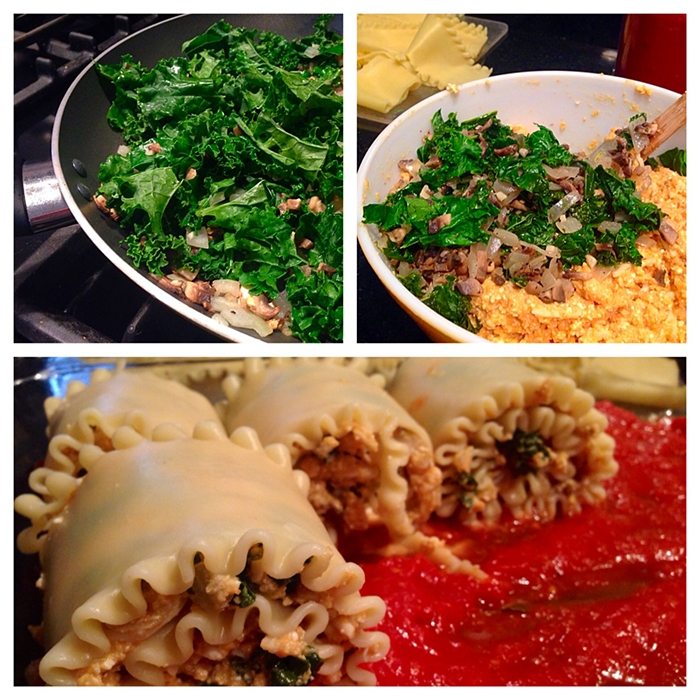 Recipe:
Ingredients:

1 white onion, small
3-4 Garlic cloves, finely diced
Mushroom, finely diced (4 oz.)
Kale (1 bunch, about 3 cups), torn into 1-2 inch pieces
15 oz. Part-skim Ricotta
2 cups part-skim mozzarella cheese
1 large egg
½ cup dry white wine
1 T dried basil (or ½ cup fresh)
1 (15oz) can pumpkin puree
2 cups spicy marinara sauce
12 Lasagna noodles

Directions:

Preheat oven to 350F.  (Unless freezing or cooking the next day).
Cook lasagna noodles in salted water, according to directions. Drain and lay lasagna noodles on a flat surface to cool.
Sauté onion and garlic with EVOO over medium heat until onion is translucent, approximately 5 minutes. Add mushroom and kale to skillet and cook down. Pour in wine and cook until reduced, approximately another 5-7 minutes. Season with salt, pepper and herbs. Turn off the heat.
In a large mixing bowl, combine pumpkin, egg, ricotta cheese and 1 ½ cups mozzarella cheese. Stir in kale mixture until well combined.
Assembly:

Lightly coat a 9 X 13 baking dish with olive oil (for non-stick).
Lightly spread bottom of dish with 1/2 cup of marinara sauce.
Take 1/3 cup of filling and spread evenly over an entire noodle. Carefully roll and place seam side down into baking dish.  Repeat with remaining noodles.
Top the rolled noodles with remaining sauce and mozzarella cheese.
Cover with aluminum foil and bake for 30-35 minutes.  Remove foil and bake for additional 5 minutes, or until cheese is melted on top.  Remove from oven and serve immediately!
(Make-ahead: to store or freeze, cover lasagna tightly with plastic wrap and then aluminum foil.)
Let us know!
Did this post help you get closer to achieving one of your goals?