Take This 30-Minute Bodyweight Workout Into Your Busy Weekend
It's only Thursday, but I already know what this weekend will be like. Speed: crazy.
We have #Sweatworking with Barry's Bootcamp at the Chicago History Museum Saturday (we just opened up more overflow tickets, so get those before they run out) and Hubs and I made absolutely zero dents in packing for our move this weekend.
As the Hubs was reminding my of everything that's happened in this condo, I couldn't help but feel a lot of feelings.
I had my first live-in boyfriend here who became the Hubs, we got the dog-to-end-all-dogs and I started aSweatLife here. Countless #Sweaatworking goodie bags were assembled in this living room, a lot of posts were written at my dining room table and then there's the hallway where I forced the Hubs to shoot all of the early workout photos for me.
Like these gems.
Yes, that's our dog's bowl.
So to pay homage to that, and because I was feeling a little misty, I made Maggie (sorry, Hubs, you've been replaced) take today's workout photos in my hallway, one last time. This 30-minute bodyweight workout is just the dose of nostalgia I needed and I'll actually need this bodyweight workout when I stretch for time during the move.
And bonus: I have no idea where any of my clothes are, so I ended up wearing some gear I love, but totally forgot about.
Here's the workout: 
You're going to use just your bodyweight for 30 minutes. You'll work for 1 minute and transition for :10, going through this set of exercises three times.
Plank to ankle tap
Lunge to lateral lunge (right)
Lunge to lateral lunge (left)
Squat jumps forward and back
Narrow and wide push-ups
Single leg wall sit (switch halfway)
Roll-up to hip raise
Here are your moves!
Plank to ankle tap: starting in a plank position, reach your left hand under your body and back towards your right ankle. Return to your plank, slowly and with control and repeat on the other side.
Lunge to lateral lunge: Starting in a lunge position, with your left leg back and your right leg in front of you bent at 90 degrees (keep your right knee in front of your hip and your right knee above your right ankle). Bring your left knee forward and up, driving through your front leg to a standing position. Take your left leg out to the side into a lateral lunge, with your left ankle under your left knee, your butt dropping back and both toes pointing straight forward. Drive off of your left leg back to your standing position.
Squat jumps forward and back: Start in an athletic stance – not quite a full squat, bend your knees and keep your hips back. Jump forward a foot and back to where you starting staying low the entire time. Stay in motion for the full minute. If this is too intense, scale down by stepping forward and back rather than jumping.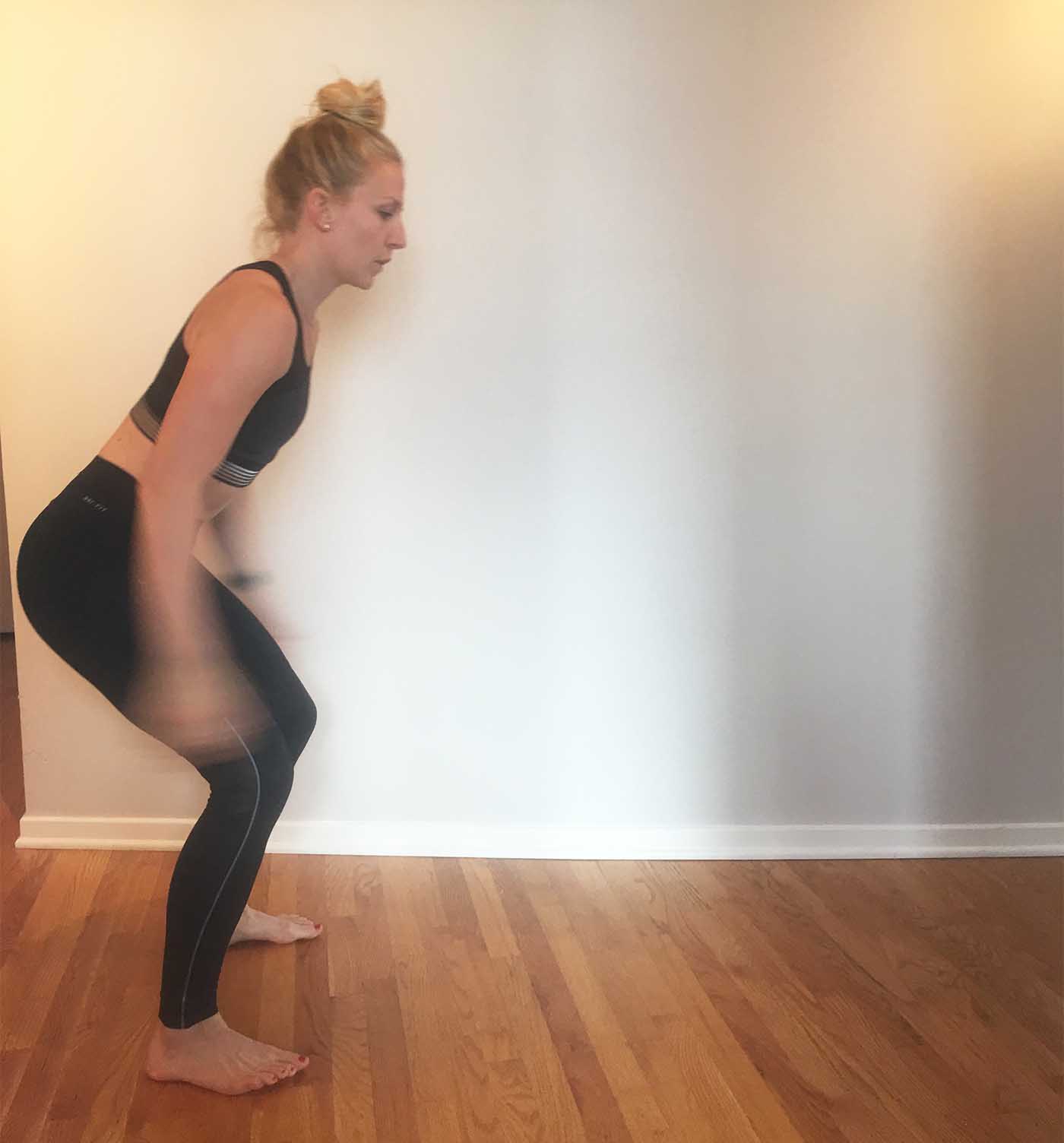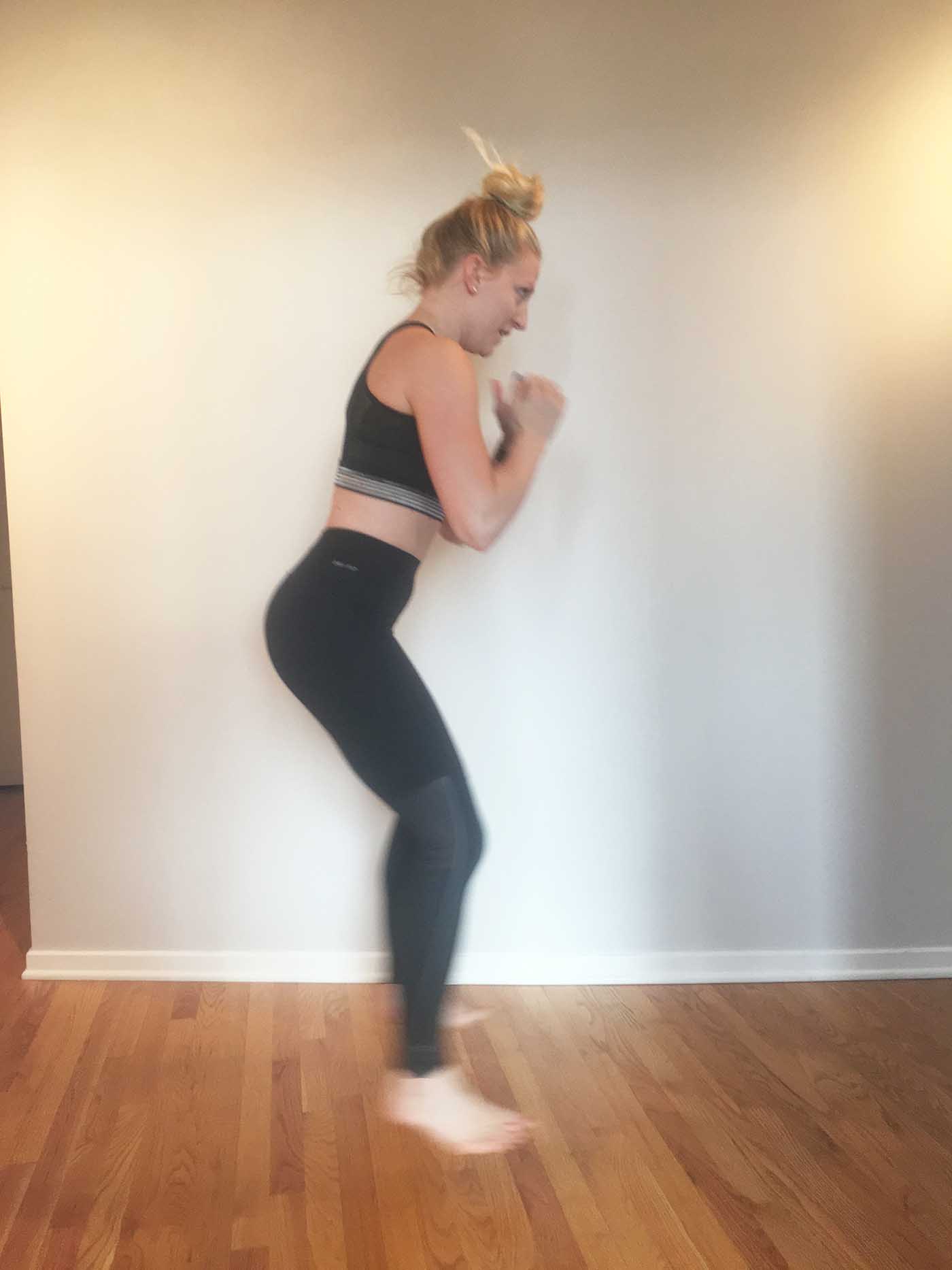 Narrow and wide push-ups: Starting with your hands beneath your shoulders in a plank position, lower down keeping your body in a plank, driving your elbows back towards your ribs. Step your hands out wider and lower down, allowing your elbows to bend out to 90 degrees.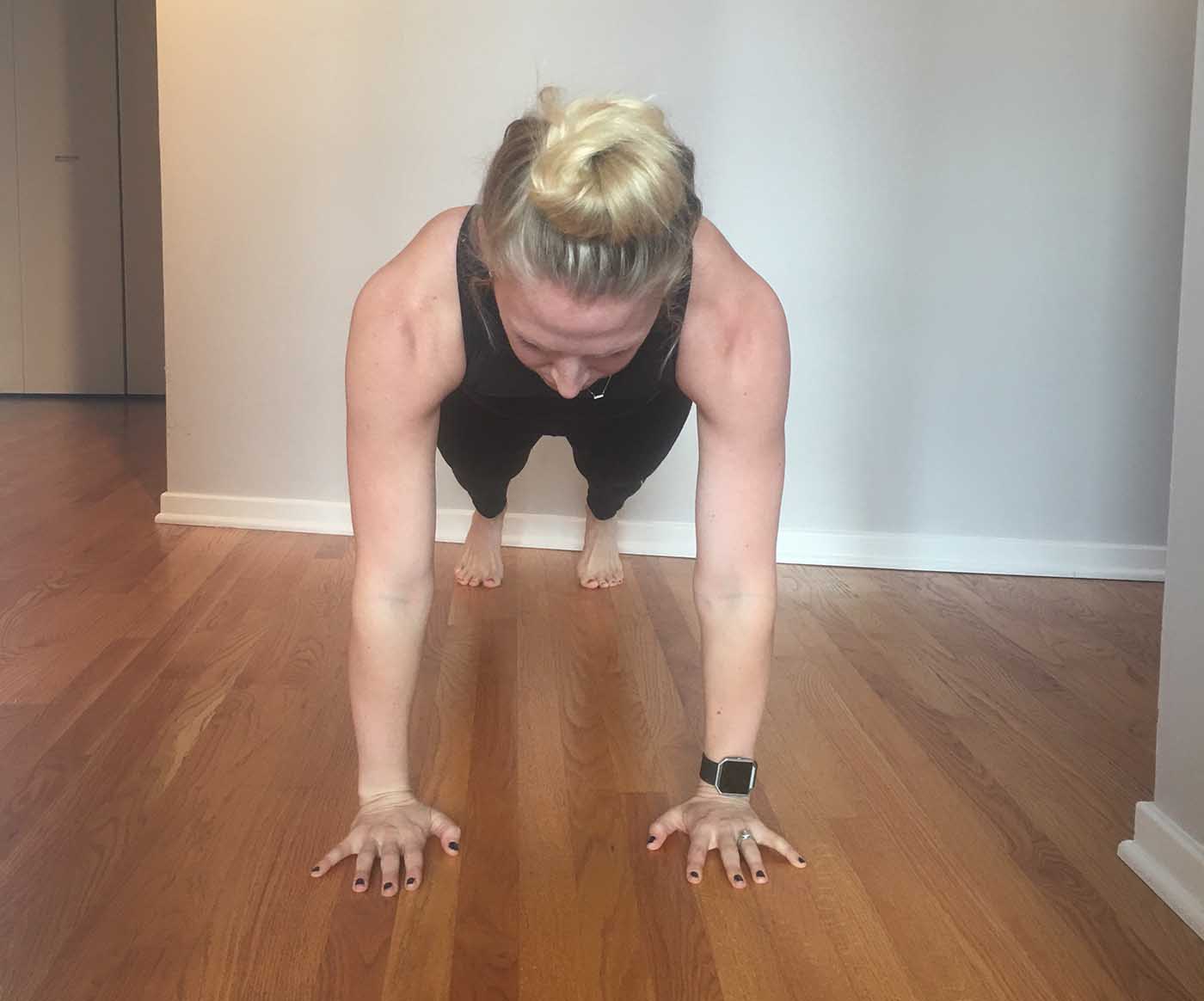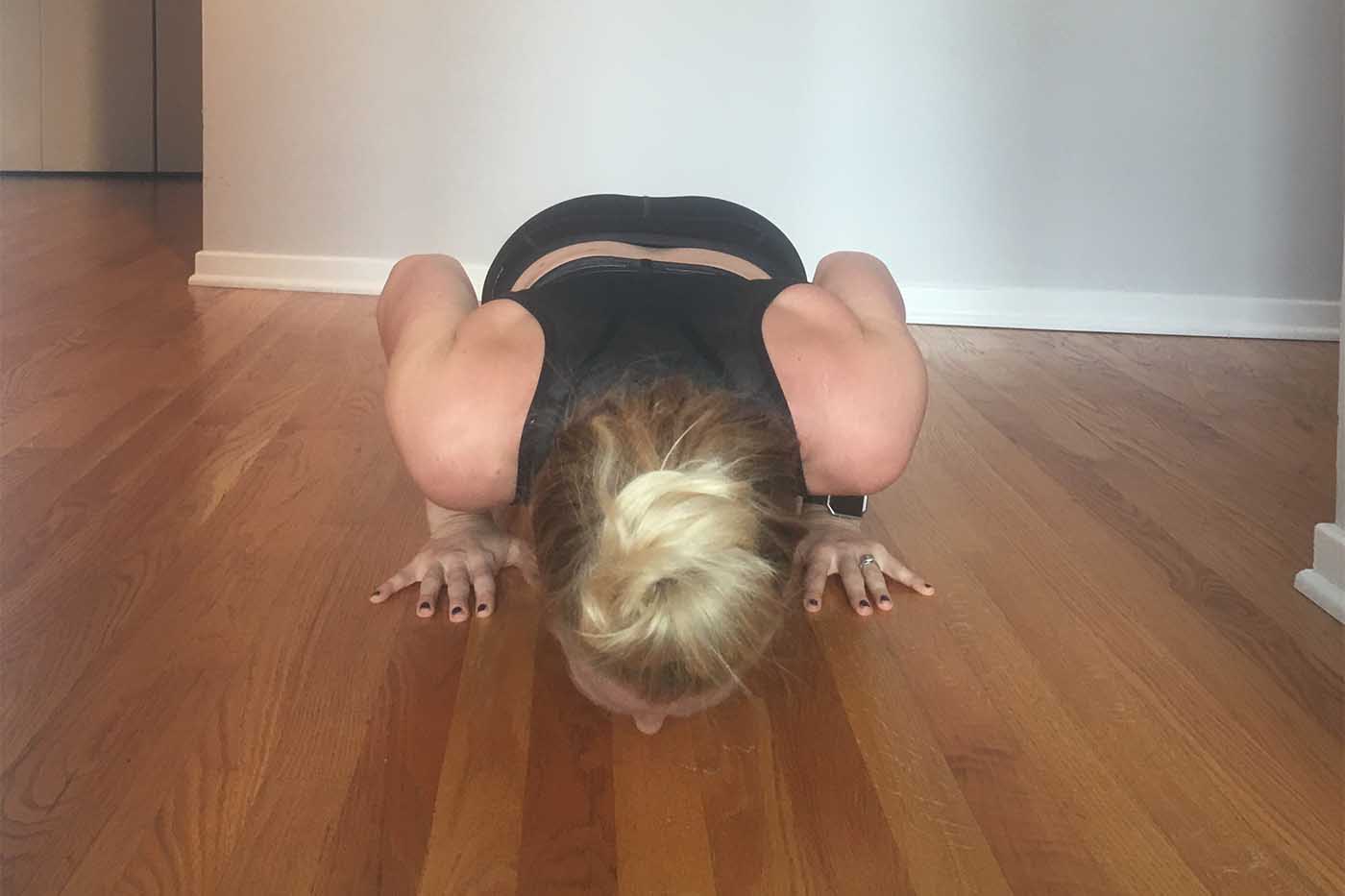 Single leg wall sit (switch halfway): I swear, I'm lower than I look here, but you can sit up a little higher in this variation of a wall sit. Sit down into a wall sit position, with your knees in front of your hips and your ankles beneath your knees. raise one foot off of the floor and hold it. You can either lift a straight left or keep your knee bent and lift your foot up.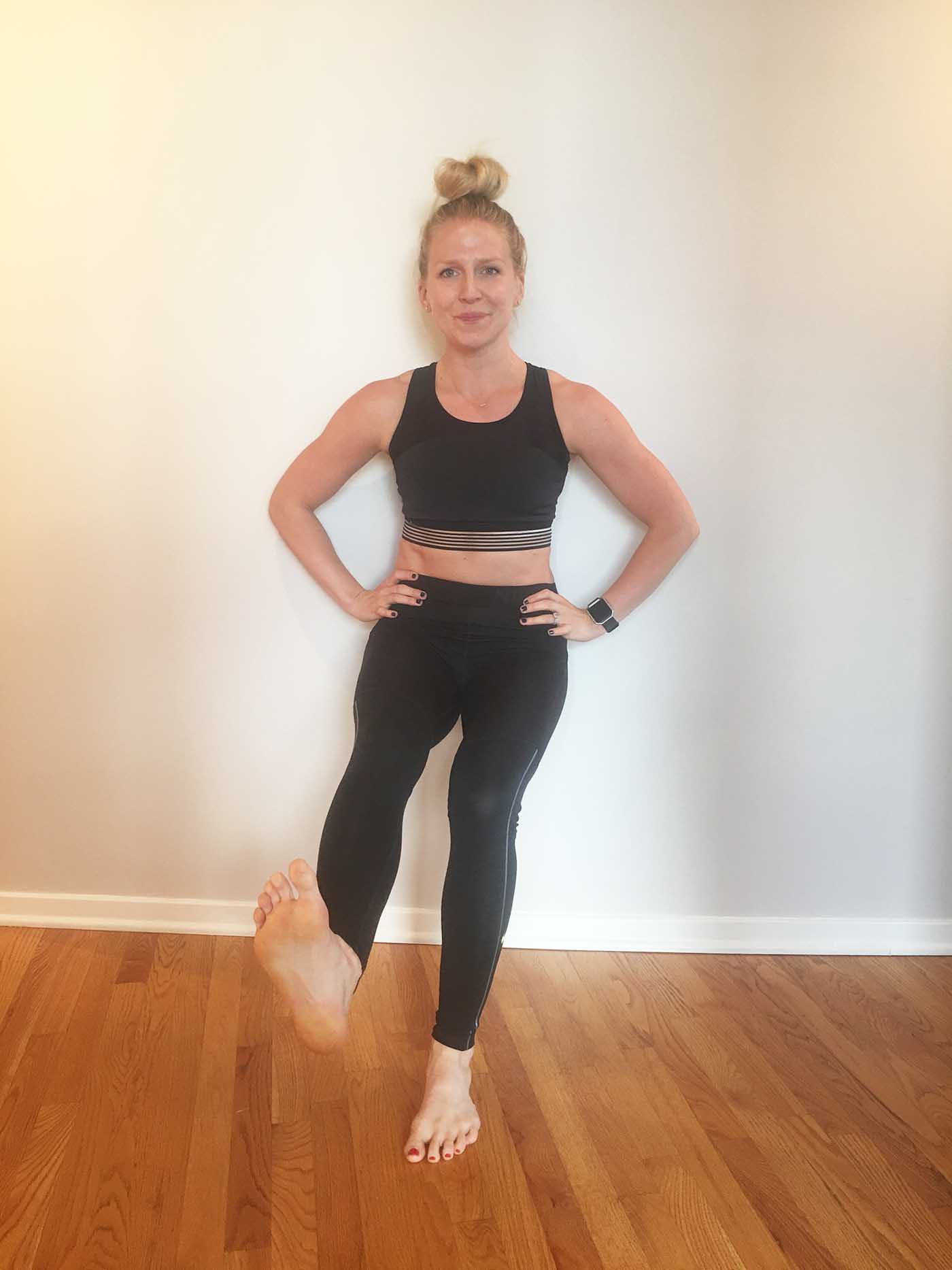 Roll-up to leg lift: Start laying down, with your arms and legs outstretched. Sit up and reach forward to touch your toes. Lay back down with control, placing your hands by your glutes, then left your straight legs up off the floor, keeping your lower back down as you raise your legs all the way to the point at which your feet are above your hips.
(Disclaimer: This workout is not intended for the treatment or prevention of disease, nor is it a replacement for seeking medical treatment or professional nutrition advice. Do not start any nutrition or physical activity program without first consulting your physician.)