Get Inverted With Gravity at ENRGi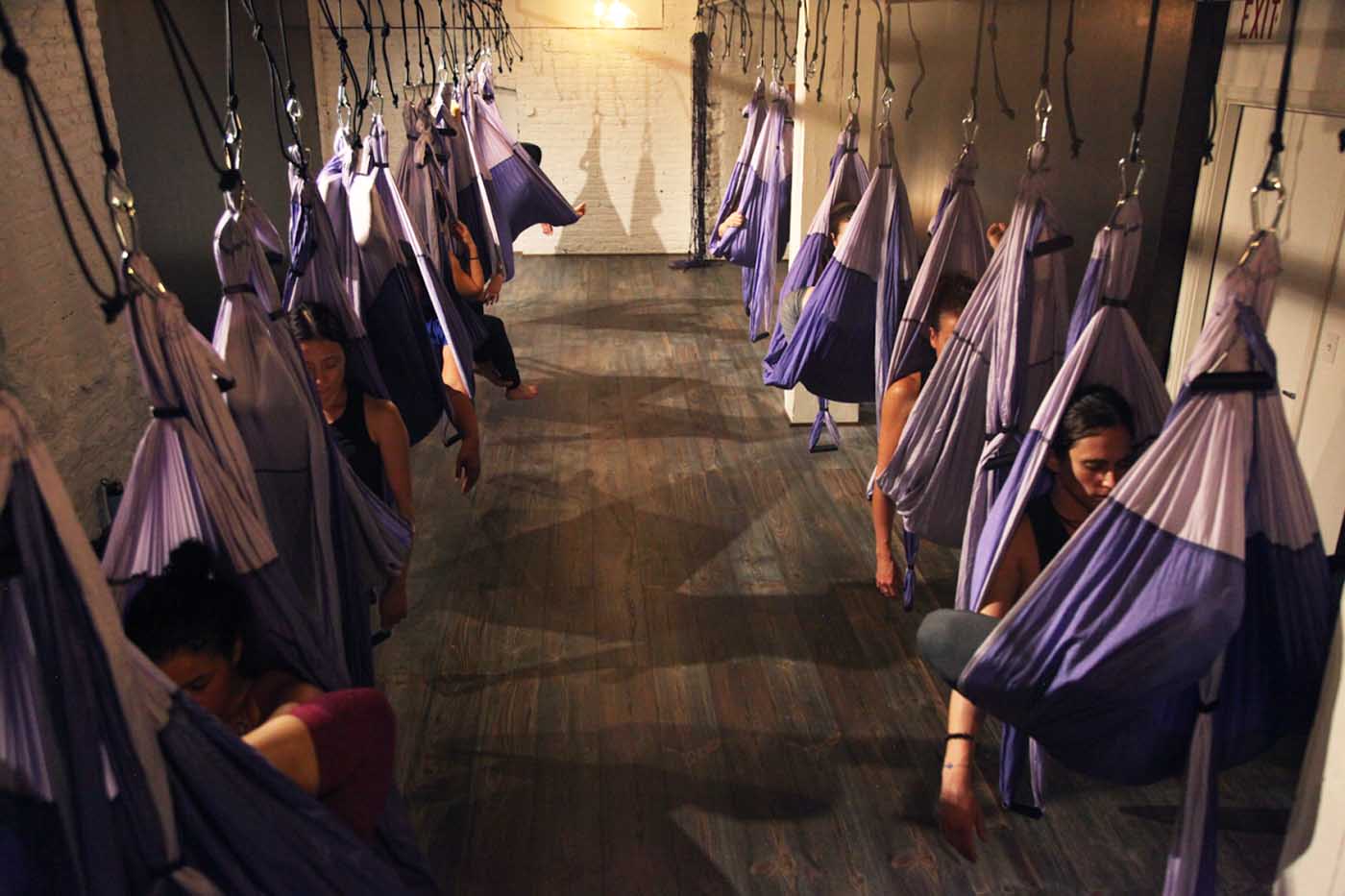 (Photo courtesy of ENRGi Fitness)
(Disclosure: ENRGi allowed me to try a Gravity class free of charge. As always, we only write about products we love.)
ENRGi Fitness, the gym best know for it's Workout, Recover, Repeat slogan and difficult group training classes, has innovated yet again. ENRGi's yoga and barre studio received a major facelift this summer, transforming from a padded floor to brand new hardwood, upgraded lighting and hook-ups for gravity silks.
The renovation allows ENRGi to offer three new formats: gravity barre, gravity recover and gravity yoga.
Gravity Barre
Barre, which has always been a staple at ENRGi, is stepping away from the wall and moving to a suspended barre format – an innovation that adds a new stability challenge to traditional conditioning and strength movements. These bars can be adjusted to three different heights to allow for new kinds of movements in class.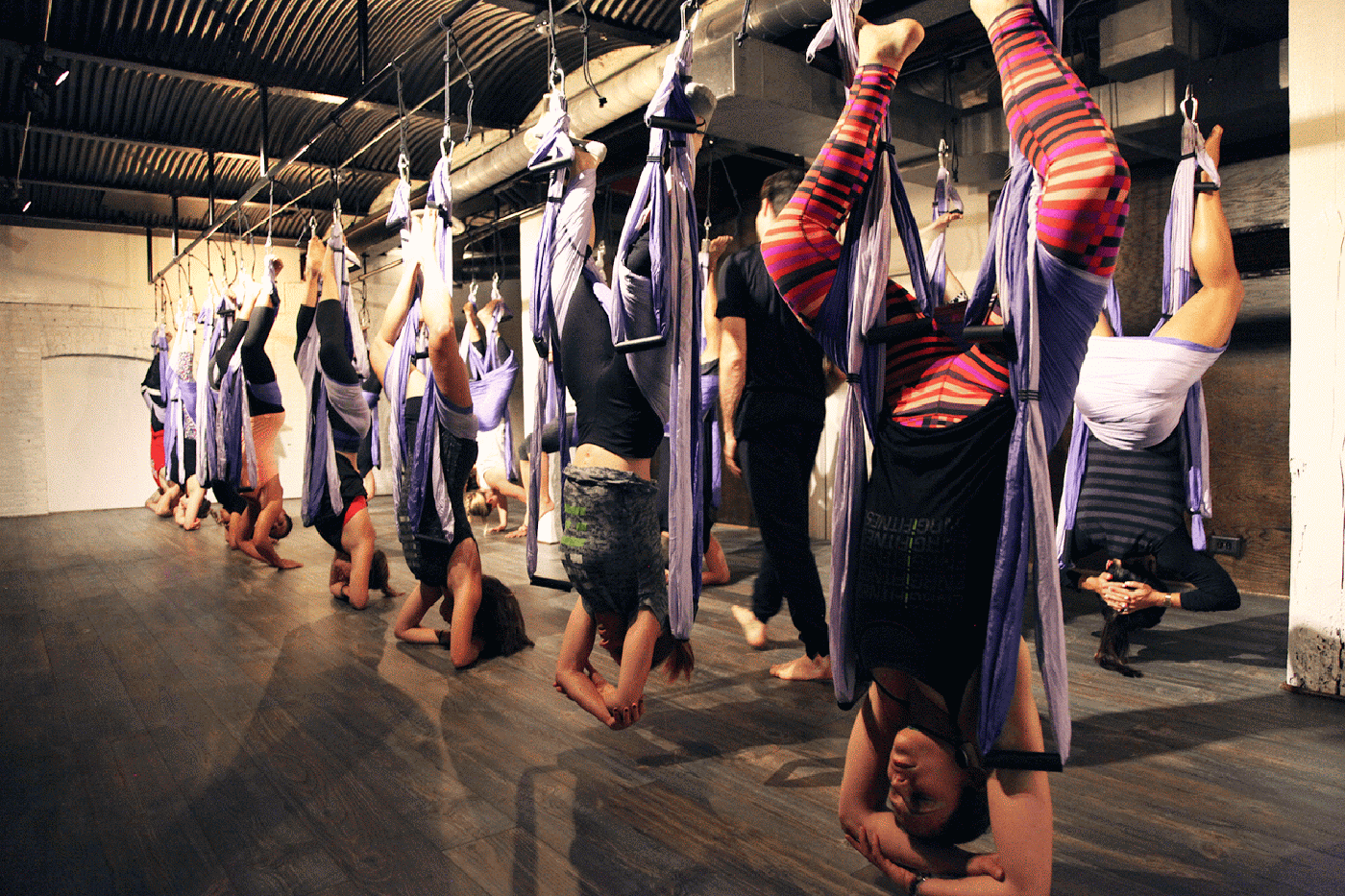 (Photo courtesy of ENRGi Fitness)
Gravity Recover
ENRGi's recovery options increase with gravity recover classes.
With 30 and 45-minute options, the Gravity Recover class offers inversions and stretches that are restorative and lengthen the spine while revitalizing the circulatory system.
This gravity defying class uses hammocks suspended from the ceiling. The ultimate goal is to achieve full body restoration, focusing on deep stretching to open the body and inversion therapy to decompress the spine. This is an exceptional way to recover between workouts and after an injury.
The new formats are designed by long-time ENRGi instructor Robert Dannenberg, a well-seasoned Ashtanga yoga practitioner and functional movement trainer.
When you're attending class for the first time, expect to be surprised. These classes are pretty different from other formats of aerial yoga I've tried. There is a lot less cardio, with little to no bouncing.
The hammock itself has the traditional loop, as well as handles at three different heights, which you can use to balance on or to help pull you in and out of inversions.
We spent most of the time in inversions. Robert walked us through the base inversion, which was simply flipped upside down in a comfortable position. We kept this position as our home base, and came back to it when moving in and out of other poses. Then, he walked us through a series of inversions held for five to fifteen seconds each. It was longer than I'd held inversions in the past, and the first couple left me a bit dizzy. However, this passed quickly and after class I could feel the impact with refreshing energy.
Gravity Yoga
This class uses the hammocks and repeats a few of the inversions introduced in Gravity Recover, but its yoga inspiration leave it much more of an active recovery class. The instructor incorporates heat-building and balance postures into the class and utilizes the hammocks to guide students into deeper expressions of the pose they might not otherwise be able to access. The combination of Vinyasa sequences, inversion therapy and decompression of the spine make this a very dynamic class in 45 minutes.
Gravity Fit
Think of this class as a hybrid of suspension and functional movement training. Although it's held in the Gravity studio and uses the hammocks for various movements, you'll be taken through exercises that use the wall space, floor, hammocks, bodyweight bars and more. Fine tune different skills that will help you perform your more high intensity moves and weighted exercises with more efficiency and better form.
To try any of the gravity classes at ENRGi, sign up on ENRGi's MindBody page or via ClassPass.