Fit Getaway: Devil's Lake State Park
Growing up in New England, hiking was one of my favorite outdoor activities. We were so lucky that within a few hours, we could reach the White Mountains in New Hampshire, the Green Mountains in Vermont, the Appalachian Trail in Maine or the Berkshires in Western Massachusetts.
It's taken me quite a long time to find anything resembling hiking within driving distance of Chicago, but I recently stumbled upon a great option: Devil's Lake State Park.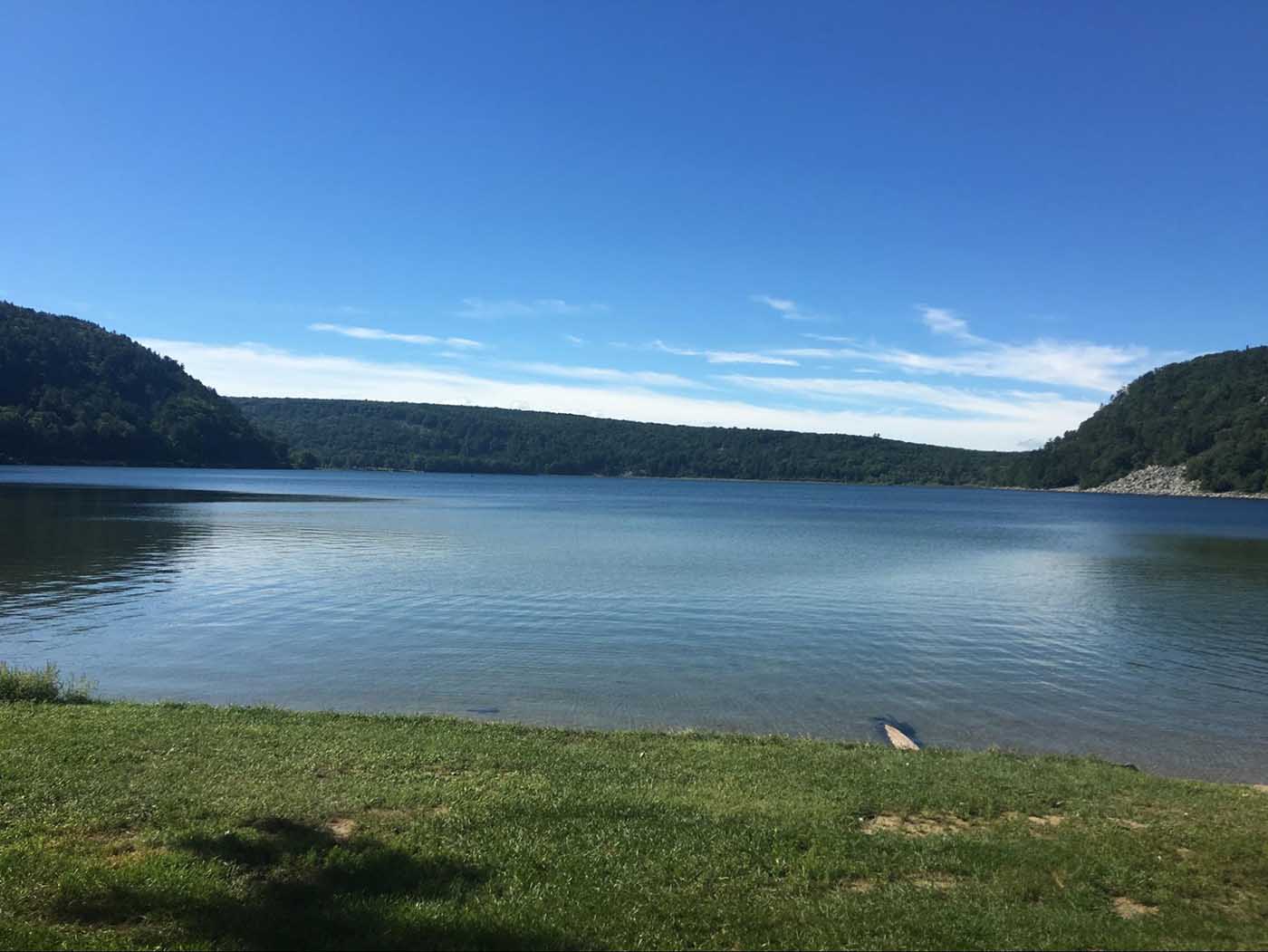 (Devil's Lake from the north shore)
Located just over three hours northwest of Chicago in Baraboo, Wisc., Devil's Lake is a popular destination for campers and hikers. The campsite is located on the north side of the lake (make sure to enter that into your GPS, or you'll drive a bit out of your way) and is comprised of three large camping grounds – Quartzite, Northern Lights and Ice Age.
We stayed in Quartzite Campground, the closest loop to the lake itself. Since we were traveling in the middle of the week, there were a lot of sites available, however on the weekends it is often booked many months in advance. I recommend reserving a site ahead of time on the Reserve America website. There aren't a lot of trees in the campground, so try booking around the edges for privacy. With fees, the campsite was about $35 and you'll also have to pay for a car pass for $11 when you arrive ($8 if you have Wisconsin plates).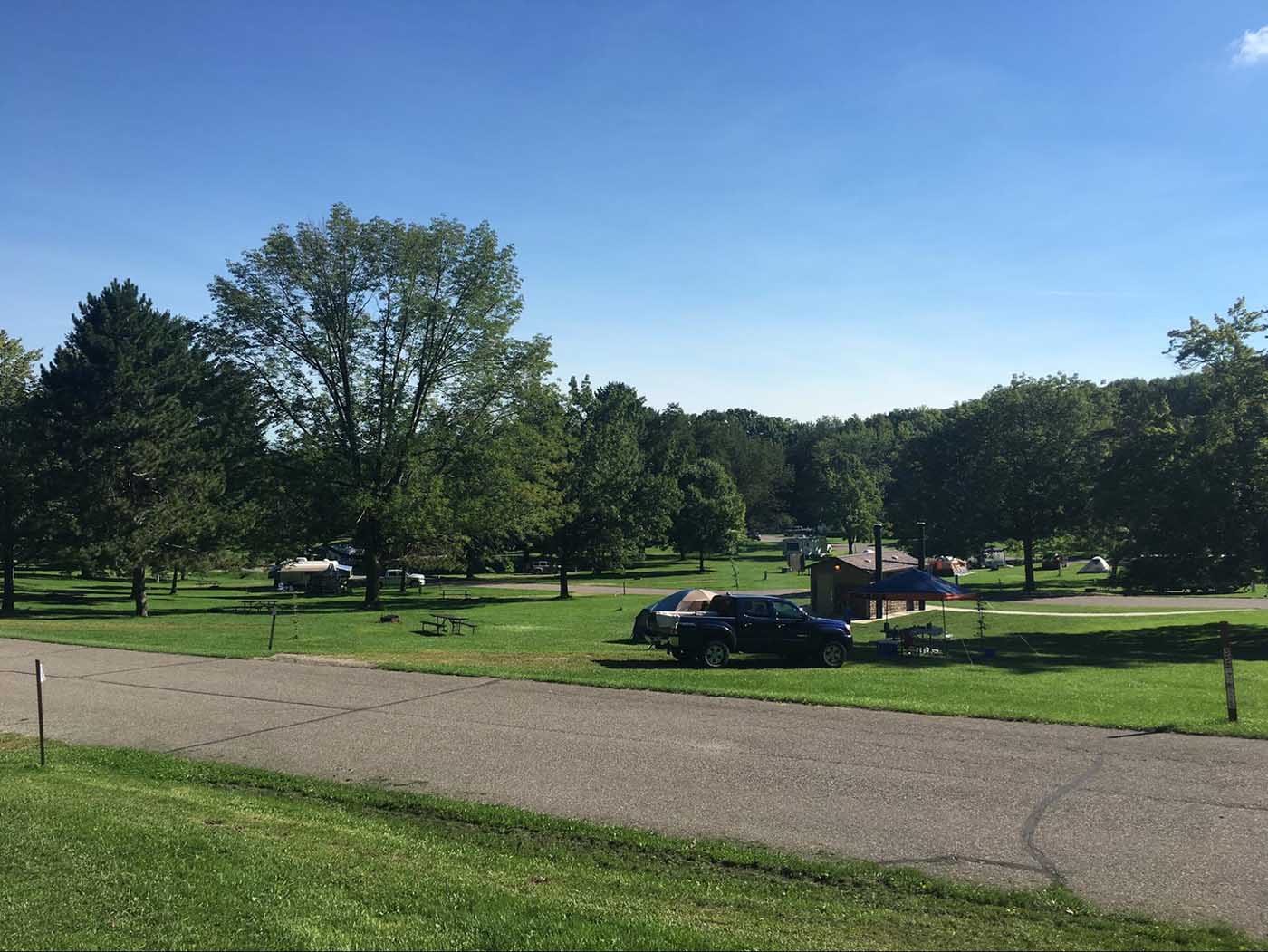 Quartzite Campground
Devil's Lake is a great place for people who are new to camping because there is easy access to a lot of amenities. In addition to selling firewood on site, there is a convenient store where you can buy food, s'mores supplies and even an entire cooked supper if you fail to light your fire. The bathrooms are kept clean, and not only have plumbing but even offer free warm showers in a facility built about a year ago. For those who aren't regular campers, you should know this is a luxury. If it's your first time camping, check out this list to make sure you have all the essentials.
The lake itself is about two or three miles in circumference. Around the lake there are two bluffs – the East Bluff and the West Bluff – which offer great hiking. On our first day, we hike up the West Bluff, which offered spectacular views of the lake.
The hiking wasn't easy, but wasn't so challenging that we needed our hiking boots or to rest at any point even on a hot day. The trail is really well marked and often lined in broken asphalt, so it's almost impossible to get lost. Once we got to the end, it was late in the day, so we cut back on the Tumbled Rock trail, a flat path that cuts across under the West Bluff just alongside the river. It's about a mile, and a very easy way to get back to camp. The round trip took us about an hour and a half.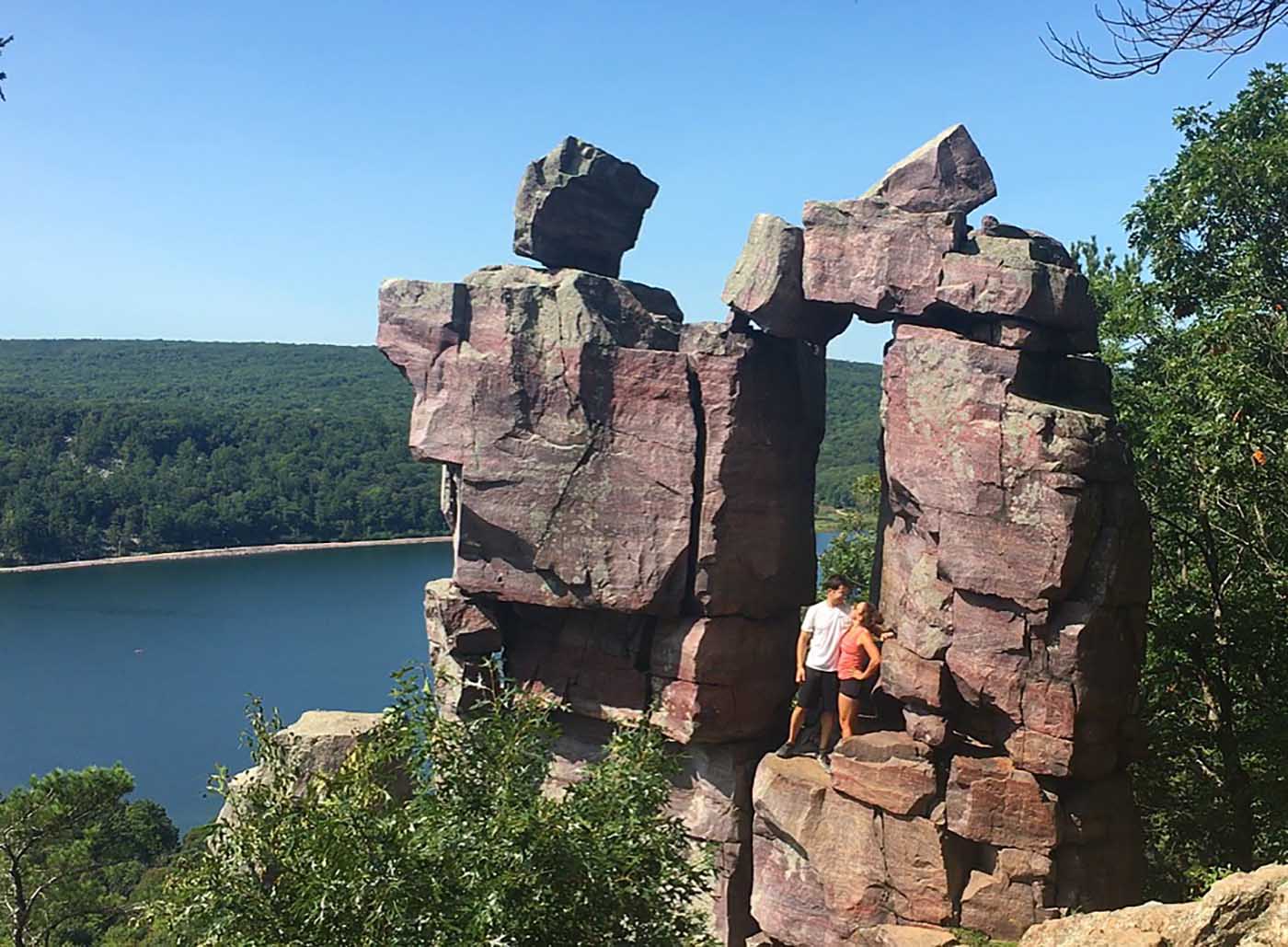 Devil's Doorway
On the second day, we hiked on the East Side, which in addition to lake views offered views of two large rock formations – Devil's Doorway and Balanced Rock. Devil's Doorway is certainly the more impressive of the two – a huge formation with a hole in the middle allowing you to see through to the lake. After seeing Devil's Doorway, we cut back to the Balanced Rock trail. We only climbed down this trail, but had we hiked up it, it certainly would have been the most challenging hike in the park. Although it's easy to climb, with stairs built out of the rocks, it's a seemingly-endless climb that probably ascends 10 flights of stairs.
If you're looking for an easier path, take the Potholes or Grottos trails. Like on the east side, all of the trails are well-maintained and well-marked, so it's hard to get lost. The trails on the east side were a bit more challenging, and took just over two hours to get to the southern end of the lake. We came back along Tumbled Rock trail again so that we could pack up and head back to Chicago.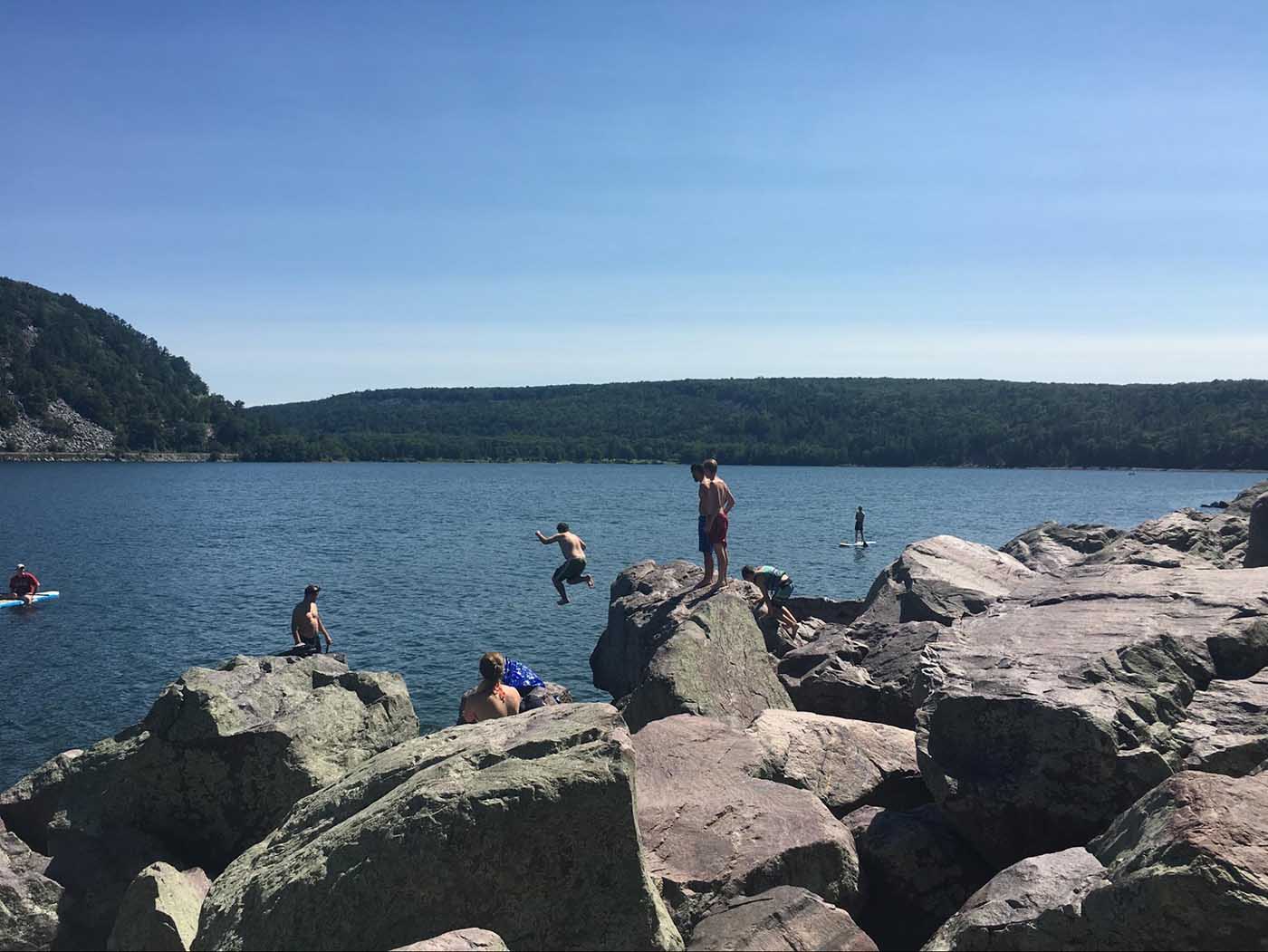 (Jump Rock)
Around the lake, there are ample opportunities to swim or rent kayaks and paddleboards from the park. The most unexpected and fun part of the trip was discovering what locals called "Jump Rock," a large rock that juts out over the water along the Tumbled Rocks trail. The water was high when we were there, which made it possible to stand at the edge of the trail and jump into the water. It wasn't quite cliff diving in the Caribbean, but for weekend trip from Chicago, it can't be beat. Although it was great to take advantage of the lake, I'd love to return to see the foliage in Fall!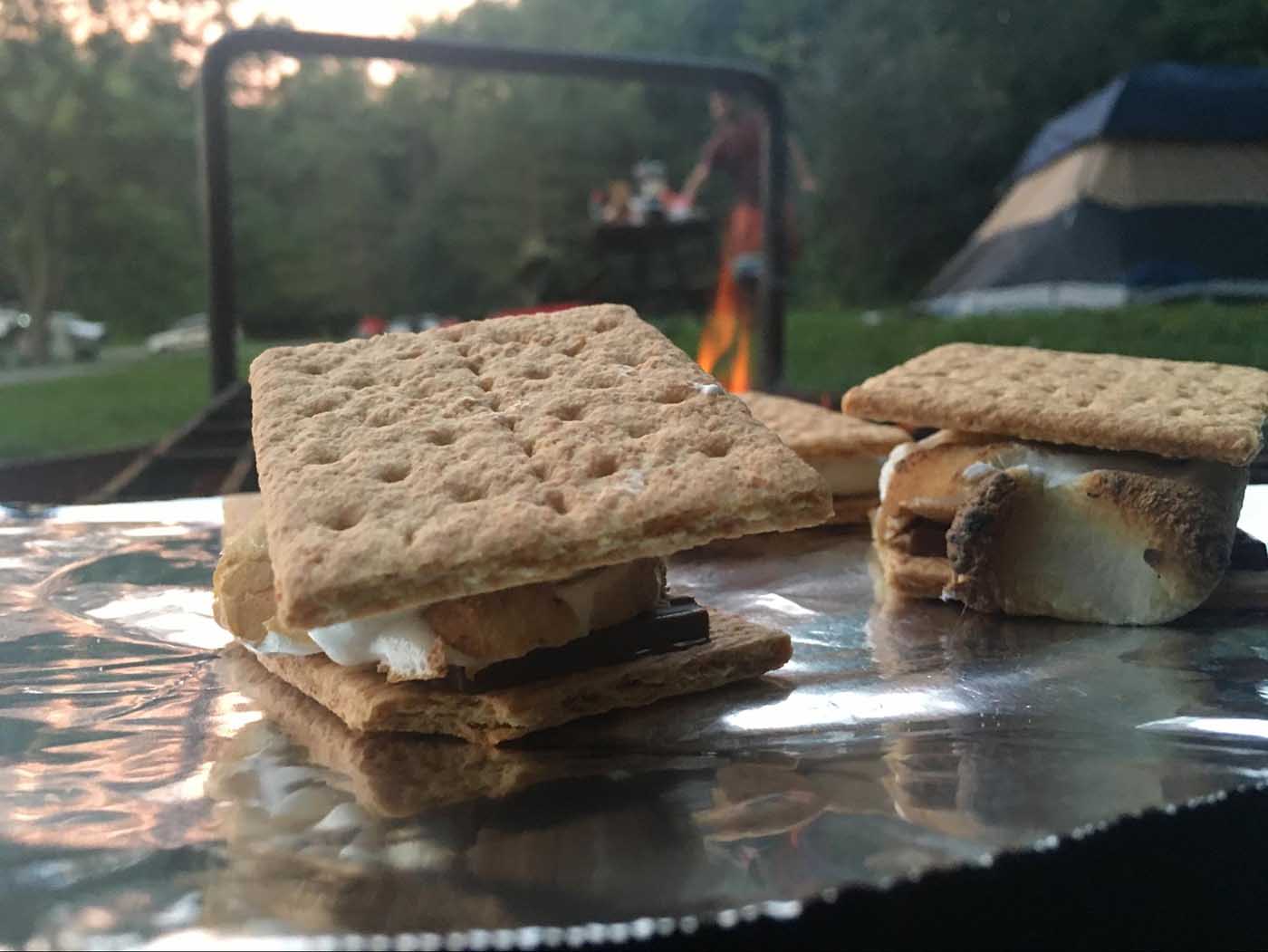 What's your favorite easy getaway?