I'm Going Camping for the First Time: What Should I Bring?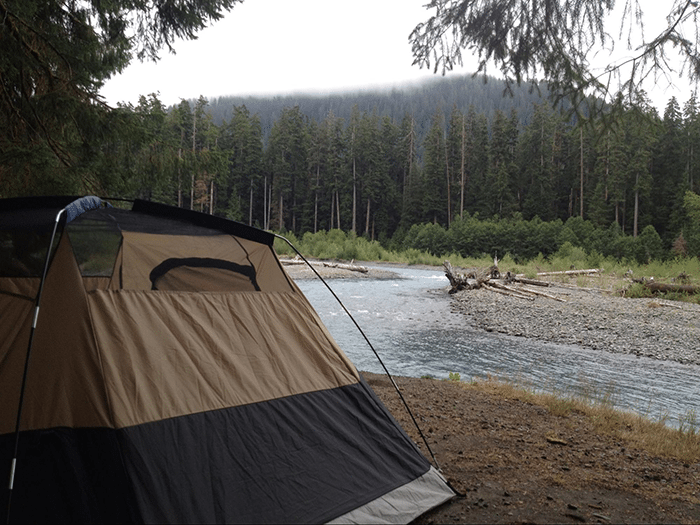 Although I love the outdoors, I didn't grow up camping. When my husband and I started traveling together, we realized we could vacation for much longer – and stay way closer to the best hiking trails – if we camped. It's taken us a few tries to figure out the best ways to pack light while still making sure we have everything we need, whether we're camping on a weekend trip in Wisconsin or filling a checked bag with camping gear for a trip to the Pacific Northwest.
If you've been thinking about going car camping for the first time – or the first time since childhood – this checklist can help you make sure you have everything you need for your trip, whether it's to for a weekend trip to Starved Rock or a longer trip somewhere further.
Tent
Shopping for tents can be pretty overwhelming, and expensive. If you're trying camping for the first time, see if you can borrow a tent from a friend or family member. Some REI stores will rent tents, which can be really helpful when you're camping somewhere a plane-ride away or trying camping for the first time.
Once you're ready to invest, shop around to look for the best prices. Although we usually camp in a car, we have a backpacking tent. These types of tents fold up much smaller so that we can put them in a large checked bag and fly to a campsite in another state (our tent has traveled coast-to-coast from Oregon to South Carolina).
Tents are rated for the number of people, although in my experience that usually means that number of people and nothing more. We have a 4-person tent for the two of us, which allows a little extra space for backpacks, extra blankets, and whatever else we want to bring in the tent at night. Keep in mind that the stakes that come with many tents are pretty low-quality, and you may want to buy better ones.
Pro tip: If you're borrowing your tent from a friend, make sure you have all of the tent poles!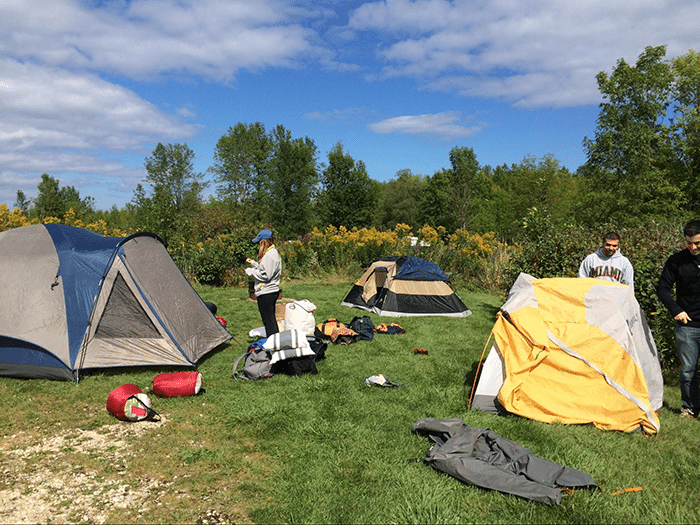 Sleeping Pads
Lugging an air mattress and finding a place to blow it up is a luxury we haven't found necessary in our camping experience. Instead, we purchased two sleeping pads, which are very thin, self-inflating pads that you sleep on top of. They usually take a couple of puffs to inflate all the way after letting them self-inflate, which is quick and easy. Using a sleeping pad keeps you off of the ground, which is a bit softer as well as keeping you cool in the summer and warm in the cooler months.
Sleeping Bag
Like tents, options for sleeping bags are vast. If you're only camping in the warm months, don't invest in something that's rated too warm – you'll end up spending more than you need to. However, if you want to camp in early spring or late fall (or, if you're really daring, winter) make sure you buy a bag that will meet your needs.
Sleeping bags also come in backpacking versions, which fold up to a really tiny size and are great for travel. When you're looking at bags, you'll notice that there are "women's" and "men's" bags. The only difference is that they unzip on opposite sides so that, if you want to, you can zipper them together to make one giant bag. We actually have a double sleeping bag, which fits the same purpose. Although it's big to travel with, we love that we can snuggle up inside a single bag!
Blankets and Pillows
Since the sleeping pad and sleeping bag are both made out of slippery materials, we like to put a blanket between them to prevent from slipping around too much when we're sleeping. We also like to bring a few extra blankets in case the temperature drops at night. We have a couple of pillows that we've designated as camping pillows (the cheapest pillows at Target, or old pillows you find at Mom & Dad's work great!) so that we aren't using the same pillows outside and in our bed at home.
Lighter and Fire Starters
Unless you are bringing a Boy Scout (or Girl Scout!) with you on your camping trip, I recommend bringing a package of fire starters. On our first few trips, my husband's (lack of) fire starting skills led to frustration and a lack of fully-cooked dinner (sorry for the embarrassing story, J!). Once we invested in a bag of fire starters, we were – quite literally – cooking with fire. You can also make your own using dryer lint! Make sure to bring a long lighter that you can stick into the campfire without burning yourself as well.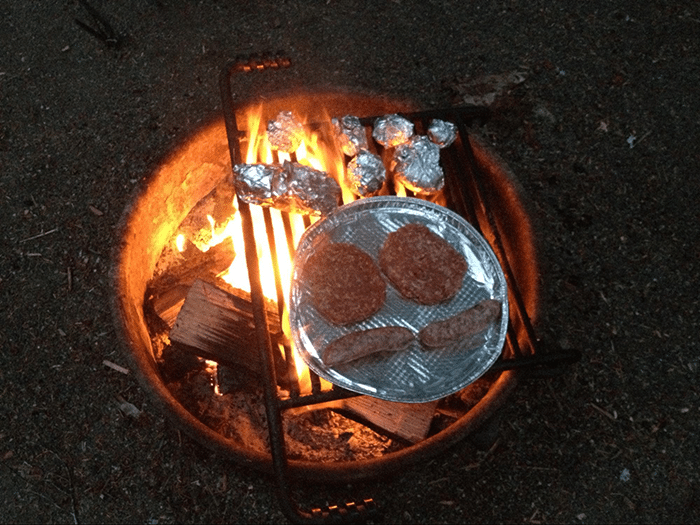 Don't try to bring logs in from wherever you live. Many campsites have restrictions on bringing wood into the park to prevent the spread of insects and disease that infect the plants and wildlife. You can almost always buy wood at the park, or at least from a nearby neighbor so plan on that, instead. Then you'll be ready for the best part of camping: S'MORES.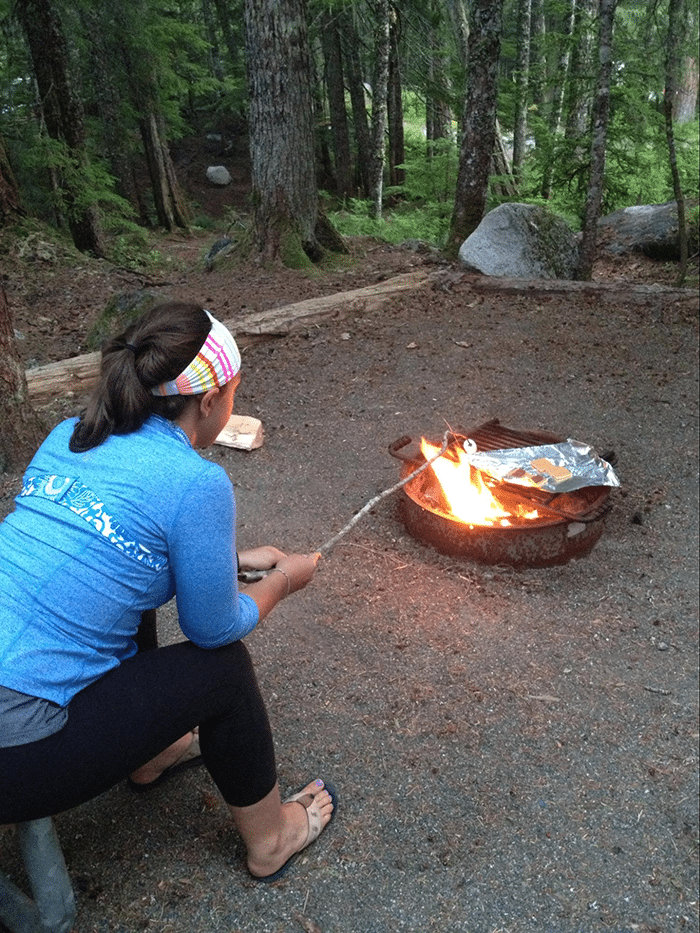 Bug Spray and Sunscreen
Although there are mixed messages about deet, with the number of viruses passed through mosquito bites, I always use a deet-based bug spray (plus science says it's ok). Instead of spraying the deet directly on your body, spray it onto your clothes. Bring a second, deet-free spray for any exposed skin. Make sure to wash your hands before eating if you get any deet on them. Also, don't forget to regularly apply sunscreen. There is nothing worse than trying to fall asleep with a sunburn, especially when you're in a tent.
First Aid Kit, Hand Sanitizer, Baby Wipes, and Toilet Paper
When you're hiking, lighting a fire and doing outdoor activities, the chances for getting small cuts or poison ivy are higher than usual. Make sure to bring a first aid kit loaded with antibacterial ointment, gauze, bandaids, tweezers (for splinters), aloe, anti-itch cream and Benadryl just in case. If you have any allergies, never forget your epi-pen.
Also, make sure you have hand sanitizer, as it can be tough sometimes to find soap and water. We sometimes like to bring a pack of baby-wipes to help wipe dirt or grime off of our hands and bodies as well. I always pack at least one roll of toilet paper, as there's nothing worse than trekking out in the dark to the pit toilet only to find there's no TP left.
Lanterns and Head Lamps
We have a couple of lanterns – some bigger than others – that we like to bring camping. Once the sun goes down, it's really lights-out so you'll need a lantern to see anything. For any bathroom trips after dark, head lamps are the easiest way to get around without tripping on a root, and save you an extra hand instead of holding a flashlight.
Entertainment
Hiking, swimming and biking may keep you busy during the day, but once you get back to the campsite it's great to bring games to play by the campfire. We like to load movies onto the iPad, or podcasts onto our phones, to listen to at night if we're not ready to fall asleep. Don't forget your car chargers, as many campsites don't have outlets.
Foil, Plates, Paper Towels, Silverware and a Cooler
Especially when we fly to go camping, it's not always feasible to bring cooking gear with us. Foil can be great to wrap potatoes or corn and foil trays can be used to prevent burgers or hot dogs from slipping through the grates on campfire stoves. Paper plates and plastic cups and silverware work well when you're traveling, but outdoor shops often sell reusable versions that fold up for camping.
Paper towels make great napkins, and can be helpful to clean up messes in your tent. We also have a collapsible cooler so that we can stop at a nearby grocery store for everything we need for dinner (and ice). We also like to bring a spatula and tongs for grilling.
Camping Hammock and Straps
OK this one isn't necessary … but once you have your campsite set up it sure is nice to have somewhere to lie back and enjoy the view.
Here's your list:
Tent (check for all tent poles)
Stakes
Sleeping bag(s)
Extra pillows
blankets
Lighters
fire starters
One deet-based bug spray
One non-deet-based bug spray
Sunscreen
First Aid Kit (include epipen if necessary)
Hand Sanitizer
Baby Wipes
Toilet Paper
Lantern
Flashlight
headlamps
Cards/games
iPads
Car charger for iPad
foil
Paper plates or reusable camping plates
Plastic cups
Plastic silverware
paper towels
Cooler (either packed with groceries OR ready for you to take a trip to a grocery store)
Camping Hammock and straps