What You Need to Know Before Your First Trail Ragnar
I've been blessed with an extremely strong short-term memory for events that are incredibly painful at the time they're happening (see: the time I ran my first marathon and signed up for my next one the very next day) (actually, there was a whole study about this phenomenon of rose-colored glasses in marathoners that's pretty fascinating) (but I digress).
So, with that context, it was actually pretty reasonable of me to wait nearly six months after Hood to Coast before signing up for my next team relay race: a Trail Ragnar in Lake Tahoe, California.
For those of you not up to speed: team relay races have become more and more popular in recent years as an alternative to the lone wolf mentality of marathon training, but one that's just as big as a challenge. They can be divided into two types: point to point races, in which you start in one city and make your way towards another (that's what Hood to Coast was, and that's what all of Ragnar's road relays are), Or, loop-based races, where each team member runs the same loops as everyone else, and you use a base camp where every run starts and finishes.
The latter is what Ragnar's trail races are, and what I opted for when deciding what to do for round two of the relay races. My main reasoning for this was pretty selfish; I wanted to make planning easier on myself (no driving! NO DRIVING from point to point!). But, like most of my friends who would be joining me, I had never done any trail running, period – and I was intrigued. Whereas road running and I are on a bit of a break right now, I was looking for trail running to invigorate me and get me excited about running a long, overnight relay race.
So, while I knew a little bit about how to plan and prepare for an overnight relay race, I didn't know what I was getting into for a Trail Ragnar specifically, and I definitely didn't know anything about trail running. If you're looking for a wild new challenge, here are a few things to know about Trail Ragnars before you hit the registration page.
Camping Knowledge is a Huge Plus
While everything on the Ragnar Trail website told me that most participants camped in "Ragnar Village" (base camp, essentially), I decided that I knew better and ignored all of that. I'm not a camper myself, and I didn't want to have to try and coordinate how to get camping equipment in California when I wasn't sure if any of our teammates even had the necessary equipment, let alone wanted to transport it to and from the race. Also, during Hood to Coast, I remembered wishing we had our own "base camp" where we could leave luggage and things not essential to the race. For that reason, our team got a cabin a short drive from the race site, where we left our non-running gear and slept for a couple hours during the overnight part of the race. We set up chairs, blankets, and umbrellas in Ragnar village where we hung out in between legs, but it was amateur hour compared to the eight-person tents, camping stoves, solar-powered showers, and fancy set-ups that surrounded our humble shantytown.

It worked, don't get me wrong, but I think we missed out a little bit by not fully committing to camping. If you're recruiting for a Trail Ragnar team and you're not a camper yourself, recruit for people who can fill that need on your team. If you're traveling for the race, look into renting equipment or recruiting local runners who can bring camping gear. You'll get to spend more time in the village, and camping with your fellow runners is a big part of the Ragnar Trail experience.
Easy Doesn't Mean Easy
Like most of my other team members, I approached the "Easy" loop of the race with a relaxed attitude (Ragnar trail races are made of three loops, ranked easy, medium and hard based on distance and climb). I figured I could knock the 3.2 mile loop out in less than 30 minutes, no sweat.
Um, not quite. This loop still featured some serious climbing where I had to power-hike, and even the downhill was technical enough that I wasn't full-out sprinting. It was pretty humbling.
Would very much like to be excluded from this narrative, one that I have never asked to be a part of pic.twitter.com/j8GIPaiIeI

— Rachel Geil (@rgeil3) July 23, 2016
Power Hiking and Photo Ops are Encouraged
It's completely counterintuitive, but when you're faced with a steep uphill in the trails, it's actually faster to "power hike" (aka, walk) than it is to try and be a hardo and keep running. Case in point: I passed someone who was struggling valiantly to run uphill while I was power hiking. I actually began to look forward to the steep inclines because I knew I got to walk and conserve my energy. Don't be a masochist, just walk.
In the same veins, Ragnar Trail runners are incredibly laid back; few people (if any) are trying to PR or finish in a certain time range. So, when you get to the top of the hill you kicked ass hiking up, it's totally acceptable (and even encouraged) to stop and take a few pictures. Heck, a few of our runners even asked other runners to take photos of them at the top. Just friends helping friends, you know?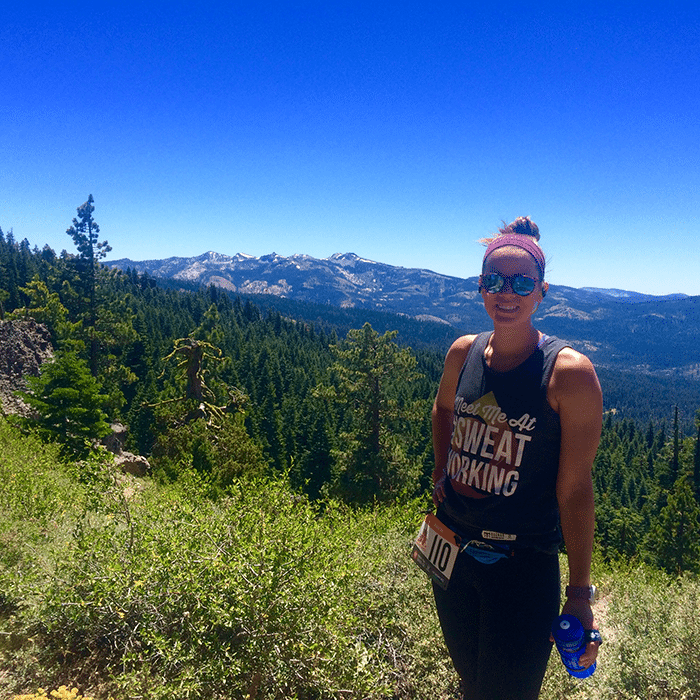 Trail Relays Require a Different Type of Safety
When you're running through remote trails (even if there are hundreds of other people running the same route), your preparation is a little different than planning for a long run on the road.
You absolutely need to have your own source of water, hard stop. I used a CamelBak, and other team members carried handheld water bottles from Nathan's or another brand. Many trail races in general are zero-waste, meaning you need to provide your own cup or water bottle at water stops.
Listening to music is okay, but you're expected to keep the tunes low enough that you're aware of your surroundings (no one wants a wild animal sneaking up on you, right?). Either keep your volume low, or use only one earbud at a time.
Running at night? Reflective safety gear and a headlamp or handheld flashlight is a must. I was surprised that Ragnar didn't require a safety check on these items (some runners literally ran in pitch black carrying one measly glow stick, which I don't recommend), so take responsibility for yourself and your teammates with plenty of reflective gear.
Finally, be very aware of the trail markings and what your next move is. This requires you to be present and focused, looking only at the step you're taking and the next one after that. No zoning out, no staring off to the side even if it is a crazy beautiful lake that you'd give anything to jump in right now.
The Medals Can't Get Through Airport Security
No, seriously.
https://twitter.com/rgeil3/status/757223296953880576
You Definitely Don't Have to be a Trail Runner
Sure, you'll see the super-fit, West Coast ultra-marathoners strutting around Ragnar Village, but we also saw several runners in their 40s and 50s, some that weren't in traditional running shape and even kids. If you've never run on a trail before, a Ragnar Trail race may be the perfect way to dip your toe in. You're surrounded by a supportive community (seriously, this was a very non-competitive race) with well-marked trails and elevation maps that you can study beforehand, if that's your thing. Who knows? You may fall in love with it. Go for it!