ROMWOD: the At-Home Stretching Program for CrossFitters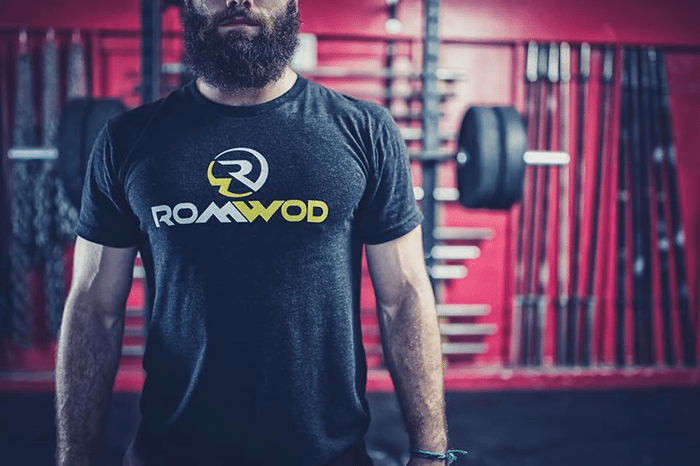 (Image courtesy of ROMWOD)
Over at aSweatLife, whenever a few of us get together it seems to inevitably come up that we need to add more yoga into our lives. We know we aren't alone. It seems like every time I take a high-intensity interval class, or take a group training class focused on strength training, we spend about three minutes at the end of class stretching. We'll forward fold to get our hammies, pull our arm across our chest, maybe plop into pigeon or into figure-four to stretch our hips, holding each position for five or 10 seconds before moving on. We know it's not enough, but squeezing in another yoga class in our already busy weeks is a struggle.
There are more subscription services that let you try yoga at home that I can count. These services can be great for a mindful, calming and even challenging practice. But for those who aren't used to yoga and really just need to add a little bit of stretching, the world-acclaimed yogis and sanskrit names for poses can be a little intimidating. That's where ROMWOD comes in.

(Image courtesy of ROMWOD)
ROMWOD (Range Of Motion Workout Of the Day) was founded as a way to meld the interests of two brothers, one who owned a CrossFit box and the other, a yoga studio. The online subscription service offers daily guided videos aimed to focus some of the toughest athletes, CrossFitters, on taking care of their bodies through stretching. Subscribers pay $13.95 each month to use at home or a gym can pay $24.95 each month to stream in a class setting.
Right away, you can see that ROMWOD is different than most videos. Names of workouts like "Challenge Your Limits" or "The Magic Sauce" sound like something you'd hear at a hot-wing eating contest rather than a yoga studio. Instead of a candlelit room overlooking the beach, the videos are filmed inside of a CrossFit Box, with barbells, rings and a rig in the background. Medicine balls are used in lieu of blocks as props. The models are often guys who look ready to compete in the CrossFit Games, dressed in baseball hats, enormous biceps bulging from their t-shirts and there is a surprising lack of skin-tight yoga pants. If the goal is to make people who spend most of their free time at the gym lifting weights feel right at home, they don't miss a single detail.
Each day, a new video is posted. The workouts are typically around 20 minutes and walk you through a range of stretches. Unlike most yoga I've experienced, the workouts focus less on flow and more on holding stretching poses for long periods of time. Often, ROMWOD videos have you hold a stretch for as long as four minutes, sometimes with guided breathing. As someone who usually dips into a seated forward fold for about 10 seconds, I was shocked at how much deeper I was able to get into the pose after a full four minutes! The simple names – I never heard sanskrit throughout the videos I did – makes the videos approachable even if you've never done yoga.
I had a strong appreciation for ROMWOD after giving it a try. I liked that the models in the video weren't perfect. In other yoga videos I've tried, it seems like every person was better at every move than I am, which isn't a great feeling. In ROMWOD, I'd see the model slip out of the pose, shake it out and come back in. It reinforced what the narrator (someone off camera) was saying about trying your best, and made you feel like you could keep going even when it was challenging.
While the clear audience for ROMWOD is CrossFitters (at the end of one video he even talked about one of the upcoming regional competitions for the CrossFit Games), I've never done CrossFit and I still found a lot of value in these videos.  
Those dedicated to a traditional yoga practice might prefer other subscription services, but if you're simply looking to increase your range of motion, you want to add more stretching to your routine and you're pressed for time, ROMWOD is a great way to dedicate 20 minutes to a deep stretch in the comfort of your own home.