A Sugar Detox for the Undisciplined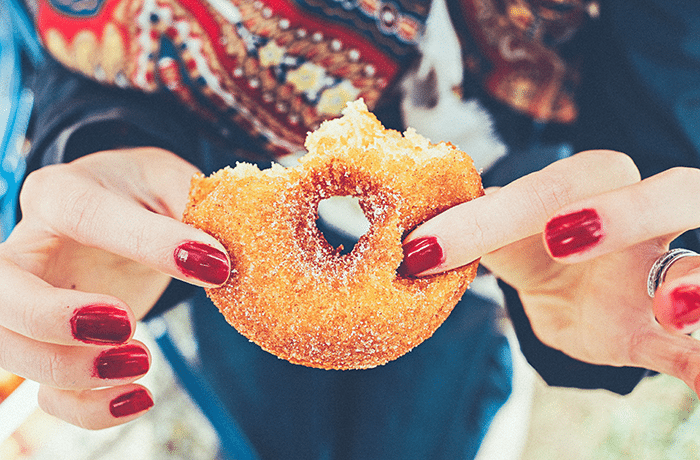 Having gained weight over the winter, I had every intention of writing this article 10 pounds lighter and completely sugar-free. That didn't exactly happen.
After attempting to follow Dr. Mark Hyman's "The Blood Sugar Solution: 10-Day Detox Diet Cookbook," I decided to abandon the idea of a quick fix detox and just try to make healthier choices. So, while it's not necessarily a detox, there are a few things I've learned on my quest to  quit sugar.
One Thing At A Time
We all know what to avoid in order to lose weight – sugar, gluten, caffeine, processed foods, alcohol, dairy – but quitting is easier said than done. It's also supremely difficult to do it all at once, as Dr. Hyman suggests in his book. I was a complete zombie the one day I tried to quit everything on his list. Instead of a complete diet overhaul, I decided to just focus on sugar and processed foods, my main culprits. I've decreased my intake where both are concerned (the latter is mostly due to the Starbucks near me closing, making their breakfast sandwiches less accessible). Next up, I plan to tackle my sugar-free Red Bull addiction, which came about a few years ago in a different attempt to quit sugar. It's a vicious cycle.
Close The Cookbook
I tried. I really did. I followed a few of Dr. Hyman's recipes, I even started to like cooking a little bit, but there were just so many ingredients. This got a little tedious, especially when my finished product wasn't as good as it was supposed to be. If you're lazy like me, there are a lot of "five ingredient" recipes out there, which I plan to try one day. There are also tons of healthier "fast food" alternatives out there like KitchFix, Snap Kitchen and Protein Bar. I prefer that route. It's quicker and easier.
Read Labels
Even the most basic of foods can contain a ton of ingredients that are bad for you. Did you know Planters dry roasted peanuts include sugar and corn syrup? I personally was shocked. I mean, they're just peanuts. Not all nuts have that much crap on them though. Read the labels and look for foods with the least amount of ingredients as possible, even in products that are supposedly good for you. I enjoy many of Snap Kitchen's grass fed, gluten free and paleo products, but many of them contain more sugar than I'd like. Luckily, they list how much sugar they add so I can choose one that is closer to 5 grams instead of 15.
Avoid A Timetable
We aren't on "The Biggest Loser." There are no prizes awarded after 10 days. If your will power wanes, you won't be publicly shamed and thrown off the island for having a cookie. Do your best not to hate yourself, enjoy your indulgence and just do better tomorrow.
Roughly a month of stops and starts later, I am 5 lbs lighter, an inch smaller in my waist and hips (give or take depending on human error) and mostly sugar-free. It's a small victory, but it's enough to keep me making the small changes that will hopefully lead to even better results.